This Week, October 26–30, 2020
Read the latest news from the Academy.

Recent Academy Activity, Oct. 26–30, 2020
Days Left to Register for Next Week's Annual Meeting and Public Policy Forum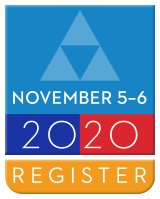 The Academy's Annual Meeting and Public Policy Forum is next Thursday and Friday, Nov. 5–6, and there's still time to register. Join us for this virtual and efficient two-day event that will provide facts and perspective about today's top public policy and professionalism issues, and opportunities to earn valuable continuing education. See the full breakout-session agenda here.
You'll hear: analysis of next week's election from Michael Beschloss and Charlie Cook; about the NAIC's race and diversity initiative from David Altmaier; a plenary address on uncertainty in a professionalism context from former FDIC chair Sheila Bair; and perspective on the COVID-19 pandemic from the Bipartisan Policy Center's Anand Parekh. See the full speaker lineup here.
Don't miss out on this chance to experience our objective, independent, and efficient analysis on the matters in the forefront of our profession. Online registration is available until Nov. 4—make this your year to experience the history that's in the making and register today.
Another 'Tales From the Dark Side' Professionalism Webinar Looks at ABCD Issues
The Academy hosted the third professionalism webinar of the year, "Tales From the Dark Side: Trick or Treat!" on Friday. Continuing the popular and well-attended series, the latest iteration explored examples of ethical problems based on cases and requests for guidance that have been brought before the Actuarial Board for Counseling and Discipline (ABCD). Incoming ABCD Chairperson David Driscoll moderated. See the October Actuarial Update, released today, for more coverage.
Academy Dues Renewal for 2021
Academy President D. Joeff Williams' letter to members Thursday announced the membership renewal period and includes a link to "The Meaning of Your Membership," which highlights the many mission-critical aspects of the Academy's work in 2020. Please log in via the Academy's website to pay your dues.
If you have any questions or need additional information about paying your 2021 membership dues, applying for a partial dues waiver, updating your mailing address, or updating your membership profile in the Academy's online Membership Directory, please contact the Membership Department at 202-785-6925, or membership@actuary.org.
Health Work Group Releases Actuarial Memorandum Practice Note
The Health Practice Council's Actuarial Memorandum Practice Note Work Group released the Actuarial Memorandum Practice Note. The purpose of this practice note is to provide information that can be useful for appointed actuaries dealing with the challenges of producing an Actuarial Memorandum in support of the Actuarial Opinion filed as part of the Health Annual Statement Blank (often referred to as the Health Blank or the Orange Blank).
Final Day—USQS Exposure Draft Comments Due Today
Don't forget to review and comment on the exposure draft of revisions to the currently effective Qualification Standards for Actuaries Issuing Statements of Actuarial Opinion in the United States (USQS). The comment deadline for the exposure draft is today, Oct. 30. Click here for the Academy email sent last month to members; for information on how to submit comments, click here. All comments are publicly posted here so you can inform yourself about the views others are expressing as well.
Recently Released
The October Actuarial Update previews next week's Annual Meeting and Public Policy Forum; covers today's professionalism webinar; profiles the incoming chairpersons and new members of the ABCD and Actuarial Standards Board; and the "Professionalism Counts" column looks at "Must, Should, May: When Do You Need to Disclose a Deviation From an ASOP?"
The Fall HealthCheck includes a Q&A with Annette James, chairperson of the Academy's Health Equity Work Group, on some of the new work group's goals. Also, a Capitol Forum webinar on health equity issues, a webinar on the ASOP No. 6 practice note exposure draft, and a preview of the health breakout sessions at the upcoming Annual Meeting and Public Policy Forum.
Continuing Education Opportunities: Pension Webinar Set for Nov. 17
The Academy's Pension Committee will host a webinar, "Practice Note on ASOP No. 56, Modeling: A Discussion of the Exposure Draft," that will offer their overview of the recently released exposure draft of the practice note, Modeling—For Pension Actuaries. Presenters—committee members Margaret Berger and Grace Lattyak—will discuss the implications for pension actuaries, as outlined by the draft practice note, of the new cross-practice ASOP. Chairperson Bruce Cadenhead will moderate. Continuing education and continuing professional education credit under Joint Board for the Enrollment of Actuaries rules will be available. The webinar will be held on Tuesday, Nov. 17, from 3:30 to 5 p.m. EST. Register today.
Professionalism Outreach
Immediate Past President Shawna Ackerman provided a "Professionalism Update from the Academy" to the virtual meeting of the Casualty Actuaries of the Mid-Atlantic Region on Wednesday. In the presentation, Ackerman reviewed recent developments with actuarial standards of practice, the exposure of the qualification standards that closes for comment today, discipline and counseling activity, as well as Academy professionalism resources.
Public Policy Activity
The Principle-Based Reserving (PBR) Analysis Templates Task Force published six PBR templates to assist users when performing PBR analysis or preparing PBR Actuarial Reports required by the National Association of Insurance Commissioners Valuation Manual (VM-31).
Upcoming Events
In the News
Fierce Healthcare quoted Donna Novak, member of the Individual and Small Group Markets Committee, on factors affecting health premium rates for 2021.

Bloomberg Law quoted Senior Health Fellow Cori Uccello on cost-sharing for COVID-19 treatments.

Workers' Compensation Committee Chairperson Dave Heppen discussed the uncertainties surrounding the COVID-19 pandemic's impact on workers' compensation claims and costs in a Best's Review story on presumptive benefits and recent state legislative activity.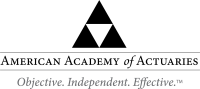 If you would like more information or to contact the Academy, please visit us at www.actuary.org/content/about-us
Follow the Academy on Facebook, LinkedIn, and Twitter. Listen to our podcast.
---
1850 M Street NW • Suite 300 • Washington, DC 20036 • 202.223.8196 • www.actuary.org
Copyright 2020 American Academy of Actuaries. All rights reserved.