This Week, July 12–16, 2021
Read the latest news from the Academy.

Recent Academy Activity, July 12–16, 2021
Save the Date: Professionalism Webinar on USQS Set for August
Save the date for the Academy's next professionalism webinar, to be held Aug. 12. The Committee on Qualifications (COQ) has spent much of the past year developing a second exposure draft of the U.S. Qualification Standards (USQS), which is open for comment through Aug. 20. Join us to hear COQ members discuss important aspects of the current USQS, such as what constitutes a statement of actuarial opinion, basic education and experience requirements, and continuing education requirements, as well as some of the changes proposed in the second exposure draft. Registration will open soon for the webinar, which will be held on Thursday, Aug. 12, from noon to 1:30 p.m. EDT.
LHQ Seminar Lowest Rates Still Available
There are two weeks left to get an early registration rate for the Academy's Life and Health Qualifications Seminar—register now for the best rates to attend this highly regarded event. The annual LHQ Seminar delivers the highest-quality and most efficient way to obtain any needed basic education or relevant continuing education (CE) credit necessary to qualify to issue actuarial opinions for either the National Association of Insurance Commissioners (NAIC) Life and Accident & Health (A&H) Annual Statement or the NAIC Health Annual Statement. Early discounts are available through July 31—register today.
There's Still Time to Take the Annual Volunteer Survey
The Academy's Annual Volunteer Survey is your chance to raise your hand and serve the profession through the Academy's public policy and professionalism mission. If you would like to join your colleagues in volunteering, please take the survey by logging in to the member section of the Academy website. The survey will close on July 30. If you have any questions about volunteering or the survey, please contact the Academy's director of membership, Kasha Shelton, by email at volunteersurvey@actuary.org.
This year, the Academy is using additional channels to encourage members to volunteer and further diversify our volunteer base, including reaching out to the International Association of Black Actuaries (IABA). The IABA shared an email from Academy President Tom Campbell with its members who are also members of the Academy.
Alerts
President Biden signed an Executive Order on Promoting Competition in the American Economy. The sweeping executive order affects a variety of business and financial sectors, including directives to control and reduce the price of prescription drugs. Read the Academy alert.

Colorado Gov. Jared Polis signed Colorado Senate Bill 21-169, a bill restricting insurers' use of external consumer data to prevent possible discriminatory practices. Read the Academy alert.

The IRS issued guidance on requirements for sponsors of multiemployer pension plans, pursuant to provisions of the American Rescue Plan Act enacted earlier this year regarding special financial assistance to troubled multiemployer pension plans. Read the Academy alert.
Upcoming Events
In the News
The Ventura County Star (Calif.) used Academy analysis to provide context in a story about a local public pension plan's funded status.

Accounting Today used information from an Academy overview of the multiemployer pension system in a story about recently released IRS guidance for multiemployer pension plans seeking special financial assistance from the Pension Benefit Guaranty Corporation.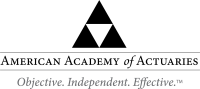 If you would like more information or to contact the Academy, please visit us at www.actuary.org/content/about-us
Follow the Academy on Facebook, LinkedIn, and Twitter. Listen to our podcast.
---
1850 M Street NW • Suite 300 • Washington, DC 20036 • 202.223.8196 • www.actuary.org
Copyright 2021 American Academy of Actuaries. All rights reserved.