Professionalism Webinar Set for March
Join the Academy next month for its first professionalism webinar of 2018. "A Guided Tour of the U.S. Qualification Standards [2]" (USQS) will be held Thursday, March 15, from noon to 1:30 p.m. EDT. Presenting will be Committee on Qualifications members Hal Tepfer (vice chairperson), Keith Passwater (former chairperson), and Tom Campbell (Academy secretary/treasurer). Academy General Counsel and Director of Professionalism Paul Kollmer-Dorsey will moderate. Speakers will discuss questions frequently asked by actuaries about the USQS including about statements of actuarial opinion, experience requirements, the "look in the mirror test," cross-border practice, qualifications needed to enter new practice areas, and the Academy's tools to help document compliance with the USQS.
The Academy believes in good faith that this webinar constitutes an organized activity as defined under the current Qualification Standards for Actuaries Issuing Statements of Actuarial Opinion in the United States, and that attendees may earn up to 1.8 continuing education credits for attending. Register today [2].
Academy Fellow Testifies at Maryland General Assembly Auto Insurance Hearing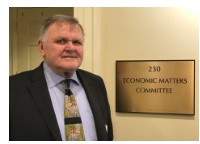 Senior Property and Casualty Fellow Kevin Ryan testified before the Maryland House Economic Matters Committee Thursday, commenting on legislation [3] that would prohibit the use of occupation, education, gender, and marital status as factors in determining private passenger automobile insurance rates.
Order Today—Academy Law Manuals Available
The latest editions of the Life and Health Valuation Law Manual and the Property/Casualty Loss Reserve Law Manual are available.
Both manuals are available in a variety of formats, allowing to you to select the version that best suits your work.
Public Policy Activities
Alerts
Upcoming Events
In the News
Note: Some links in this email go to external websites and may require registration. The Academy is not responsible for the content of these websites. Links may expire.