This Week: July 3-7, 2017
Read the latest news from the Academy.
Recent Academy Activity, July 3–7, 2017
Academy Health Care Analysis Featured in New York Times Story
The New York Times on Wednesday quoted Senior Health Fellow Cori Uccello and the Academy's June 30 letter to Senate leaders in a story on an amendment proposed by Sen. Ted Cruz (R-Texas) to the Senate health bill that would allow insurers to offer less-comprehensive coverage than mandated under the Affordable Care Act (ACA), as long as they offer access to at least one ACA-compliant plan.
"People who are healthy now would tend to choose noncompliant plans with really basic benefits," Uccello told the Times, but added that "people who want or need more comprehensive coverage could find it out of their reach, because it might become unaffordable."
The Academy letter, sent last Friday from the Individual and Small Group Markets Committee and the Medicaid Subcommittee, noted that individual market consumers could face "much higher deductibles" under less generous health insurance plans, the Times reported.
The story was reprinted by MSN, The Week, and The Daily Gazette (Schenectady, N.Y.). Several other media outlets reported on the Academy's comment letter, including Axios, Fierce Healthcare, Inside Health Policy, BenefitsLink.com, Bloomberg BNA, Becker's Hospital Review, California Broker, and the subscriber-only Politico Pro. Bloomberg Radio in New York City, Washington, D.C., and Salt Lake City reported on the letter's comments regarding the Senate bill's proposed market stabilization funding.
Reminder: Annual Volunteer Survey Closes Next Week
The Academy's annual volunteer survey is open through next Friday, July 14. Take advantage of this opportunity to express your interest in joining those volunteers who develop our highly regarded analytical input to diverse stakeholders—including, for example, material on health care reform, national flood insurance, and principle-based reserving—and to join your colleagues in service to the Academy, the profession, and the public by delivering independent, objective, and nonpartisan information to policymakers. If you have any questions about volunteering or about the survey, please email volunteersurvey@actuary.org or call 202-223-8196. Take the survey today, or visit the members-only section of the Academy's website.
Upcoming Events
Public Policy Activities
Alerts
Recently Released
In the News
Note: Some links in this email go to external websites and may require registration. The Academy is not responsible for the content of these websites. Links may expire.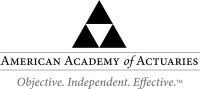 Follow the Academy on Facebook, LinkedIn, and Twitter.

---
1850 M Street NW • Suite 300 • Washington, DC 20036 • 202.223.8196 • www.actuary.org
Copyright 2017 American Academy of Actuaries. All rights reserved.