This Week, February 25 - March 1, 2019
Read the latest news from the Academy.
Recent Academy Activity, Feb. 25 – March 1, 2019
It's Time to Nominate Academy Directors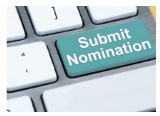 It's time to share your recommendations for Academy regular directors, who are elected to the Academy Board of Directors by Academy membership in an online election from a slate of candidates presented by the Academy's Nominating Committee. The committee will meet in the coming weeks to identify new candidates for regular directors in accordance with the criteria provided in the Nominating Committee Guidelines. Review the criteria and how to submit nominations in the Academy's Board Election Center.
Academy Volunteers—Don't Forget to Submit Your COI/CE Acknowledgments
Academy members who serve on Academy boards, councils, committees, subcommittees, task forces, and work groups are required to annually acknowledge the existing Conflict of Interest (COI) policy that applies to all members who perform volunteer work. In addition, attestation of continuing education (CE) compliance requirements of the U.S. Qualification Standards is required for all volunteers as an essential component to protect the Academy's commitment to being an effective and objective resource for actuarial information.
Required Action Steps: Log in to the Academy membership page; click the "COI and CE Acknowledgment" link in the right column; read and "sign" the acknowledgments by clicking on the check boxes for each question; and click (just once) the "Submit acknowledgment for both" button.
New Issue Brief: Medicaid and Long-Term Care Insurance
The Medicaid and Long-Term Care Insurance Work Group released a new issue brief, Medicaid and Long-Term Care Insurance, which explores the potential financial risks faced by older Americans who may incur catastrophic long-term care (LTC) costs. It also provides an actuarial perspective on the issues related to funding both informal and formal LTC services and supports, with a particular focus on the complementary roles of Medicaid and private LTC insurance within existing LTC financing systems.
March 21 Professionalism Webinar—'Making the Right Call: A Discussion of Professional Judgment'
Join the Academy for the first professionalism webinar of 2019, featuring an exclusive, engaging discussion with a professor of business law and ethics who focuses on behavioral decision-making and compliance. The webinar will cover what the latest research on ethics and compliance can tell actuaries about the common pitfalls of bias and self-interest and how to avoid them in fulfilling your professional responsibilities as an actuary. "Making the Right Call: A Discussion of Professional Judgment" will be held on Thursday, March 21, from noon to 1:30 p.m. EDT. Presenting will be Anita Cava, professor of business law and business ethics program director at the University of Miami School of Business. Council on Professionalism member Ken Kent and Lisa Slotznick, the Academy's vice president, casualty, will also be on the program. Registration will open soon.
CPC Seeks Volunteers Across All Practice Areas for Catastrophe Bond Work Group
Catastrophe bonds and other insurance-linked securities (ILS) are playing an increasingly important role in risk transfer financing. Each year, billions of dollars of ILS are sold, supplementing and sometimes taking the place of traditional reinsurance. While catastrophe—or CAT—bonds are issued mainly by property/casualty insurers, the bonds are also sold by life and health insurers and by non-insurance companies, and by government agencies. Actuaries are encountering CAT bonds with increasing frequency as they report on financial conditions or in audits.
At the request of the Academy's Casualty Practice Council (CPC), the CPC's Extreme Events and Property Lines Committee has formed a work group to write a monograph to provide an actuarial perspective on CAT bonds and other forms of alternative risk financing. While members of the Extreme Events Committee form the nucleus of the work group, volunteers from other committees or practice areas are welcome. If you have an interest in ILS, contact Academy senior casualty analyst Marc Rosenberg at rosenberg@actuary.org for information or to join this project.
Recently Released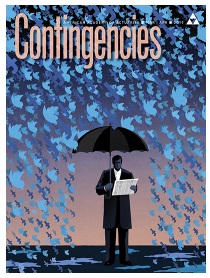 In the March/April issue of Contingencies, the cover story, "Fighting Fake News," explores cognitive biases—what they are, how to recognize them, and how to avoid falling prey to their clarion call. This feature aims to provide some clear-headed tools that today's reader can deploy to distinguish fact from fiction—and lays out how actuaries are in a unique position to help. Other features include "A Clear Target"—how the world might look in a new era of "targeted improvements" under generally accepted accounting principles (GAAP), and "Hitting the Wall," which posits that the near future for the investing world is one of lower returns. Plus, a President's Message from new Academy President Shawna Ackerman on doing well by doing good, and what the Code of Professional Conduct has to say about conflict of interest.
In the February Actuarial Update, we note that past President Tom Wildsmith was elected to the Academy Board to deepen our international focus; President Shawna Ackerman offered a message on the Academy's public policy efforts in conjunction with the State of the Union address; the "Professionalism Counts" column looks at the fourth exposure draft of a proposed Modeling actuarial standard of practice; and the JBEA is seeking nominations for its exam advisory committee (see next item).
JBEA Seeks Applications for Advisory Committee on Actuarial Examinations
The Joint Board for the Enrollment of Actuaries (JBEA) is seeking applications for the next term of the Advisory Committee on Actuarial Examinations, which begins today, March 1, 2019, and ends on Feb. 28, 2021. The JBEA asked the Academy to make this opportunity known to our members. The Advisory Committee plays an integral role in assisting the Joint Board to offer examinations that test the knowledge necessary to qualify for enrollment. Its duties include recommending topics for inclusion on the Joint Board examinations, reviewing and drafting examination questions, and recommending passing scores. The application deadline is March 19. Information on how to apply is available via the IRS website.
Registration Open for November's LHQ Seminar
Registration opened this week for the Academy's 2019 Life and Health Qualifications Seminar, to be held Nov. 10–14 in Arlington, Va. (Washington, D.C., metro area). The seminar will provide attendees the opportunity to obtain qualifications or relevant continuing education (CE) credit necessary to issue actuarial opinions for either the NAIC Life and Accident & Health (A&H) Annual Statement or the NAIC Health Annual Statement, as well as professionalism credit. Limited space is available for this highly regarded seminar. Register today.
Public Policy Activity
Upcoming Events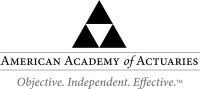 Follow the Academy on Facebook, LinkedIn, and Twitter.

---
1850 M Street NW • Suite 300 • Washington, DC 20036 • 202.223.8196 • www.actuary.org
Copyright 2019 American Academy of Actuaries. All rights reserved.