President Dave Sandberg's Message: Instructions to Pay Membership Dues

Dear Academy member:
I am pleased to inform you that the Academy Board voted to keep the 2012 dues at the same level as 2011. The Academy's membership has grown each year for the last five years, and the Academy remains in a strong financial position, as you can see in the audited financials posted on the Academy website (http://www.actuary.org/pdf/audit/fin_10.pdf).
Your membership supports the valuable work of the Academy to assure actuarial professionalism and involvement by the profession in public policy issues.
The Academy's 2011 Record—provides a detailed review of how the Academy performed during the past year. I encourage you to spend some time with it to see how far-reaching the Academy's 2011 work on behalf of the profession and the public interest has been.
In 2012, the Academy will continue to provide objective, non-partisan input into these important endeavors to recommend the key elements needed for sustainable designs to address public and private insurance program needs. In addition, in 2012 and the years ahead, we expect to see an increasing focus by the Academy on a host of critical professionalism issues, to assure that appropriate practice is established through standards and is made well known through communication and discussion within and outside of the profession.
We need your support in 2012 in the form of your annual dues and, we hope, through your active participation in the committees and workgroups that make all of our work on behalf of the profession and the public interest possible.
Thank you very much for your continued support. The Academy looks forward to serving you and the actuarial profession in 2012.

Sincerely,
Dave Sandberg
President
American Academy of Actuaries
---
You can pay your dues online and review and modify your membership information. To do this, go to the dues page of the Academy website.
Log in with your user ID and password, and follow the instructions to pay your dues. While you are logged in to the Academy website, you can update your contact information, change your password, or access any of the Academy's members-only content.
If you have questions about your account or the website, or to how to make multiple payments in a single transaction, contact Mary McCracken, the Academy's membership database administrator, at (202) 223-8196 or membership@actuary.org.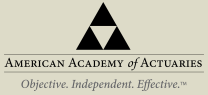 Sign up to follow the Academy on Twitter.
Rather not receive Academy emails? Unsubscribe by emailing membership@actuary.org.
---
1850 M Street NW • Suite 300 • Washington, DC 20036 • 202.223.8196 • www.actuary.org
Copyright 2011 American Academy of Actuaries. All rights reserved.