HealthCheck, Summer 2021
Summer 2021
VOL 12 | NO 3

Health Equity Update—HEWG Making Progress in Discussion Briefs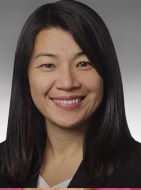 Lin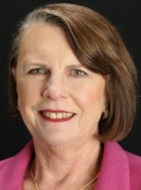 NovakSince the Health Practice Council's (HPC) Health Equity Work Group (HEWG) was formed a year ago, the HEWG has put out several discussion briefs, and is planning more in the near future. The HEWG also held a May webinar in which work group members looked at key issues involving health disparities.
The introductory discussion brief, Health Equity from an Actuarial Perspective: Questions to Explore, released in March, frames the questions the HEWG is exploring in four areas: health insurance benefit design; provider contracting and network development; premium pricing; and managing population health.
HealthCheck conducted brief Q&As with key volunteers of the HEWG involved with two of the subsequent discussion briefs—Donna Novak, who led the effort on publishing the Health Equity From an Actuarial Perspective: Health Plan Pricing discussion brief, released in May, and Yi-Ling Lin, who provided leadership on developing the Health Equity From an Actuarial Perspective: Health Plan Benefit Design brief, released in July. (See following two items for more on the discussion briefs and a May webinar covering health equity issues.)
These papers provide a more in-depth look into the questions raised in the initial, framing issue brief. How have the follow-up papers deepened the work group's understanding of the questions it is exploring? Have there been any surprises as the work group has looked into these issues more? What do you see as the priorities moving forward?
Lin: Our work has been very surprising to me in the sense that I think most people thought about benefits as a very equitable environment as it is. Everyone in the same insurance policy has the same deductible and the network of doctors to choose from. But what seems very equitable on the front end may not be quite so equitable in execution and outcomes. As we continue our work, we are finding ourselves thinking about how equity is even defined, how to measure it, and then perhaps how to impact it in the future.
I think our real challenge as a profession is to step out of the environment we are familiar with and look at things from a different perspective. As actuaries, we are experts at categorizing risks and managing financial outcomes, but we do so much more than that. It is our job to maintain sustainable systems and the work we are doing will hopefully help us all to think more broadly about long-term balance.
Novak: As you can see from these two papers, benefits and pricing are tremendously intertwined. For example, when adding benefits to equal out disparities and enable disadvantaged populations better access to care, the price may increase to cover the added benefits. As we wrote these papers and researched health disparities, we had a number of surprises. For example, it is clear that not just premiums are an issue, but other out-of-pocket costs such as deductibles may keep individuals from accessing care.
Going forward, we are looking at possible research being done in this area. We are finding that there is little or no current research that is directly related to our study questions. The next priority is to identify potential research that the Academy can perform or recommend to other groups. This research could inform the actuarial practice of pricing health benefits.
---
Webinar Examines Health Equity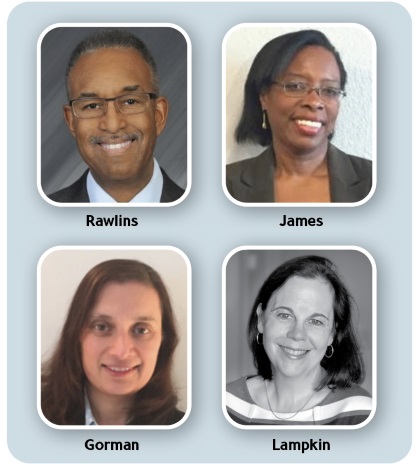 The HEWG hosted a May 24 webinar, "Health Equity: An Actuarial Perspective," which offered an important discussion of issues involving health disparities facing our country and an update on the work group's efforts to address those concerns.
Wayne Rawlins, M.D., MBA, a national expert on health equity and vice president and chief medical officer of WellSpark Health, offered a definition of health equity and described drivers of health disparities and strategies to address them. He was followed by a panel discussion with HEWG Chairperson Annette James and Vice Chairpersons Bela Gorman and Stacey Lampkin. Academy Senior Health Fellow Cori Uccello moderated.
Presenters discussed the work group's goals and work thus far, including the March discussion brief, Health Equity From an Actuarial Perspective: Questions to Explore. The work group also released a new discussion brief, Health Equity From An Actuarial Perspective: Health Plan Pricing, that focuses on questions related to pricing health insurance products and is part of a series to identify areas that may affect health equity.
"Health disparities and the resulting health inequities are a drag on our economy, limit our ability to compete in the global marketplace, lessen our quality of life, and decrease the ability of more and more people to achieve the American dream," Rawlins said in his remarks which provided the framework for discussion.
He gave a review of health care disparities and cited a 2018 report that showed the impact of such disparities in the U.S. health care system. Rawlins also outlined social determinants of health, which include socioeconomic factors such as income, education, and family support systems; physical environment; health behaviors including tobacco and drug/alcohol use, diet, and exercise; and health care access.
"There is strong evidence in the medical literature that social determinants of health significantly impact health outcomes—therefore, addressing [them] is important for improving health and reducing longstanding disparities," Rawlins said.
He noted that a lack of access to technology particularly impacted on communities of color during the COVID-19 pandemic, and that "actuaries are in a unique position to identify the impact on cost and health outcomes due to the influence of health care disparities."
HEWG panelists outlined why actuaries care about health equity, including a commitment to identify and express issues on behalf of the public interest.
"Health actuaries work side by side with health care professionals and decision-makers who rely on health actuaries to provide informed advice," James said. "Actuarial principles can provide solutions to reduce health disparities and improved health outcomes."
Lampkin said the work group's continued work will help answer such questions related to health equity as those involving benefit design, provider contracting and network development, managing population health, and likely areas of overlap including the use of historical data, risk stratification and risk adjustment.
Gorman spoke to illustrative pricing examples, including geographic rating areas, and benefit design factors. Presenters also addressed questions from webinar attendees.
Slides and audio are available free to Academy members.
HEWG Discussion Brief Focuses on Health Plan Benefit Design
The HEWG released a discussion brief, Health Equity From an Actuarial Perspective: Health Plan Benefit Design. The discussion brief is part of a series developed by the HEWG to provide more context on issues raised in the initial discussion brief, Health Equity from an Actuarial Perspective: Questions to Explore.
This paper discusses in more detail the questions that the Health Equity Work Group will explore regarding whether the methods of creating and valuing benefit designs contribute to health disparities among populations that are underserved or under-resourced, such as communities of color, or whether they might be helping to mitigate disparities.
The four questions are:
How is benefit design used to attract and maintain health plan members? Are there barriers to individuals in choosing the plan that best fits their needs, and if so, do they contribute to health inequities?
Can benefit design features that aim to manage utilization and spending affect health disparities?
Does benefit coverage standardization or a lack thereof exacerbate disparities? Does the inclusion or exclusion of particular services mitigate or exacerbate disparities?
Are health disparities affected by differences in availability and accessibility of providers across geography or population?
HEWG Presents at SOA Health Meeting
The Health Equity Work Group (HEWG) presented June 15 at the Society of Actuaries 2021 Health Meeting on "Health Equity: How Actuaries Are Contributing to Efforts to Reduce Health Disparities."
Presenters discussed the HEWG's work including its recently released discussion briefs—Health Equity From an Actuarial Perspective: Questions to Explore, and Health Equity from an Actuarial Perspective: Health Plan Pricing.
HPC Sends Letter to Agencies on Surprise Medical Billing
The Individual & Small Group Markets Committee and Active Benefits Subcommittee sent a comment letter to the federal departments of Health & Human Services, Labor, and the Treasury on prospective agency actions related to the No Surprises Act.
The letter was issued in advance of anticipated proposed rules on the recently enacted federal law. It conveys considerations surrounding regulating surprise medical billing from an actuarial perspective and cites the Academy's September 2019 issue brief, Surprise Medical Bills: An Overview of the Problem and Approaches to Address It, which examined surprise billing and proposed reforms being debated by policymakers at the time.
Committee Comments to CMS on Payment Parameters
The Individual and Small Group Markets Committee and its Risk Sharing Subcommittee submitted comments to the Centers for Medicare & Medicaid Services (CMS) on the proposed rule, Updating Payment Parameters, Section 1332 Waiver Implementing Regulations, and Improving Health Insurance Markets for 2022 and Beyond.
LTC Reform Subcommittee Releases Issue Brief on Financing Reform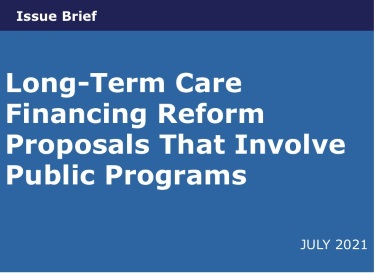 An issue brief, Long-Term Care Financing Reform Proposals That Involve Public Programs was released under the auspices of the Long-Term Care (LTC) Reform Subcommittee in July. The issue brief discusses the Academy work on potential criteria for evaluating reform proposals; the current state of LTC public programs looking at proposals that have been made to address gaps in both private and public options available today; and related demographic and needs assessment of LTC and how that affects financing and delivery considerations.
Comments on Multistate Review Framework
The LTC Reform Subcommittee also submitted a comment letter to the National Association of Insurance Commissioners' (NAIC) Long-Term Care Insurance (EX) Task Force regarding the June 10 exposure draft of the actuarial sections within the LTC Insurance Multistate Rate Review Framework.
LTC Reform Subcommittee Presents at NAIC Summer Meeting
Academy volunteer Andy Dalton, vice chairperson of the LTC Reform Subcommittee, presented to NAIC's Long-Term Care (EX) Task Force in Columbus to address the Academy's written comments on the multistate rate review initiative at the NAIC's Summer 2021 National Meeting, held as a hybrid event, with attendees joining virtually or in-person in Columbus, Ohio.
Health Solvency Committee Comments to NAIC on Risk-Based Capital (RBC)
The Health Solvency Subcommittee sent a comment letter to the NAIC Health Risk-Based Capital (E) Working Group regarding its request of the Academy to conduct a comprehensive review of the H2—Underwriting Risk component and managed care credit calculation in the health RBC formula.
HPC Financial Reporting and Solvency Committee Comments to NAIC
The HPC's Financial Reporting and Solvency Committee sent a comment letter in May to the NAIC's Health Actuarial (B) Task Force regarding an exposure draft of a proposal to modify the definition of "actuarial assets" as used in the instructions for the Health Statement of Actuarial Opinion. The letter is a follow-up to an April letter commenting on a previous draft of the proposal.
Supreme Court Issues Rulings on ACA
The U.S. Supreme Court in June dismissed a challenge (on the basis of standing) made to the Affordable Care Act (ACA) brought by a suit contending the ACA's individual mandate is unconstitutional. The challenge had the potential to invalidate the ACA. The Academy released an alert citing the particulars of the case, which leaves the landmark 2010 health law intact. Read the Academy alert.
In late June, the court declined to hear appeals brought by health insurance companies seeking full reimbursement from the federal government under a provision of the ACA. The insurers' writ of certiorari for appeal before the court had stated they were owed reimbursements for each year they did not receive federal government payments under the ACA's cost-sharing reduction payments program. Read the Academy alert.
Register Today for November's LHQ Seminar
Register now for the Academy's 2021 Life and Health Qualifications Seminar, to be held in November just outside of Washington, D.C. The highly regarded LHQ Seminar delivers the best, most efficient way to obtain needed basic education or relevant continuing education (CE) credit necessary to qualify to issue actuarial opinions for either the NAIC Life and Accident & Health (A&H) Annual Statement or the NAIC Health Annual Statement. Register today.
Annual Meeting & Public Policy Forum to Be a Hybrid Event
Registration is open for the Academy's 2021 Annual Meeting and Public Policy Forum, to be held as a hybrid event Nov. 4–5. Attendees will have the option to join us in person at the Fairmont Hotel in Washington, D.C., or virtually from your home or office.
The agenda will include practice-specific breakout sessions, with health sessions featuring updates from the Center for Consumer Information and Insurance Oversight (CCIIO), an exploration of options to expand health care coverage, and a discussion of Medicare solvency.
Plenary sessions will cover critical issues including COVID-19; diversity, equity & inclusion; and insurance regulation relevant to actuaries in all practice areas, along with opportunities to discuss these issues directly with policymakers, subject matter experts, and Academy leaders.
The Academy is committed to following local health guidelines. We look forward to delivering a timely and topical event to you, and to seeing you in November. Register now for early registration savings.
Copyright © 2021 American Academy of Actuaries. All Rights Reserved.
1850 M Street NW, Suite 300, Washington, DC 20036
www.actuary.org

Phone: 202-223-8196