Contingencies New Website Goes Live With March/April Issue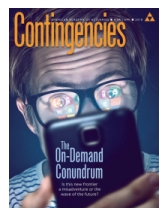 [2]The Academy's bimonthly magazine Contingencies unveiled its new website [3] this week with the release of the March/April issue. The revamped site is a one-stop shop for everything in the magazine—from the latest articles and past issues to an updated Actuarial Job Bank. It is mobile-friendly so you can read your favorite articles on the go, and includes improved sharing tools that allow you to email individual stories to your colleagues and post them on social media to share with your friends and colleagues.
The March/April cover story, "The On-Demand Conundrum," explores whether the new frontier of insurance at your fingertips is a misadventure or a wave of the future. Other features investigate managed care reinsurance market trends and catastrophic medical claims developments, and applicant nondisclosure of obesity and HIV and hepatitis C infection in the life insurance marketplace. Also released, the annual Actuarial Job Seeker supplement contains articles on how actuaries are shaping the casino gaming industry and an exploration of actuarial consulting.
Next Week—Capitol Hill Health Briefing on Prescription Drug Prices
The Health Practice Council (HPC) will host a briefing next week [4] for federal lawmakers and other stakeholders on the costs of U.S. prescription drug spending. HPC Vice Chairperson Audrey Halvorson will moderate the briefing, to be held next Friday, March 9, at 2 p.m., which will feature presentations by Prescription Drug Work Group Chairperson Susan Pantely and member Karen Bender, and Shari Westerfield, vice president, health. The HPC has undertaken a multiyear study of various cost components of the U.S. health financing system to help policymakers and the U.S. public better understand the challenges that are driving health spending growth and potential ways to address them.
Recently Released
The February Actuarial Update [5] notes that the annual acknowledgment of the Academy's conflict of interest policy and continuing education attestation is due this month. The issue also covers the Multiemployer Plans Committee's meetings with PBGC and congressional staff; an outline and explanation of the Academy's revised meetings policy; and the "Professionalism Counts" column, in which Actuarial Standards Board (ASB) Chairperson Beth Fitzgerald describes the key role that disclosure obligations play in strengthening the actuarial standards of practice (ASOPs).
The latest ASB Boxscore [6] covers the ASB's adoption of ASOP No. 53, Estimating Future Costs for Prospective Property/Casualty Risk Transfer and Risk Retention; notes new ASB appointments; and highlights the ASB's upcoming agenda items.
Health Paper Offers an Actuarial Look at High-Performance Networks
The Academy's High-Performance Network Work Group released a new issue paper [7], High-Performance Networks. Drawing on recent public policy debates about addressing health care spending, this paper explores the expansion of high-performance networks, which generally focus on delivering high-quality and efficient care, as a potential solution.
Public Employment Opportunity
The Pension Benefit Guaranty Corporation (PBGC) has a public employment opportunity for director of its policy, research, and analysis department (PRAD). The director will lead, manage, and oversee the department, including managing and performing the full range of supervisory duties for all PRAD staff including actuaries, economists, finance and program analysts, and administrative staff. Full position information is available via USA jobs by clicking here [8] (current U.S. government employees), or here [9] (non-governmental employees).
The Academy has long supported government employers who are seeking to hire qualified actuaries. See our Public Employment Opportunity Posting Policy [10] for more information.
Public Policy Activities
Alert
Upcoming Events
In the News
Note: Some links in this email go to external websites and may require registration. The Academy is not responsible for the content of these websites. Links may expire.