Volunteer Action Required: Commitment to Objectivity
Committing on an annual basis to professional objectivity is required to perform volunteer work for all those who participate in Academy committees. D. Joeff Williams, vice president of the Academy's Council on Professionalism, emailed Academy volunteers this week with a request of all volunteers to submit a conflict of interest (COI) acknowledgement and continuing education attestation. Williams also wrote an article [2] in the January Actuarial Update outlining the policy. Interested parties must also acknowledge the COI policy. To comply, follow the instructions in the email or on the membership page [3] under "Volunteer Acknowledgements."
Order Today—Academy Law Manuals Available
The latest editions of the Life and Health Valuation Law Manual and the Property/Casualty Loss Reserve Law Manual are available. Order your copy today [4].
Both manuals are available in a variety of formats, allowing to you to select the version that best suits your work.
Recently Released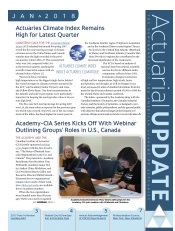 [5]The January Actuarial Update [5] covers the Jan. 17 webinar—the first in the joint series by the Academy and the Canadian Institute of Actuaries—that outlined the organizations' roles in their respective countries. Also in this issue, the Academy released its year-in-review legislative and regulatory alert; a federal court dismissed a lawsuit against the Academy in a discipline case; and the "Professionalism Counts" column, "New Standards for the New Year," by Actuarial Standards Board Chairperson Beth Fitzgerald, highlights several new actuarial standards of practice in the pension, life and casualty practice areas.
Updated Board and Committee Meetings Policy
At its January meeting, the Academy Board of Directors updated its existing meetings policy to ensure that the objectivity and independence of the Academy continue in our public policy and professionalism work. The work of Academy volunteers and committees needs to be done in a deliberative environment that is robust, frank, and considers diverse sources of information and different perspectives, free from any specific interests of the employers of its members or of any other special interest group or organization. The revised policy will clarify and strengthen the Academy's efforts to continue the quality of work on which our reputation is built with the integrity that is expected. The updated policy [6] has been posted to the Academy Policies and Guidelines section of our website.
Life Reinsurance Practice Note Released
The Credit for Reinsurance Subgroup of the Academy's Reinsurance Committee released a new practice note [7], Credit for Life Reinsurance in U.S. Statutory Financial Statements. The practice note is intended to provide actuaries with information on current and emerging practices used to determine the credit for reinsurance that may be taken on statutory financial statements. Read the Academy alert [8].
Public Policy Activities
Upcoming Events
In the News
Note: Some links in this email go to external websites and may require registration. The Academy is not responsible for the content of these websites. Links may expire.