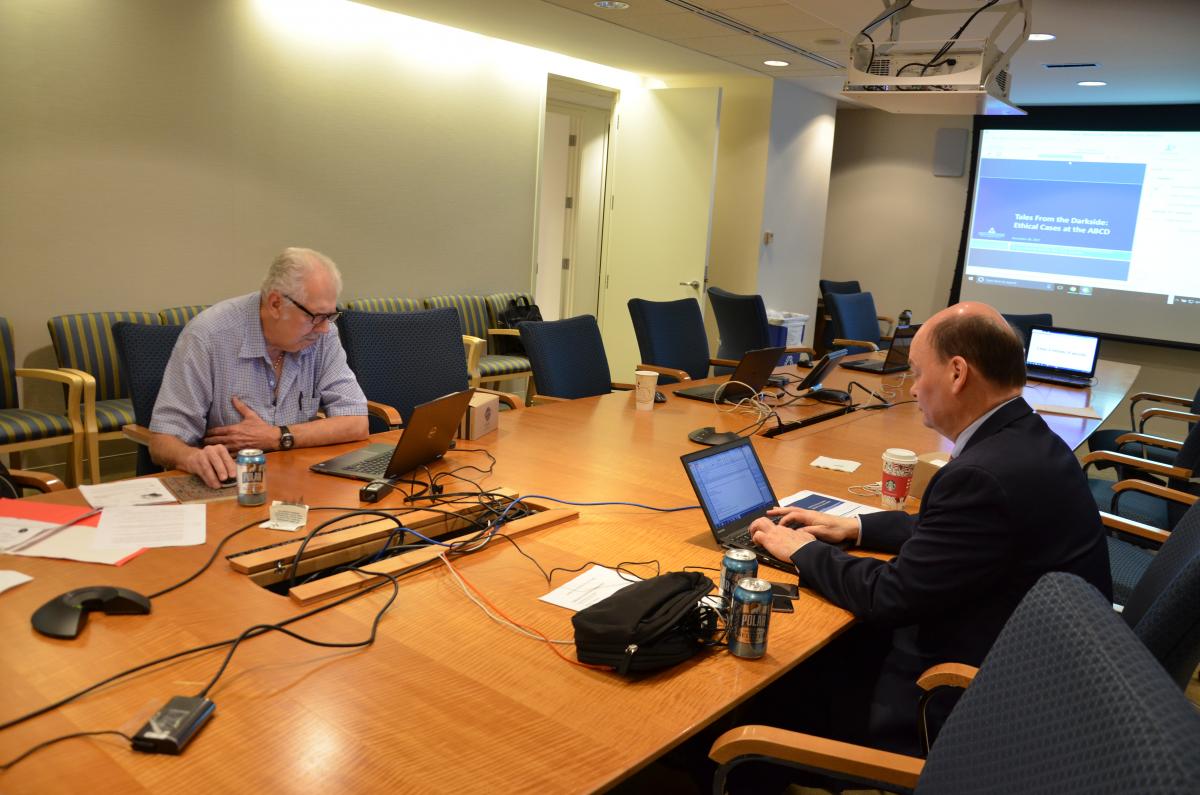 The final professionalism webinar of 2017 delivered a topic that many members have long requested—case studies and examples of professionalism issues that have come before the Actuarial Board for Counseling and Discipline (ABCD). "
Tales From The Dark Side: Ethical Cases at the ABCD
" featured ABCD members Godfrey Perrott and David Driscoll, who drew upon staples of popular culture to provide entertaining and enlightening examples of such issues. More than 2,300 people attended the Dec. 20 webinar, which was moderated by Academy General Counsel and Director of Professionalism Paul Kollmer-Dorsey."The takeaway that we want to leave you with is the necessity of maintaining your reputation as a professional at all times, and upholding the dignity of the profession," Driscoll said, citing investor Warren Buffett's adage that it takes 20 years to build a reputation, and 5 minutes to ruin it.
After offering an overview of the ABCD and its request for guidance (RFG) process, Perrott and Driscoll launched into several scenarios, one of which featured "Meathead," an actuary filing rates in the fictitious State of Fredonia, which hired "Bunker," an actuary with "Archie's Opinionated Actuaries," to review a rate filing. Bunker tells Meathead the rates are too high and dictates a set of assumptions that Meathead cannot support. After consulting with the ABCD, Meathead tells Bunker that if he uses Bunker's assumptions, he will follow ASOP No. 41,
Actuarial Communications
, and state that he has relied on Bunker for the assumptions and that he cannot support them. Bunker backs down.
In the next scenario, "Opie the actuary" leaves his long-time employer, Taylor Consulting, and moves to "Barney Fyffe Actuaries," where he is asked to lead a team auditing a retirement plan he worked on while at Taylor. The retirement plan files a complaint against Opie, alleging he has violated Code of Professional Conduct's Precept 7,
Conflict of Interest
. Opie responds badly, refusing to cooperate with the ABCD, thus violating Precept 14 as well. Meanwhile, his former colleagues at Taylor, fully aware of his conflict of interest, have violated Precept 13 themselves, by not reporting Opie's conflict of interest in the first place. (Precept 13 is about reporting violations of the Code; Precept 14 is about cooperating with the ABCD.)
This scenario generated a lively discussion, including an examination of the three parts of Precept 7. "The first part [the Actuary's ability to act fairly is unimpaired] is often called a look in the mirror test," Perrott said. "If you can't look at yourself in the mirror and say 'I think you're independent and can do a professional job,' you stop right there—you cannot do the work. If you think you are independent and qualified, you have to go through the disclosure process in the next two parts. You have to get explicit consent [to do the work]."
The webinar wrapped up with a seasonally appropriate example, featuring downtrodden actuary "Bob Cratchit," who is in the employ of the bad-tempered, miserly, and ethically challenged "Mr. Scrooge." In this reworking of a holiday classic, Scrooge refuses to provide the time and funds for Cratchit to complete the continuing education (CE) hours he needs to remain qualified to issue statements of actuarial opinion (SAOs). He tells Cratchit to report his CE status as "retired." A worried Cratchit calls the ABCD for advice. But, after a sleepless night haunted by past presidents of the Academy, Scrooge has a change of heart and books himself and Cratchit into enough CE events to make them both compliant for the year.
The discussion raised the question of what Cratchit should do if Scrooge did not have a change of heart. "Mr. Cratchit would have to summon the intestinal fortitude to find a different job, or at least not continue working for Scrooge in a capacity that obliged him to issue SAOs," Driscoll said. "If Scrooge refuses to pay for CE, the other option—which may not be viable given his financial situation—is to pay for CE activities out of his own pocket and use whatever meager paid time off the Scrooge organization provides him to become compliant."
"The key to this question is that if he does not meet the qualification standards and he issues an SAO, he has violated the Code of Conduct, which is not a prudent thing to do," Perrott said. "He would try to find a diplomatic way to tell Scrooge that, and Scrooge might fire him, which brings up a good point … as professionals, we are obligated to follow the Code, even if that leads us into an unpleasant situation. The fact that it will make you unpopular [and] the fact that filing a Precept 13 complaint will certainly lose you friends, is not a reason to not do it."
With that in mind, if you find yourself facing a difficult professionalism situation, the ABCD is here to help through its
RFG process
. And if you find yourself in need of some last-minute CE, you may view this and other
professionalism webinars
on the Academy's website.