Public Policy
While most countries with extensive social welfare programs fund their public programs on a pay-as-you-go basis, few countries have fully funded systems. But governments have several levers that can be pulled to address the changing demographics of aging populations.
One such lever is financing, and governments could address solvency concerns and ensure programs are sustainable into the future. Possible approaches include increasing taxes or adjusted enrollee contributions (e.g., varying contributions by income). While these approaches are not politically easy or palatable, they may be necessary.
Laws and regulations could also be used to improve the efficiency of health care systems and direct resources to the most appropriate and effective responses. For example, current reimbursement methodologies can create incentives for interventions that don't improve outcomes or the quality of life, and that may not align with the needs of the population. These methodologies could be changed to improve incentives, align patient and provider desired services, and improve quality. Japan, for instance, has issued guidelines for home-care support clinics and introduced fee schedules for clinics registered for provider-planned home care.
17
Contribution and eligibility requirements could also be used to better align an aging population to the available social welfare programs. The simplest example would be to adjust contributions by income, depending on a nation's health care system. Additionally, eligibility for certain benefits could be changed. Criteria used to determine hospice eligibility could be changed to make this benefit a more effective option for end-of-life care.
Integration of the various forms and levels of health care can improve service and the quality of life of patients while saving costs. Israel, for example, has a National Health Act that provides health care from conception to death—including palliative care—for all residents. It is integrated with wide-ranging public community services, long-term care coverage available to about 70 percent of the population, and—notably—many volunteer community groups and services.
Finally, benefits could be adjusted by aligning covered services and cost sharing to incentivize the utilization of services. For example, in China, palliative care is not provided or reimbursed through its health care system,
18
and patients and their families must pay fully out of pocket for the care. Adjustments could be made, however, to meet the needs of the covered populations.
Communities
Local communities also might assist in improving care for the elderly at the end of life. Approaches will vary based on demographics, income levels of the community, and the availability of health care.
One good example of how a community is coping with these issues is Kerala, India. Although India as a country ranks at the bottom on the "quality of death" index, there is a community-based, end-of-life care system in Kerala that has served as a model for many other communities across the globe. This model is based on the principles that the community should be empowered to take ownership of end-of-life care, and that services should be made accessible to individuals and families at a cost that is sustainable for the community.
19
The Kerala model is built upon a neighborhood network of volunteers who have been trained to identify patients who are chronically ill and are near the end of their lives. The volunteers are connected with outpatient-based, local palliative-care centers that provide support from trained palliative-care nurses and physicians. Volunteers supplement the health care professionals with psychological, social, and spiritual support that is culturally and socioeconomically appropriate to the patients and their families.
Since its start in 2000, the network has expanded to 50 palliative care physicians, 100 palliative care nurses, and 15,000 trained community volunteers. Having seen the value this model has brought to the community, the local government in Kerala has started contributing funds to support the network. Although Kerala has only 3 percent of India's population, the network is providing two-thirds of India's end-of-life services.
Another example of a community-based approach is England's Community Nurse Development Programme, which emphasizes the importance of district nurses and the integration of health care services provided to local populations. In Cambridge, England, a team of caregivers questioned and then changed how they worked together and integrated their care in order to better meet the wishes of people in their end-of-life care.
20
Changes in the caregivers' practices included:
Establishing regular meetings about once every other month;
Developing a patient list to include anyone believed to be in the last year of life with any underlying disease;
Proactively discussing preferred priorities for care with patients and their families;
Requiring care givers to write patient information in the same electronic notes; and
Routinely updating out-of-hours services with patient information.
An audit of the program after a 22-month period showed that of the 57 patients who died, 91 percent were able to die in the place of their choice, 67 percent were able to stay in their own place of residence (versus 35 percent for the national average), and only 12 percent died in the hospital (compared with the national average of 58 percent).
Providers
Aging is often associated with the decline in physical or mental capacity. Many elderly will develop life-threatening illnesses in which the progression of the illness inevitably leads to death. This progression should be matched by the nature of the care provided and the wishes and desires of the elderly patient and their family. Therefore, patient engagement is necessary.
This engagement is already taking place in several countries. (
See Figure 6.
) Unfortunately, there are still gaps. For example, cultural norms in China are such that doctors rely on families to make crucial health care choices, rather than patients.
21
Figure 6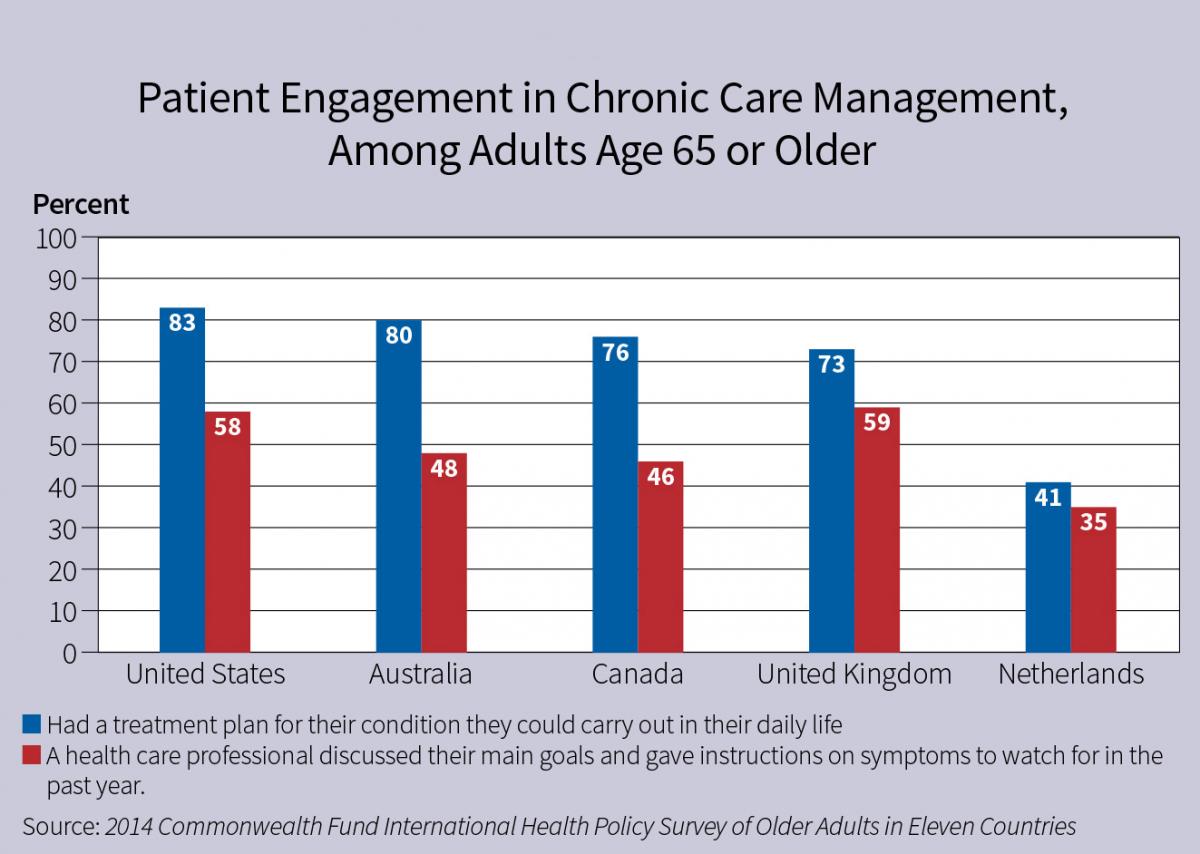 Increasing the training of health care providers in the needs of the elderly with chronic conditions who are near the end of life can help align the progression of the illness with the desires of the patient and the end-of-life care plan. The health system can also encourage increases in trained palliative care providers.

Families and Individuals
Support and caregiving have historically flowed in both directions among generations. While the aging population may increase the number of surviving generations, the global trend toward fewer children means fewer family members to provide care to the elderly. Exacerbating this is the trend toward generations living separately. For example, in Japan the percentage of people over age 65 living with children decreased from 87 percent in 1960 to 47 percent in 2005.
22
This demographic shift has not changed a family's desire to provide as much care as possible. Indeed, there appears to be a concern that they are "giving up" if they don't do everything possible to provide such care. In Japan, for example, additional payments for providing information on end-of-life care to elderly terminally ill patients and their families, and making a written agreement on such care, were terminated due to strong opposition by the elderly and the media.
23
In the United States, a provision that would have paid physicians for providing voluntary counseling to Medicare patients about living wills, advance directives, and end-of-life care options was struck from the final legislation that became the Affordable Care Act due to the public's concern and the debate over "death panels."
Families around the world are acting as surrogates for the elderly in making health care decisions. However, discussions about what to do if elderly patients become unable to make their own decisions vary by country. Interestingly, even though these discussions have taken place, few elderly have a written plan naming someone who will make treatment decisions if they are unable to do so, and even fewer have a written plan describing the treatment they want at the end of life. (
See Figure 7.
)
Figure 7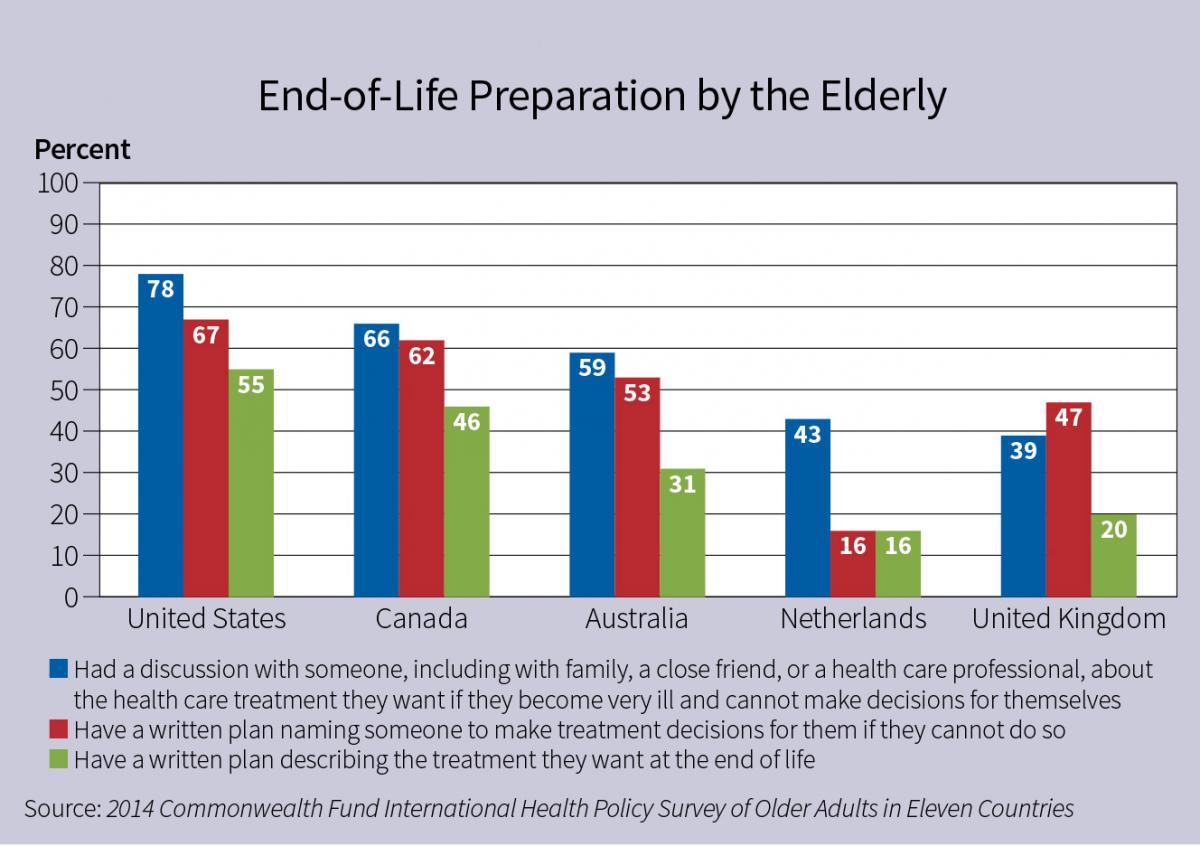 Families and individuals can take action to alleviate some of these issues. For example, advance directives are documents informing caregivers and families about one's intentions and preferences should they be unable to make the decisions themselves. These documents serve to improve communication, decrease the guilt and stress families may feel and lower costs by providing only the care the patient desires near the end of life.
The elderly and their families and caregivers also can discuss advanced care planning.
24
With a greater understanding of the progression of an elderly patient's disease, the patient, the family, and their caregivers can make medical decisions based on anticipation of what may happen. The plan might include:
A selection of a well-informed and trusted person to make health care decisions for the patient if the patient is unable to do so;
The creation of instructions based on a patient's health condition and preferences; and
Teaming between physicians and other caregivers to incorporate these care options with other medical decisions.
Finally, patients and families can understand the care options available and choose accordingly given the possible outcomes of those options and their personal situations.
Insurance Companies
Given the importance of adequate end-of-life care for patients and the significant financial stake insurance companies have in shouldering the cost, private insurers can be part of the solution in providing funding to accommodate the shift in types of health care needed in the coming years.
Private insurers can expand the traditional insurance coverage to include new types of treatment with respect to end-of-life care. Such insurance offerings could include supplementary coverage, critical illness coverage, and links to disability or life insurance. Combinations may prove to be an effective way of offering alternatives for patients and their families.
Finally, insurance companies can expand their role to be more involved in piloting end-of-life care by working with health care financing and health care systems. These private initiatives can be used in conjunction with public initiatives that may take place.
Looking Ahead
The issues surrounding end-of-life care for the elderly will become more severe due to the aging population and shifting demographics. However, very few countries have begun the long-term planning required to meet the ongoing challenges. As the pace of the population aging accelerates and a greater portion of countries' gross domestic product is consumed by health care and other social programs for the elderly, the solutions will become increasingly difficult to implement and place significant economic burdens on this generation and the next.

Solutions for the increasing burden of health care costs and care of the elderly at the end of life are multifaceted and should consider public policy, financial constraints, regional differences, personal considerations, as well as individual and family positions. They must also be supported by all stakeholders—the elderly, families, providers, and policymakers.

Policymakers can redirect national, regional, and local resources as well as set policies to assist in aligning the incentives. Provider solutions can include realistically assessing the clinical effectiveness of end-of-life care, the additional training for palliative care, and contracts that align incentives for end-of-life care. Individuals and families can also be realistic about the outcome of the care they discuss with their providers, learn more about the progression of chronic diseases they or their family member may suffer from, and put into place advance directives and care plans.

While none of these solutions will be easy, holistic considerations of the elements of end-of-life care are necessary to effectively address the shifting needs of the elderly population.