Academy Presents at NAIC Fall Meeting
Academy presentations at the NAIC Fall 2017 National Meeting in Honolulu are underway, with speakers addressing a variety of topics on Nov. 30 and Dec. 1:
Mary Bahna-Nolan, chairperson of the Academy's Life Experience Committee and the Society of Actuaries Preferred Mortality Oversight Group, presented an update [2] on guaranteed issue and simplified issue mortality, and an update on accelerated underwriting [3].

Dave Neve, vice president, life, gave an update on mortality aggregate experience [4] questions.

Arnold Dicke, chairperson of the Role of the Actuary Subgroup, provided an update [5] on use of the term "qualified actuary" in the Valuation Manual.

Donna Claire, chairperson of the PBR Governance Work Group, provided an update [6] on principle-based reserving (PBR) resources.

Academy professionalism representatives—including Mary D. Miller, a past Academy president and a former Ohio regulator; and Janet Carstens, a member of the Actuarial Board for Counseling and Discipline (ABCD)—provided an update on the Actuarial Standards Board (ASB), the ABCD, and other Academy professionalism activities.
Health and casualty meetings will follow later today and this weekend, and the Academy will host a regulator-only professionalism breakfast and discussion forum on Sunday, Dec. 3. A post-NAIC alert recapping the Academy's activity at the meeting will be released soon; Academy members may subscribe to alerts free via the member section [7] of the website.
Committee Publishes Issue Brief on State-Based Retirement Initiatives
The Retirement System Assessment and Policy Committee published an issue brief [8] on state-based initiatives intended to expand retirement coverage among workers who do not have access to employer-sponsored plans, and the alignment of these efforts with the principles of the Academy's Retirement for the AGES (Alignment, Governance, Efficiency, and Sustainability) initiative.
Recently Released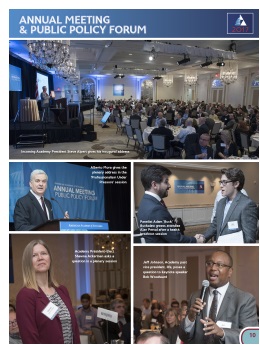 [9]The November Actuarial Update [9] provides full coverage of the Academy's Annual Meeting and Public Policy Forum, held this month in Washington. Included is a recap of the plenary-session speakers including the Washington Post's Bob Woodward, and practice-area breakout sessions covering key casualty, health, life, and pension issues. Also in this issue: the Academy's Life and Health Qualifications Seminar drew a capacity audience, the Health Care Delivery Committee's issue brief examines comparative effectiveness research, and a "Professionalism Counts" column outlines Academy resources.
The fall ASB Boxscore [10] covers the ASB's adoption of Actuarial Standard of Practice No. 51, Assessment and Disclosure of Risk Associated with Measuring Pension Obligations and Determining Pension Plan Contributions; ASOP No. 52, Principle-Based Reserves for Life Products under the NAIC Valuation Manual; ASB's approval of a proposal to revise ASOP No. 22, Statements of Opinion Based on Asset Adequacy Analysis by Actuaries for Life or Health Insurers; and looks ahead at drafts the ASB plans to consider at its meeting this month.
Academy Presents on LTC Insurance at NCOIL
Al Schmitz, chairperson of the Academy's Long-Term Care/Disability Committee, presented [11] at the National Conference of Insurance Legislators annual meeting in Phoenix on long-term care (LTC) insurance sales and premium increase data, understanding premium rate increases, and essential criteria in LTC reform.
Next Week: Webinar on Valuation of Lump-Sum Benefits
Join us next Friday, Dec. 8, for "Valuation of Lump-Sum Benefits [12]," a webinar that will take a look at lump-sum payments and the valuation of these benefits. The webinar will be held from noon to 1:30 p.m. EST. The Academy believes in good faith that attendees will have the opportunity to earn up to 1.8 continuing education (CE) credits and core non-ethics continuing professionalism education credits under Joint Board for the Enrollment of Actuaries rules. Register today [12].
Professionalism Outreach
ASB member Darrell Knapp presented on developments in actuarial professionalism at the Nov. 28 Actuaries Club of Saint Louis meeting.

ABCD Vice Chairperson David Ogden delivered a professionalism presentation during a Southeastern Actuaries Conference general session in Charlotte, N.C.
Public Policy Activities
The Risk Sharing Subcommittee and Premium Review Work Group submitted comments [13] to the U.S. Department of Health and Human Services (HHS) regarding the proposed rule for the 2019 benefit and payment parameters. The comments address proposed changes to the risk sharing mechanisms, special enrollment periods, essential health benefits, minimum essential coverage, and medical loss ratios.

The Health Practice Council (HPC) submitted a letter [14] to the U.S. Senate providing comments on the potential consequences of eliminating the Affordable Care Act's (ACA's) individual mandate, as recently included in the Tax Cuts and Jobs Act.

The Multiemployer Plans Committee submitted comments [15] to the Pension Benefit Guaranty Corporation on modifications to the instructions for the 2017 Schedule MB (Multiemployer Defined Benefit Plan Actuarial Information) of the Form 5500.
Upcoming Events
In the News
Note: Some links in this email go to external websites and may require registration. The Academy is not responsible for the content of these websites. Links may expire.