Academy Activities
The Health Practice Council (HPC) released a policy paper [1] on cost-sharing reductions (CSRs) that emphasized making funding for CSRs permanent and automatic in order to avoid premium increases and market instability.
The HPC sent a letter [2] to Senate leadership on the potential adverse consequences of repealing the individual mandate, which would lead to lower enrollment, a deterioration of the risk pool, and higher premiums.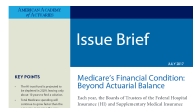 [3]The Medicare Subcommittee published an issue brief [3] on the 2017 Medicare Trustees Report [4] released in July and the program's long-term financial health.
The Health Solvency Subcommittee and the P/C RBC Committee submitted a joint comment letter [5] to the NAIC's Investment Risk-Based Capital Working Group about proposed changes to corporate bond factors.
The HPC released a policy paper [6] in July highlighting several frequently asked questions (FAQs) on risk pooling and explaining how it works in the individual health insurance market. The FAQs also explore the differences between a single risk pool and separate risk pools.