Academy activities, legislative/regulatory updates, and more.

'Actuarial Challenge' Looks for Approaches to Reform Health Care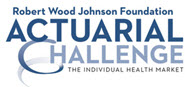 Are you up for a challenge? The Academy is helping to promote and coordinate a collaborative Actuarial Challenge, being conducted by the Robert Wood Johnson Foundation in conjunction with Milliman Inc. The challenge is for actuaries to provide innovative ideas and proposals to increase stability in the individual health insurance market.
The Affordable Care Act (ACA) brought extensive changes to the individual health insurance market. While access to health insurance coverage has increased significantly, costs have continued to rise. A number of health plans have exited the exchanges, reducing consumer plan choice, and other health plans have incurred losses year over year. These complications could threaten the improvements to access that have been achieved, which in turn could lead to further increasing costs.
The Actuarial Challenge is designed to elicit innovative ideas and proposals from informed actuaries to move the individual insurance market further toward the goal of universal access to quality health services and providers in a financially secure and stable way with consideration of the costs the solution places upon individuals, employers, health care providers, taxpayers (present and future), and other health-sector stakeholders.
The participants will work in collaborative teams, using a common simulation model operated by Milliman. The teams will experiment with different policy levers to examine alternative approaches for promoting increased enrollment, stable costs, and wide health plan participation in the individual health insurance marketplace.
The challenge begins this month and will conclude in April 2017. Visit the Actuarial Challenge website for more information and to take the challenge.
Academy Activities
The Long-Term Care (LTC) Credibility Monograph Work Group published a monograph on Aug. 17 to increase awareness of the applicability of credibility procedures to work related to LTC insurance (LTCI), provide information on current practices, and outline considerations and suggestions for advancing actuarial practice in LTCI. The work group provided an update to the NAIC on the monograph at NAIC's Summer National Meeting in San Diego in late August.
The Medicare Part D Risk-Based Capital (RBC) Subgroup published a report Aug. 24 recommending RBC risk factors for Medicare Part D coverage based on analysis of detailed carrier experience, following up an initial report that was released in 2014.
On Aug. 25, the Cancer Claims Cost Tables Work Group published a report on developing a new set of valuation tables for use with cancer insurance policies in order to aid actuaries with their pricing and reviewing of product filings by providing analysis on the initial data provided by the industry.
The Academy released a cross-practice alert outlining members' presentations on longevity risk, LTCI, and other actuarial issues before regulators at the NAIC Summer National Meeting in San Diego in late August.
CMS Acting Administrator Andy Slavitt to Speak at Annual Meeting
CMS Acting Administrator Andy Slavitt will be the opening plenary speaker at the Academy's Annual Meeting and Public Policy Forum in November. At CMS, Slavitt is helping to shape and deliver quality health care services—including Medicaid, Medicare, the Children's Health Insurance Program, and the Health Insurance Marketplace—to 140 million Americans. Registration is still available for this year's Annual Meeting and Public Policy Forum, to be held Nov. 3-4 in Washington, D.C. Attendees will get an in-depth look at health and other top public policy and professionalism issues facing the actuarial profession—including deep looks at the Affordable Care Act, the new Medicare Access and CHIP Reauthorization Act, and spending on prescription drugs—and have the opportunity to earn valuable continuing education credit.Visit the website for details on breakout sessions and how to register.
Legislative/Regulatory Updates

The U.S. House of Representatives on Sept. 13 passed H.R. 3590—the Halt Tax Increases on the Middle Class and Seniors Act—which would repeal a revenue provision of the ACA that aims to alleviate out-of-pocket medical expenses.

On Sept. 6, the Centers for Medicare and Medicaid Services (CMS) published the proposed Notice of Benefit and Payment Parameters for 2018 and the draft 2018 actuarial value (AV) calculator and methodology. Comments are due to CMS by Oct. 6.

Also on Sept. 6, the CMS Center for Consumer Information and Insurance Oversight (CCIIO) released an FAQ document regarding verification of special enrollment periods. Comments are due by Sept. 20.

The House Ways and Means Committee approved the CO-OP Consumer Protection Act of 2016 (H.R. 954) on Sept. 8. The bill is sponsored by Rep. Adrian Smith (R-Neb.) and would exempt from the ACA's individual mandate tax penalty those who unexpectedly lost their health insurance. Sen. Ben Sasse (R-Neb.) released a companion bill in the Senate.
Registration Closing Friday for Global Health Webinar
The next webinar in the global health care webinar series, presented jointly by the Academy's Health Practice International Committee and the International Actuarial Association Health Section (IAAHS), will examine the health care systems of France and the United Kingdom. "Exploring Global Health Care Cost Drivers: France and the U.K." will take place Wednesday, Oct. 5, from 10:30 a.m. to noon EDT. Registration—open through tomorrow, Sept. 30—is free for Academy and IAAHS members. Register today.
In the News/Media Activities
Academy Senior Health Fellow Cori Uccello provided an actuarial perspective on the trends observed within the individual risk pool under the ACA in a Bloomberg BNA story. The story reports on an analysis released by CMS that finds the ACA individual market risk pools improved between 2014 and 2015.
Barb Klever, chairperson of the Academy's Risk Sharing Subcommittee, discussed possible changes to CMS' ACA risk-adjustment model in a subscriber-only Inside Health Insurance Exchanges story.
A LifeHealthPro story, "Regulators post cancer table update drafts," focuses on the Cancer Claims Cost Tables Work Group's report on developing a new set of valuation tables for use with cancer insurance policies.
A Salon story on what the results of the November election could mean for the future of the ACA cited the Academy's past analysis on the implications of repealing some of the risk-mitigation mechanisms built into the law.
The Academy's May issue brief on 2017 premium drivers was cited in columns in American Press and HealthZette looking at looming rate increases, and in a separate HealthZette personal finance column on best practices for consumers to reduce prescription drug expenses.
Limited Space for LHQ Seminar
Registration continues for the 2016 Life and Health Qualifications Seminar, to be held Nov. 13-17 in Arlington, Va. (outside of Washington, D.C.). The seminar will include sessions on health insurance valuation; premium, loss, expense, and contingency reserves; RBC; and professionalism. Space is limited; register today for this highly regarded seminar.

Having trouble viewing this email? View it in your browser.