This Week, September 24-28, 2018
Printer-friendly version
Read the latest news from the Academy.
Recent Academy Activity, Sept. 24–28, 2018
Labor Dept. Official Preston Rutledge to Deliver Annual Meeting Plenary Address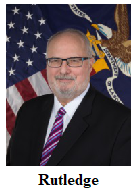 Preston Rutledge, assistant secretary of labor for the Employee Benefits Security Administration (EBSA), will deliver opening plenary remarks at the Academy's Annual Meeting and Public Policy Forum, to be held Nov. 1–2 in Washington, D.C. He will discuss EBSA's work, which covers retirement security, health, and other workplace-related benefits. Rutledge joins an agenda packed with opportunities to explore important public policy issues in each practice area, offering attendees the opportunity to discuss critical issues with peers, regulators, and public policy officials.
Are you following this year's midterm elections? Need some help making sense of the current political climate? You'll also have a unique opportunity to hear directly from—and ask questions of—Charlie Cook, editor and publisher of the highly respected Cook Political Report and an analyst for NBC News and the National Journal Group. Cook will offer his insights in a Nov. 2 keynote address, just four days before the fall midterm elections.
The hotel room block deadline is Oct. 9. Register today.
Fall P/C Public Policy Webinar Covers Key Issues
The P/C Public Policy Update—Fall 2018 webinar, held on Sept. 25, covered property/casualty issues from the NAIC Summer 2018 National Meeting and other P/C public policy topics of interest, including catastrophes (floods, hurricanes, etc.); qualifications/credentials for casualty actuaries; travel insurance; and large-deductible workers' compensation. Presenters were Casualty Vice President Rade Musulin and Kay Cleary, chairperson of the P/C Extreme Events and Property Lines Committee. Slides and audio are available free to members.
Webinar Looks at Practical Considerations in Completing and Using Form F
The Academy on Friday hosted the webinar "Practical Considerations in Completing and Using Form F Efficiently and Effectively." Presenters offered perspectives on Form F's role in the regulation of insurers and provided practical considerations in completing and using Form F. Slides and audio will be available free to members soon.
Professionalism Outreach
Actuarial Standards Board General Committee and Academy Health Practice Council member Susan Pantely on Wednesday provided an update on recent developments with health-related actuarial standards of practice to 40 health actuaries attending a Centene off-site meeting in Tempe, Ariz.
Public Policy Outreach
Laurel Kastrup, Academy vice president of risk management and financial reporting, spoke on a panel discussion on regulatory pressures Monday at the Insurance Risk & Capital Americas conference of risk management professionals in New York City. She addressed potential regulatory impacts to capital management functions, highlighting the Academy's continued involvement on International Financial Reporting Standard 17 (IFRS 17), promulgated by the International Accounting Standards Board. She also reviewed the Financial Accounting Standards Board's continued updates and targeted improvements to U.S. GAAP accounting.
Applicability Guidelines Updated
The life tab of the Applicability Guidelines has been updated for Actuarial Standard of Practice (ASOP) No. 54, Pricing of Life Insurance and Annuity Products. ASOP No. 54 takes effect on Dec. 1, 2018.
Public Employment Opportunity
The U.S. Department of Labor's Employee Benefits Security Administration (EBSA) has a public employment opportunity for a senior actuary with a health and welfare benefit specialty. Among other duties, the actuary will provide support related to EBSA's regulation and supervision of association health plans. Position information is available by clicking here (general public) or here (qualified federal employees, veterans, or individuals with disabilities). The application deadline is Oct. 19.
The Academy has long supported government employers that are seeking to hire qualified actuaries. See our Public Employment Opportunity Posting Policy for more information.
Recently Released
Public Policy Activity
Upcoming Events
In the News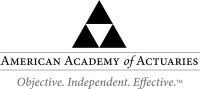 Follow the Academy on Facebook, LinkedIn, and Twitter.

---
1850 M Street NW • Suite 300 • Washington, DC 20036 • 202.223.8196 • www.actuary.org
Copyright 2018 American Academy of Actuaries. All rights reserved.