This Week, September 17-21, 2018
Printer-friendly version
Read the latest news from the Academy.
Recent Academy Activity, Sept. 17–21, 2018
Annual Meeting Hotel Room Block Deadline Approaching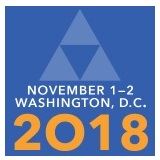 The hotel room block for the Academy's 2018 Annual Meeting and Public Policy Forum will remain open through Oct. 9. The Nov. 1–2 event in the nation's capital, to be held at the Washington Marriott Georgetown Hotel—a four-star hotel in the vibrant West End neighborhood—will feature practice-area breakout sessions and plenary speakers on Big Data and professionalism, including a professionalism game-show session. Gene Dodaro, U.S. comptroller general and head of the U.S. Government Accountability Office, will be a keynote speaker, and political analyst Charlie Cook, editor of the Cook Political Report, will give an overview of national politics just days before the midterm elections. The Nov. 1 dinner entertainment, to be held at Washington's historic Mayflower Hotel, will be a "whodunit" Prohibition-era themed murder mystery. Register today to secure your room and join us in November.
Update on Petition to Change Rules Governing Participation of Guests at Academy Committee Meetings
As discussed in the August Actuarial Update, some Academy members have been asked to sign a petition in support of a membership vote on changing the Academy's rules governing the participation of guests in meetings of the Actuarial Standards Board (ASB) and of the Academy's various committees. A petition was presented to the Academy on Sept. 13, which the Academy has reviewed and determined is insufficient to trigger a membership vote for three principal reasons. Read more here.
Next Tuesday—Fall P/CPublic Policy Webinar
The P/C Public Policy Update—Fall 2018 webinar will be held next Tuesday, Sept. 25, from noon to 1 p.m. EDT. The webinar will recap property/casualty issues from the NAIC Summer 2018 National Meeting and cover other current P/C public policy topics of interest. Presenting will be Casualty Vice President Rade Musulin and Kay Cleary, chairperson of the P/C Extreme Events and Property Lines Committee. Continuing education credit will be available. Register today.
Capitol Forum Webinar on Health Insurance Set for Next Month
Join the Academy on Oct. 25 for the latest webinar in our "Capitol Forum: Meet the Experts" series for an inside look at how the Health Insurance Simulation Model (HISIM) is being updated. Our speakers—Jessica Banthin, deputy assistant director of the Congressional Budget Office's (CBO) Health, Retirement, and Long-Term Analysis Division (HRLD), and Alexandra Minicozzi, the unit chief of health insurance modeling for the division—will provide an overview of HISIM, which is used to generate estimates of health insurance coverage and premiums for the U.S. population under age 65. CBO analysts use the model to develop baseline projections and to simulate the effects of proposed changes to policies involving health insurance coverage. Academy Senior Health Fellow Cori Uccello will moderate. Register today.
International Outreach
Jeff Schlinsog, former Academy vice president, risk management and financial reporting, and Academy Director of Public Policy Craig Hanna represented the Academy on Thursday and Friday in Utrecht, The Netherlands, attending committee meetings and the general session at the invitation of the Actuarial Association of Europe.
Professionalism Outreach
Committee on Qualifications member Keith Passwater delivered a professionalism presentation Monday to an audience of about 150 at the Tristate Actuarial Club's meeting in Columbus, Ohio.
Recently Released
In the Fall Casualty Quarterly, Travel Insurance Task Force Chairperson Daniel Roth does a Q&A on the task force's new travel insurance monograph. Also in this issue, the Academy presented at the Casualty Loss Reserve Seminar and at a Capitol Hill cybersecurity panel, and a roundup of the latest state and federal legislative and regulatory activity.
The latest ASB Boxscore covers the ASB's adoption of the new Actuarial Standards of Practice (ASOP) No. 54, Pricing of Life Insurance and Annuity Products; a revision of ASOP No. 17, Expert Testimony by Actuaries; and a preview of the ASB's upcoming meetings.
Public Policy Activity
The Big Data Task Force submitted comments ahead of the U.S. Senate Committee on Banking, Housing, and Urban Affairs' hearing, "Fintech: Examining Digitization, Data, and Technology."

The Solvency Committee submitted comments to the NAIC's Group Capital Calculation (E) Working Group on scope and non-insurance testing.
Upcoming Events
P/C Public Policy Update—Fall 2018—Sept. 25, webinar

Practical Considerations in Completing and Using Form F Efficiently and Effectively—Sept. 28, webinar

The Anatomy of the ASOPs—Oct. 17, professionalism webinar

Catastrophe Modeling—Oct. 17, webinar (registration opening soon)

Capitol Forum: CBO's Health Insurance Simulation Model (HISIM)—Oct. 25, webinar

Annual Meeting and Public Policy Forum—Nov. 1–2, Washington, D.C.

Life and Health Qualifications Seminar—Nov. 4–8, Arlington, Va.

Seminar on Effective P/C Loss Reserve Opinions—Dec. 6–7, Chicago
In the News
Senior Health Fellow Cori Uccello's comments from an Academy news release on short-term, limited-duration insurance were cited in a Think Progress story. In an AIS Health story, Uccello discussed the modest average premium increases projected for 2019 and how they are unlikely to cause large shifts in enrollment numbers.

A subscriber-only Pensions & Investments story cited comments from Bruce Cadenhead, vice chairperson of the Pension Committee, on how the corporate tax rate reduction in the Tax Cuts and Jobs Act created incentives for plan sponsors to make contributions.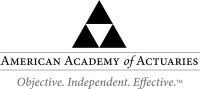 Follow the Academy on Facebook, LinkedIn, and Twitter.

---
1850 M Street NW • Suite 300 • Washington, DC 20036 • 202.223.8196 • www.actuary.org
Copyright 2018 American Academy of Actuaries. All rights reserved.