This Week: Sept. 11-15, 2017
Printer-friendly version
Read the latest news from the Academy.
Recent Academy Activity, Sept. 11–15, 2017
Academy Announces Recipients of Farley, Myers, Volunteerism Awards
The Academy announced that the recipients of its two highest awards, the Jarvis Farley Service Award and the Robert J. Myers Public Service Award, will be Ken Kent and Larry Bruning, respectively. The Academy will also honor five volunteers—Mary Bahna-Nolan, Keith Passwater, Lenny Reback, Nancy Watkins, and Aaron Weindling—with the annual Outstanding Volunteerism Award. The awards will be presented at the Academy's Annual Meeting and Public Policy Forum, Nov. 14–15 in Washington, D.C.
Academy Hosts Fourth PBR Boot Camp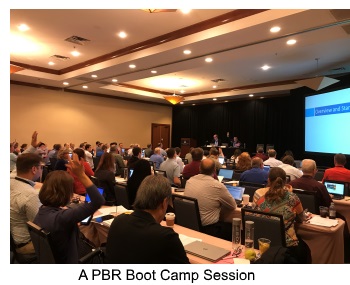 The Academy hosted its fourth PBR Boot Camp in Las Vegas this week, a three-day seminar that featured 18 dynamic, interactive sessions. The audience of about 60 was primarily regulatory actuaries, who received targeted instruction and also participated in intensive, focused discussion groups, providing an opportunity for attendees to share insights and learn from others' experience following implementation of principle-based reserving (PBR) in January.
CLRS Sessions Feature Academy Presentations
More than 500 people attended this week's Casualty Loss Reserve Seminar (CLRS) in Philadelphia, co-hosted by the Academy and the Casualty Actuarial Society. A number of Academy volunteers were on the faculty for the CLRS program. Kathy Odomirok, vice chairperson of the Committee on Property and Liability Financial Reporting (COPLFR), led a discussion of the Academy's P/C loss reserves practice note, and COPLFR gave a preview of a draft of its new practice note, Retained Risk for Non-Insurers: Accounting Treatments and Perspectives, which will be released for comment later this year. The COPLFR presentation was given by Chairperson Lisa Slotznick along with Patty Smolen, Tom Conway, and Mary Frances Miller, a past Academy president.
Early Registration Ends Today for LHQ Seminar
Today is the last day for early registration for the 2017 Life and Health Qualifications Seminar, to be held Nov. 12–16 in Arlington, Va., outside of Washington, D.C. This highly regarded seminar will equip you with the knowledge you need to gain necessary qualifications to issue actuarial opinions for either the NAIC Life and A&H Annual Statement or the NAIC Health Annual Statement. Space is limited so register today and secure your spot.
Next Wednesday—Early Registration Deadline for Annual Meeting
Early registration will end next Wednesday, Sept. 20, for the Academy's 2017 Annual Meeting and Public Policy Forum, to be held Nov. 14–15 in Washington, D.C. With an agenda that explores the latest in today's public policy and professionalism developments, this event will equip you with information on changes in Washington, D.C., and what they mean for our profession. Register here for this can't-miss event.
A Conversation With Bob Woodward
Wondering what Bob Woodward will discuss during his keynote address at the Annual Meeting and Public Policy Forum? The Academy had a chance to talk with the veteran Washington Post journalist and Pulitzer Prize winner recently—click here to read highlights from this exclusive conversation.
Next Tuesday—Webinar to Focus on IFRS & Long-Duration Contracts
Featuring speakers from the Academy's IFRS 17 Work Group, next week's "International Financial Reporting—A Long-Duration Contracts Perspective to IFRS 17" webinar will take an in-depth look at the International Financial Reporting Standard (IFRS) 17—Insurance Contracts. This standard was recently issued by the International Accounting Standards Board and will be effective Jan. 1, 2021. Register today for an illuminating conversation about the standard, what it does, and who will be affected. The webinar will be held next Tuesday, Sept. 19, from noon to 1:30 p.m. EDT. A second webinar on Sept. 25 will look at the same standard, with a focus on short-duration contracts. Learn more.
Recently Released
Public Policy Activities
Alerts
Upcoming Events
Note: Some links in this email go to external websites and may require registration. The Academy is not responsible for the content of these websites. Links may expire.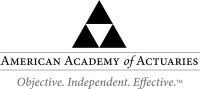 Follow the Academy on Facebook, LinkedIn, and Twitter.

---
1850 M Street NW • Suite 300 • Washington, DC 20036 • 202.223.8196 • www.actuary.org
Copyright 2017 American Academy of Actuaries. All rights reserved.