This Week: Oct. 30-Nov. 3, 2017
Printer-friendly version
Read the latest news from the Academy.
Recent Academy Activity, Oct. 30–Nov. 3, 2017
Academy Dues Renewal
Citing "The Meaning of Your Membership"—a report highlighting the Academy's mission-critical work in public policy and professionalism this year—Academy President Bob Beuerlein announced this week that it is time to renew your membership for 2018. The Academy Board decided on a small increase for 2018, bringing the full regular dues rate to $635. This will ensure that the Academy's financial position remains strong as we continue to provide the voice of objective, nonpartisan actuarial analysis to policymakers in the United States.

Academy Announces Position Statement on Lifetime Income
The Academy announced a position statement this week in support of policy and educational initiatives to increase retirement income options within employer-sponsored defined contribution (DC) plans.

"Retiring DC plan participants currently have few tools to efficiently manage their account balances for a long and secure retirement," said Academy President-Elect and Chairperson of the Academy's Public Interest Committee Steve Alpert. "Adding lifetime income options to these plans—supported by appropriate laws, regulations, and educational initiatives—will enhance the financial well-being and security of the next generation of retirees. Establishing tools within DC plans that could help plan participants address financial risks like the possibility of outliving their means serves a clear public interest."

Annual Meeting Update—Alberto Mora to Speak at Professionalism Plenary Session

Alberto Mora, senior fellow at the Harvard Kennedy School of Government's Carr Center for Human Rights Policy and a past winner of the JFK Presidential Library's Profile in Courage Award, will deliver opening remarks during the professionalism plenary session at the Academy's Annual Meeting and Public Policy Forum, Nov. 14–15 in Washington, D.C.

The "Professionalism Under Pressure" plenary will be held on Tuesday afternoon, Nov. 14, as part of the annual two-day event. The Academy believes in good faith that your attendance at this professionalism session will give you the opportunity to earn up to 1.8 hours of organized professionalism continuing education credit, and that Enrolled Actuaries attending this session may earn up to 1.8 "core ethics" CPD credits under the JBEA rules.

The Annual Meeting is just around the corner. Register today and plan to join us in Washington this month.
Professionalism Outreach
Recently Released
Upcoming Events
Alerts
Public Policy Activities
In the News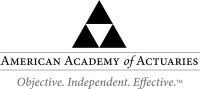 Follow the Academy on Facebook, LinkedIn, and Twitter.

---
1850 M Street NW • Suite 300 • Washington, DC 20036 • 202.223.8196 • www.actuary.org
Copyright 2017 American Academy of Actuaries. All rights reserved.