This Week: Oct. 16-20, 2017
Printer-friendly version
Read the latest news from the Academy.
Recent Academy Activity, Oct. 16–20, 2017
Today—Annual Meeting Regular Registration Deadline
Today, Oct. 20, is the deadline for regular registration for the Academy's Annual Meeting and Public Policy Forum, to be held Nov. 14–15 in Washington, D.C. The online agenda is available, with practice-area breakout sessions (casualty, health, life, and pension) and keynote and plenary speakers listed.
The agenda includes nearly 40 experts; Bob Woodward of the Washington Post will deliver a keynote address, and political pundits Mark Shields and Alex Castellanos will lead a plenary session. This year's dinner entertainment will be the Shakespeare Theatre Co., which will perform "Shakespeare's Greatest Hits." Register today and plan to join us, and your peers, at this year's event.
Next Week—Professionalism Webinar: The Great Assumptions Debate
Assumptions lie at the heart of actuarial work. Late last year, the Actuarial Standards Board (ASB) approved an exposure draft of a proposed actuarial standard of practice (ASOP) that would provide guidance to actuaries setting assumptions. Join the Academy for a webinar, "The Great Assumptions Debate," that will examine key issues raised in comment letters during the exposure process. Speakers will be ASB member Barbara Snyder, ASB Assumptions Task Force Chairperson Maria Sarli, and ASB General Committee member Ralph Blanchard. Academy General Counsel and Director of Professionalism Paul Kollmer-Dorsey will moderate. The webinar will be Thursday, Oct. 26, from noon to 1:30 p.m. EDT.
The Academy believes in good faith that your attendance at this live professionalism webinar constitutes an organized activity as defined under the current Qualification Standards for Actuaries Issuing Statements of Actuarial Opinion in the United States, and that you may earn up to 1.8 CE credits for attending this live webinar. We also believe in good faith that Enrolled Actuaries may earn 1.8 CPE core ethics credits under the Joint Board for the Enrollment of Actuaries (JBEA) rules for attending this live webinar. However, the JBEA ultimately determines what constitutes core, non-core, ethics, or non-ethics continuing education and the number of CPE credit hours allocated to same for enrolled actuaries.
Recently Released
The latest Enrolled Actuaries Report covers the recent webinar and report on retirement readiness in the United States, United Kingdom, and Australia and the Pension Practice Council's Capitol Hill briefing on multiemployer-plan issues, and offers an in-depth preview of pension breakout sessions at next month's Annual Meeting and Public Policy Forum.
Alerts
A bill introduced Thursday by U.S. Senate Committee on Health, Education, Labor & Pensions (HELP) Chairman Lamar Alexander (R-Tenn.) and HELP Ranking Member Patty Murray (D-Wash.)—currently co-sponsored by 12 Republicans and 12 Democrats—would seek to stabilize premiums in the individual market.

The U.S. Government Accountability Office released a report this week examining the retirement security challenges facing Americans. The report identifies key retirement security issues and evaluates ongoing trends in the U.S. public and private retirement systems.

Subscribe to Member Alerts: Subscribers to the Academy's alerts are notified by email when a new alert is posted in their area(s) of interest. The alerts are available in five areas of focus: casualty, health, life, pension, and cross-practice issues. Academy members may subscribe to any or all of them free of charge as a member service after signing in to the member section of the website.
Public Policy Activities
The Committee on Property and Liability Financial Reporting sent a comment letter to the NAIC's Actuarial Opinion Working Group on the possible effects of recent life insurance Valuation Manual changes on Statements of Actuarial Opinion of P/C insurers whose reports include accident and health or long-term care lines of business.

The Non-Guaranteed Elements Work Group submitted a comment letter to the NAIC's Life Insurance Buyer's Guide (A) Working Group regarding the Life Insurance Buyer's Guide Discussion Draft.
In the News
Note: Some links in this email go to external websites and may require registration. The Academy is not responsible for the content of these websites. Links may expire.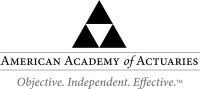 Follow the Academy on Facebook, LinkedIn, and Twitter.

---
1850 M Street NW • Suite 300 • Washington, DC 20036 • 202.223.8196 • www.actuary.org
Copyright 2017 American Academy of Actuaries. All rights reserved.