This Week, May 7-11, 2018
Printer-friendly version
Read the latest news from the Academy.
Recent Academy Activity, May 7–11, 2018
New Video Highlights Actuarial Professionalism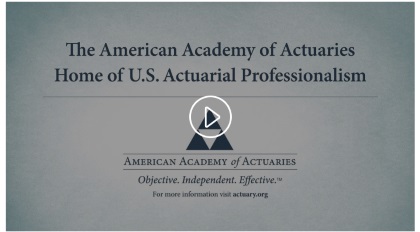 An Academy video released this week highlights actuarial professionalism, including training, practice, and available resources. It is directed toward those interested in the actuarial profession, and offers big-picture information about what actuaries do and how they conduct their work. The video also emphasizes the Academy's mission to serve the public and the U.S. actuarial profession, and echoes a series of practice-specific videos released last year by the Academy.
Academy Responds to NAIC Exposure Draft on CASTF Attestation Charge
The Academy submitted a letter Thursday to the NAIC responding to an exposure draft that the NAIC's Casualty Actuarial and Statistical Task Force (CASTF) has issued containing potential changes to the P/C Statement of Actuarial Opinion Instructions to address the CASTF's "Attestation" charge and their working definition of "qualified actuary." Mary D. Miller, past academy president and former chief actuary of Ohio, submitted the comments on our behalf.
Extra-Early Registration Deadline Approaching for Annual Meeting and Public Policy Forum
The extra-early deadline to register for the Academy's Annual Meeting and Public Policy Forum is less than a month away. This highly focused meeting and policy forum provides attendees with multiple opportunities to engage with policymakers, business leaders, actuaries from all practice areas, and Academy leaders. Political analyst Charlie Cook of the Cook Political Report will be among the keynote speakers. Prices will increase after June 8—register today and save.
Public Employment Opportunity
The Government Accountability Office (GAO) has a public employment opportunity for a senior actuary with a property/casualty and general insurance specialty. The Washington, D.C.-based position is within GAO's office of Applied Research and Methods (ARM), which provides technical and specialist expertise to support and extend the work that GAO supplies to Congress and federal agencies. ARM actuaries serve as consultants to other GAO teams in a variety of areas of interest to Congress. Position information is available via USAJOBS by clicking here (general public) or here (qualified federal employees, veterans, or individuals with disabilities).
The Academy has long supported government employers that are seeking to hire qualified actuaries. See our Public Employment Opportunity Posting Policy for more information.
Academy Presents on Retirement Readiness
Academy Senior Pension Fellow Ted Goldman gave an interactive presentation on retirement readiness Thursday at the spring meeting of the Middle Atlantic Actuarial Club in Columbia, Md. The presentation focused on the report, Retirement Readiness: A Comparative Analysis of Australia, the United Kingdom, and the United States, published last October by the Academy, the Institute and Faculty of Actuaries (U.K.), and the Actuaries Institute of Australia; after its release, the report was the topic of a well-attended Academy webinar on retirement issues in the three countries. Goldman discussed how the changing social, demographic, and economic landscape has transformed retirement expectations; the strategies and level of success of accumulating wealth to prepare for retirement; and the ability of individuals to consider and plan for the unexpected events that may occur during retirement.
Recently Released
The May HealthCheck reports on the April teleconference held by members of the Individual and Small Group Markets Committee and the Employee Benefits Committee with the Congressional Budget Office to discuss group health insurance pricing. Also covered, several actions by the Centers for Medicare & Medicaid Services; the federal government's notice of appeal of a court ruling related to the Health Insurance Providers Fee; and other legislative, judicial, and regulatory updates.
Public Policy Activities
The Tax Work Group published a paper on frequently asked questions about life insurance tax reserve methods and assumptions.

The AG43/C3P2 Work Group submitted a follow-up comment letter to the NAIC Variable Annuity Issues Working Group on previously submitted recommendations to the working group.
Upcoming Events
The Code of Professional Conduct: Learning From the Mistakes of Others—June 18, professionalism webinar

Seminar on Implementing IFRS 17 for Long-Duration Contracts—Aug. 29–30, Washington, D.C.

Casualty Loss Reserve Seminar (CLRS) & Workshops—Sept. 5–7, Anaheim, Calif.

Annual Meeting and Public Policy Forum—Nov. 1–2, Washington, D.C.

Life and Health Qualifications Seminar—Nov. 4–8, Arlington, Va.

Seminar on Effective P/C Loss Reserve Opinions—Dec. 6–7, Chicago
In the News
Note: Some links in this email go to external websites and may require registration. The Academy is not responsible for the content of these websites. Links may expire.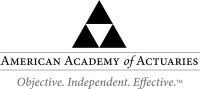 Follow the Academy on Facebook, LinkedIn, and Twitter.

---
1850 M Street NW • Suite 300 • Washington, DC 20036 • 202.223.8196 • www.actuary.org
Copyright 2018 American Academy of Actuaries. All rights reserved.