This Week: May 29 - June 2, 2017
Printer-friendly version
Read the latest news from the Academy.
Recent Academy Activity, May 29–June 2, 2017
Medicare Subcommittee Sends Comment Letter to House
The Medicare Subcommittee sent comments Thursday to the U.S. House of Representatives Ways and Means Health Subcommittee on preserving and strengthening Medicare. The Academy subcommittee cited several long-term financial challenges for the program, including the projected depletion of the Hospital Insurance Trust Fund by 2028.
"Approaches that would sustain and extend the recent slowdown in health care cost growth are likely to cause the least financial pain for policyholders and beneficiaries," the letter noted, adding that such options include medical care delivery system reforms that focus on better patient care coordination and financial incentives that reward the high value of care provided rather than high volume of care.
Global Pandemic Risk Webinar Set for Tuesday
The Academy will host a webinar, "A Global Look at Pandemic Risk," next Tuesday examining escalating factors for epidemic and pandemic risks, as well as the costs associated with responding to risks in terms of infrastructure, technology, and lifestyle modifications. Presenters will discuss examples of the calculation and observation for different indices, including infrastructures for public health communication, institutional capacity, and economic factors. They will also share case studies on the United States, Canada, Israel, China, Singapore, and more. The webinar will be held June 6 from 1 to 2:30 p.m. EDT. Register today.
May Actuarial Update Released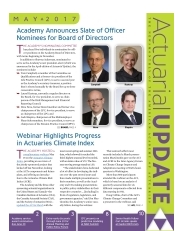 The May Actuarial Update, released Wednesday, covers the Academy's newly announced nominees for vice president in the practice areas of life, pension, and risk management and financial reporting, and for secretary-treasurer. It also covers last month's Actuaries Climate Index webinar; the June deadlines for Academy service award nominations; the Casualty Practice Council's predictive modeling presentations at the NAIC Insurance Summit; and the 'Professionalism Counts' column, which looks at professionalism at critical career transition points.
Upcoming Events
Alerts
Public Policy Activities
In the News
Note: Some links in this email go to external websites and may require registration. The Academy is not responsible for the content of these websites. Links may expire.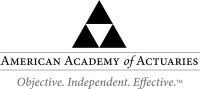 Follow the Academy on Facebook, LinkedIn, and Twitter.

---
1850 M Street NW • Suite 300 • Washington, DC 20036 • 202.223.8196 • www.actuary.org
Copyright 2017 American Academy of Actuaries. All rights reserved.