This Week: May 22 - 26, 2017
Printer-friendly version
Read the latest news from the Academy.
Recent Academy Activity, May 22–26, 2017
Academy Office Closed Monday for Memorial Day
The Academy's office will be closed on Monday, May 29, in observance of Memorial Day.
Academy Hosts Third PBR Boot Camp
The Academy held its third PBR Boot Camp in Orlando, Fla., this week, a three-day seminar that featured 18 dynamic, interactive sessions. The limited audience of 105 attendees received targeted instruction and also participated in intensive, focused discussion groups, providing an opportunity for attendees to share insights and learn from others' experience following January's implementation of principle-based reserving.
In response to the success of the three boot camps to date, but also recognizing the need for more focused offerings, the Academy's fourth PBR Boot Camp in September will be targeted to regulators. Details will be available soon.
CPC Presents on Predictive Modeling at NAIC Insurance Summit
The Casualty Practice Council (CPC) gave multiple presentations on predictive modeling at the NAIC's Insurance Summit Thursday in Kansas City, Mo. The program was coordinated by Roosevelt Mosley, chairperson of the CPC's Automobile Insurance Committee, and Senior Casualty Fellow Jim MacGinnitie moderated the final discussion panel.
New Video for Annual Meeting and Public Policy Forum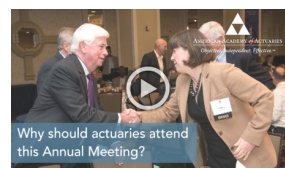 View the new video posted this week on why you should attend the Academy's Annual Meeting and Public Policy Forum, to be held Nov. 14–15 in Washington, D.C. The meeting and forum will offer insights into what the many changes occurring in Washington mean for your work as an actuary, and provide an in-depth look at today's top public policy and professionalism issues. Continuing education (CE) and Joint Board for the Enrollment of Actuaries (JBEA) continuing professional education (CPE) credit will be available. Extra-early registration ends June 20; register today for the lowest rates.
Upcoming Events
Alerts
Public Policy Activities
In the News
Note: Some links in this email go to external websites and may require registration. The Academy is not responsible for the content of these websites. Links may expire.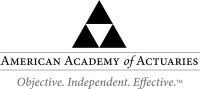 PLEASE DO NOT REPLY TO THIS EMAIL. THIS EMAIL ADDRESS IS NOT MONITORED.
If you would like more information or to contact the Academy, please visit us at www.actuary.org/content/about-us

Follow the Academy on Facebook, LinkedIn, and Twitter.
Rather not receive Academy emails? Unsubscribe by emailing membership@actuary.org.
---
1850 M Street NW • Suite 300 • Washington, DC 20036 • 202.223.8196 • www.actuary.org
Copyright 2017 American Academy of Actuaries. All rights reserved.