This Week, May 14-18, 2018
Printer-friendly version
Read the latest news from the Academy.
Recent Academy Activity, May 14–18, 2018
Whodunit? Annual Meeting to Feature Interactive Murder-Mystery Entertainment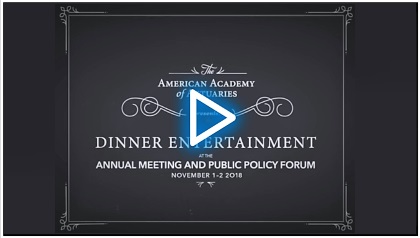 Bring your actuarial analytical skills to the Academy's Annual Meeting and Public Policy Forum's dinner entertainment: a murder mystery dying to be solved. Things take a turn toward crime when someone at a 1920s-era speakeasy is "put on ice." The crowd is chock-full of potential suspects—and even a pair of undercover feds show up (this is Washington!), but no one is "singing." You can sit back and watch the mystery unfold or actively help solve who's "on the level" and who's "on the lam" by trading clues, gathering information, and solving the crime before the evening ends.
Join us at the Annual Meeting and Public Policy Forum in Washington Nov. 1–2 for plenary and practice-area breakout sessions on the key public policy and professionalism issues relevant to you, your work, and our profession. And test your wits at uncovering the caper during the Nov. 1 dinner held at the historic Mayflower Hotel—1920s-era gangster/ speakeasy attire and active participation are optional. Register today.
Work Group Welcomes Input on PBA Projections for Future Practice Note
The PBA Projections Practice Note Work Group is seeking input from practitioners on questions encountered when projecting future VM-20 reserve calculations. Issues may be related to inner/outer loops, simplification techniques, asset assumptions, VM-21/AG 43, and economic capital frameworks.
If you have questions relating to projecting future PBA (principle-based approach) calculations, the work group would like to hear from you. Please contact Academy life policy analyst Ian Trepanier (trepanier@actuary.org) to submit questions and comments, which will help in the development of a future practice note on PBA projections.
Register Today—Extra-Early Registration Deadline for IFRS 17 Seminar
Today is the deadline for extra-early registration rates to attend the Academy's "Seminar on Implementing IFRS 17 for Long-Duration Contracts," to be held Aug. 29–30 in Washington, D.C. This new seminar will be held prior to the implementation of the International Financial Reporting Standard (IFRS) 17 and is designed to help life and health financial reporting actuaries gain the knowledge and tools needed before IFRS is implemented. Get ahead of the curve—register today and save.
Alpert Presents to Actuaries Club of Philadelphia
Academy President Steve Alpert presented a session titled "Why Professionalism?" to about 100 attendees at the Actuaries Club of Philadelphia's meeting on Tuesday. Club Secretary Art Lucker said the club was honored to host Alpert as a guest speaker, adding that he received "unsolicited comments that Steve's presentation was outstanding and touched on much-needed aspects of professionalism."
Recently Released
The May ASB Boxscore covers the Actuarial Standards Board's (ASB's) recent requests for comments on exposure drafts of revisions of Actuarial Standards of Practice (ASOP) No. 4, Measuring Pension Obligations and Determining Pension Plan Costs or Contributions; No. 27, Selection of Economic Assumptions for Measuring Pension Obligations; and No. 35, Selection of Demographic and Other Noneconomic Assumptions for Measuring Pension Obligations. Also included is the ASB's adoption of a final revision of ASOP No. 42, now titled Health and Disability Actuarial Assets and Liabilities Other Than Liabilities for Incurred Claims. Read the Boxscore to keep current on the development of ASOPs that may affect your practice.
Reminder—Nominations Open for Academy Service Awards
There's still time to nominate a deserving colleague or respected mentor for one of the Academy's prestigious annual service awards—the Robert J. Myers Public Service Award and the Jarvis Farley Service Award, as well as the Outstanding Volunteerism Award. The deadline for nominations is June 29, and the awards will be presented at the Academy's Annual Meeting and Public Policy Forum, Nov. 1–2 in Washington.
Public Employment Opportunity
The Government Accountability Office (GAO) has a public employment opportunity for a senior actuary with a property/casualty and general insurance specialty. The Washington, D.C.-based position is within GAO's office of Applied Research and Methods (ARM), which provides technical and specialist expertise to support and extend the work that GAO supplies to Congress and federal agencies. ARM actuaries serve as consultants to other GAO teams in a variety of areas of interest to Congress. Position information is available via USAJOBS by clicking here (general public) or here (qualified federal employees, veterans, or individuals with disabilities).
The Academy has long supported government employers that are seeking to hire qualified actuaries. See our Public Employment Opportunity Posting Policy for more information.
Upcoming Events
The Code of Professional Conduct: Learning From the Mistakes of Others—June 18, professionalism webinar

Seminar on Implementing IFRS 17 for Long-Duration Contracts—Aug. 29–30, Washington, D.C.

Casualty Loss Reserve Seminar (CLRS) & Workshops—Sept. 5–7, Anaheim, Calif.

Annual Meeting and Public Policy Forum—Nov. 1–2, Washington, D.C.

Life and Health Qualifications Seminar—Nov. 4–8, Arlington, Va.

Seminar on Effective P/C Loss Reserve Opinions—Dec. 6–7, Chicago
In the News
In an AIS Health Daily story, Senior Health Fellow Cori Uccello discussed the factors that affect rate changes insurers are proposing for 2019.

A Think Advisor story cited the AG 43/C3 Phase II Work Group's March 2 comment letter to the NAIC on proposed modifications to Actuarial Guideline XLIII and C-3 Phase II.
Note: Some links in this email go to external websites and may require registration. The Academy is not responsible for the content of these websites. Links may expire.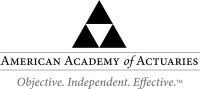 Follow the Academy on Facebook, LinkedIn, and Twitter.

---
1850 M Street NW • Suite 300 • Washington, DC 20036 • 202.223.8196 • www.actuary.org
Copyright 2018 American Academy of Actuaries. All rights reserved.