This Week: May 1 - 5, 2017
Printer-friendly version
Read the latest news from the Academy.
Recent Academy Activity, May 1–5, 2017
Life Reinsurance Practice Note Released; Webinar Set for June
The Reinsurance Committee's Credit for Reinsurance Subgroup released a draft practice note for exposure Friday, Credit for Life Reinsurance in U.S. Statutory Financial Statements. The exposed practice note reviews changes that have occurred since its prior version, including the impact on reinsurance of the Dodd-Frank financial reform law, the NAIC's Valuation Manual, and other key laws and regulations. Comments are due by July 7; read the Academy's alert.
The Academy will host a webinar on Monday, June 26, from noon to 1 p.m. EDT for an in-depth review of the practice note. Attendees will learn about current and emerging practices used to determine the credit for reinsurance that may be taken on statutory financial statements, and will gain background for commenting on the draft. Register today.
Uccello Speaks at Capitol Hill Health Forum on Individual Market
Academy Senior Health Fellow Cori Uccello participated Friday in a Capitol Hill forum hosted by the Alliance for Health Reform on the individual health insurance market. The session—especially timely given the House's passage of the American Health Care Act on Thursday—aired live on C-SPAN.
Five Proposals Move to the Next Round of Actuarial Challenge
Round Two of the Actuarial Challenge is complete, and a panel of judges selected five proposals from the 14 submitted to move on to the next round. A description of all the proposals is available on the website. The Actuarial Challenge, initiated last year, invited teams to propose changes to the individual health insurance market in an effort to improve stability and sustainability. The Academy is helping to promote the challenge, which is being conducted by the Robert Wood Johnson Foundation in conjunction with Milliman.
Upcoming Events
Recently Released
Alerts
Public Policy Activities
In the News
Note: Some links in this email go to external websites and may require registration. The Academy is not responsible for the content of these websites. Links may expire.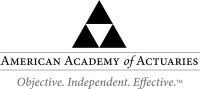 PLEASE DO NOT REPLY TO THIS EMAIL. THIS EMAIL ADDRESS IS NOT MONITORED.
If you would like more information or to contact the Academy, please visit us at www.actuary.org/content/about-us

Follow the Academy on Facebook, LinkedIn, and Twitter.
Rather not receive Academy emails? Unsubscribe by emailing membership@actuary.org.
---
1850 M Street NW • Suite 300 • Washington, DC 20036 • 202.223.8196 • www.actuary.org
Copyright 2017 American Academy of Actuaries. All rights reserved.