This Week: March 13 - 17, 2017
Printer-friendly version
Read the latest news from the Academy.
Recent Academy Activity, March 13–17, 2017
Wildsmith Represents the Academy on C-SPAN, Discussing Health Care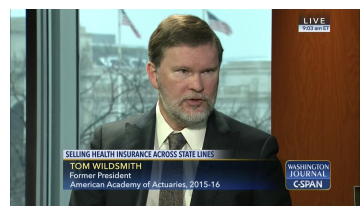 Academy Immediate Past President Tom Wildsmith appeared Tuesday on C-SPAN's Washington Journal, a televised national call-in program that focuses on current events related to politics, public policy, and legislation. Wildsmith, the Academy's president in 2015–16, provided a nonpartisan actuarial perspective on current health care reform proposals supporting the sale of insurance across state lines. Watch the video here.
New Issue Brief Explores Medicaid Funding
The Medicaid Funding Work Group published an issue brief, Proposed Approaches to Medicaid Funding, which addresses key design elements of block grants and per capita caps in relation to program sustainability.
Moving to block grants or per capita caps would shift more funding risk to states, which will need flexibility to modify components of their Medicaid programs to stay within their budgets, according to the issue brief. Sustainability of Medicaid under block grants or per capita caps funding methods will depend upon appropriate initial allocation of funds to each state and adequate growth rates of those funds, it says.
If block grants or per capita caps limit the federal share of the current program, states will need more flexibility in their programs to manage their share of the program costs while balancing the needs of beneficiaries and other stakeholders, the issue brief says, which could add more administrative burdens to both states and the federal government.
Academy Presents Actuaries Climate Index to Inter-Agency Forum
Senior Casualty Fellow Jim MacGinnitie provided an overview Thursday of the Actuaries Climate Index (ACI) and Actuaries Climate Risk Index (ACRI) to the Inter-Agency Forum on Climate Change Impacts and Adaptations meeting at NASA headquarters in Washington. MacGinnitie's presentation included ACI data for spring and summer 2016, which the Academy and other U.S. and Canadian actuarial organizations released last week. The ACRI shifts the question from "Is the incidence of extreme weather events increasing" to "Are they happening where there are people and property?" with a goal of producing an index especially useful to public policymakers.
Public Employment Opportunity
The Iowa Insurance Division is seeking to fill an actuary position to review insurance rate filings for various lines of property and casualty insurance including but not limited to automobile, homeowners, workers' compensation, commercial general liability, crop, and professional liability insurance. The actuary in this position will analyze insurance rate filings to determine their actuarial soundness and for compliance with legal requirements and departmental regulations, and will analyze formulas used in the computation of net premium and determines that benefits values are sound and equitable. See the full job posting on the Iowa Department of Administrative Services website.
The Academy supports government employers who are seeking to hire qualified actuaries. See our Public Employment Opportunity Posting Policy for more information.
Upcoming Events
Public Policy Activities
Alerts
In the News
Note: Some links in this email go to external websites and may require registration. The Academy is not responsible for the content of these websites. Links may expire.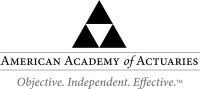 PLEASE DO NOT REPLY TO THIS EMAIL. THIS EMAIL ADDRESS IS NOT MONITORED.
If you would like more information or to contact the Academy, please visit us at www.actuary.org/content/about-us

Follow the Academy on Facebook, LinkedIn, and Twitter.
Rather not receive Academy emails? Unsubscribe by emailing membership@actuary.org.
---
1850 M Street NW • Suite 300 • Washington, DC 20036 • 202.223.8196 • www.actuary.org
Copyright 2017 American Academy of Actuaries. All rights reserved.