This Week: June 26 - 30, 2017
Printer-friendly version
Read the latest news from the Academy.
Recent Academy Activity, June 26–30, 2017
Take the 2017 Annual Volunteer Survey; Responses Due July 14
The Academy this week released its annual volunteer survey, noting the importance of and our appreciation for the more than 1,000 volunteers from every practice area who lend their skill, knowledge, and experience to the Academy's work on public policy issues and professionalism. Our 19,000+ members have been invited to complete the survey via individual email sent this week from Academy President Bob Beuerlein. You can take the survey by clicking here or via the members-only section of the Academy website. The survey will be open through Friday, July 14.
Academy Hosts Practice-Area Briefings on Capitol Hill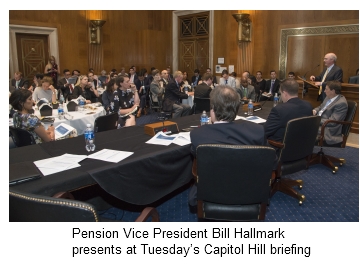 The Pension Practice Council (PPC) and Casualty Practice Council (CPC) hosted separate briefings on Capitol Hill this week on, respectively, multiemployer pension plans and flood insurance, which were well attended by congressional and federal agency staff.
The PPC briefing, which drew more than 80 people, was held as the PPC's Multiemployer Plans Subcommittee released an issue brief Tuesday, Overview of Multiemployer Pension System Issues. The CPC briefing, which drew about 40, reviewed the Flood Insurance Work Group's monograph, The National Flood Insurance Program: Challenges and Solutions, released in April.
Separately, Risk Management and Financial Reporting Council members visited Capitol Hill to discuss creation of an Office of the Actuary if Congress decides to establish an independent insurance advocate through the Financial CHOICE Act.
Health Groups Provide Actuarial Perspective to Senate on BRCA
In a comment letter sent Friday to Senate leadership, the Academy's Individual and Small Group Markets Committee and Medicaid Subcommittee analyzed certain provisions of the Better Care Reconciliation Act of 2017 (BCRA) in terms of their effect on the affordability and accessibility of health insurance coverage and on Medicaid funding.
The letter breaks out the likely near-term experience from the long-term effects on premiums, populations covered, and health of the risk pool in the individual market. It notes that BCRA provisions will have different, often offsetting effects on affordability and accessibility of individual health insurance.
BCRA would also modify the federal funding structure of Medicaid from one based on a percentage of total program expenditures to one that caps or limits federal funding to states. Such an approach, the letter states, requires decisions in five key areas: approach to setting state caps; treatment of Medicaid expansion populations; growth rate methodology; program flexibility provided to states; and continuing actuarial soundness requirements.
Deadline Today for Academy Service Award Nominations
Today, June 30, is the deadline for nominations for the Academy's annual service awards. The Robert J. Myers Public Service Award, the Jarvis Farley Service Award, and the Outstanding Volunteerism Award will be presented at the Academy's Annual Meeting and Public Policy Forum in Washington, Nov. 14–15.
Professionalism Webinar on Actuary-to-Actuary Communications Draws a Large Audience
The Academy hosted a professionalism webinar on Wednesday, "Actuary-to-Actuary Communications," that was attended by more than 1,600 members. In the highly interactive session, presenters Academy President Bob Beuerlein, Council on Professionalism member Cecil Bykerk, and Actuarial Board for Counseling and Discipline Past Chairperson Janet Fagan discussed relevant precepts of the Code of Professional Conduct and topical case studies from different practice areas and employment situations.
Questions from the audience showed a high level of engagement and interest in the topics, particularly how one determines if an issue is "resolved." Slides and audio are available to members free of charge in the archived professionalism webinar section on the Academy's website.
Webinar Covers Exposed Practice Note on Credit for Life Reinsurance
The Risk Management and Financial Reporting Council (RMFRC) hosted a webinar Monday, "A Discussion of the Exposed Practice Note on Credit for Life Reinsurance," which provided an in-depth review of the draft Credit for Life Reinsurance in U.S. Statutory Financial Statements practice note recently exposed by the Reinsurance Committee's Credit for Reinsurance Subgroup.
Attendees heard about current and emerging practices used to determine the credit for reinsurance that may be taken on statutory financial statements. Comments on the draft can be emailed to RMFRCPolicyAnalyst@actuary.org by next Friday, July 7. Webinar slides and audio are available to members free of charge on the Academy's webinar page.
Upcoming Events
LHQ Seminar Agenda-at-a-Glance Available: A new agenda-at-a-glance provides more information about the topics and sessions available in the 2017 Life and Health Qualifications Seminar, to be held Nov. 12–16 in Arlington, Va. This popular and highly regarded seminar provides three days of training and instruction, along with the opportunity for attendees to take the Specific Qualification Standard exam on the final day. For more experienced actuaries, it serves as an excellent basic education refresher or as a source of required continuing education. Attendees can earn up to 27 hours of continuing education credit, including up to 2.7 professionalism hours. Limited space is available; register today for the lowest rates and to secure your space.

Registration Open for P/C Loss Seminar: Registration opened this week for the 2017 Seminar on Effective P/C Loss Reserve Opinions. The two-day seminar, to be held Dec. 7–8 in Chicago, will enhance your expertise on the latest requirements and will include reviews of actuarial qualification standards and interactive case studies. Register today.

Save the Date—PBR Boot Camp Set for Sept. 11–13 in Las Vegas: Registration will open soon for the Academy's popular PBR Boot Camp, to be held Sept. 11–13 in Las Vegas. The fall Boot Camp, the Academy's fourth, includes new content aimed at providing regulators—and others who are working closely with regulators to implement and audit principle-based reserving (PBR)—with essential background information and key learning experiences.

Annual Meeting and Public Policy Forum: Early registration rates are now available for the Academy's 2017 Annual Meeting and Public Policy Forum, to be held Nov. 14–15 in Washington, D.C. Acclaimed journalist Bob Woodward of the Washington Post and Watergate fame, will give a plenary address Nov. 14, bringing his fact-based, tough-minded reporting perspective and extensive historical knowledge of the presidency to the key question of what the nontraditional Trump presidency means for the country, and for you. A list of breakout sessions is available, and attendees will have the opportunity to earn continuing education credit. Register today.
Professionalism Outreach
Council on Professionalism member and past Academy President Cecil Bykerk gave a professionalism presentation at the Casualty Actuaries of the Desert States' meeting Friday in Scottsdale, Ariz.
Recently Released
Public Policy Activities
With health care reform a prime topic in Washington this month, Senior Health Fellow Cori Uccello participated in a June 28 Urban Institute/American Action Forum panel, "Stabilizing the Individual Health Insurance Market: What is the Role for Risk Adjustment?" The AAF has posted a video of the forum.
Alerts
The Congressional Budget Office on Monday released its scoring of Senate Republicans' Better Care Reconciliation Act of 2017 (BCRA), the health care legislation meant, in part, to repeal and replace the Affordable Care Act.
Subscribe to Member Alerts: Subscribers to the Academy's alerts are notified by email when a new alert is posted in their area(s) of interest. The alerts are available in five areas of focus: casualty, health, life, pension, and cross-practice issues. Academy members may subscribe to any or all of them free of charge as a member service after signing in to the member section of the website.
In the News
The Associated Press quoted Senior Health Fellow Cori Uccello in a story published Thursday that ran in more than 400 media outlets, including the Washington Post, CNBC, and Yahoo Finance, about health care costs to consumers under the Senate health care bill.
Uccello was also quoted in a New York Times article on the effectiveness of the proposed lockout period in the new version of the Senate health bill.
Bloomberg BNA dedicated an article to the Flood Insurance Work Group's recent monograph on the National Flood Insurance Program, with reporting on Vice President, Casualty Rade Musulin's comments elaborating on the need for an NFIP strategy to fund mega-events and comments from the Academy's Capitol Hill casualty briefing Monday, presented by Senior Casualty Fellow Jim MacGinnitie and work group members Stu Mathewson and Nancy Watkins. Business Insurance and E&E News also reported on the event.
Note: Some links in this email go to external websites and may require registration. The Academy is not responsible for the content of these websites. Links may expire.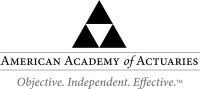 Follow the Academy on Facebook, LinkedIn, and Twitter.

---
1850 M Street NW • Suite 300 • Washington, DC 20036 • 202.223.8196 • www.actuary.org
Copyright 2017 American Academy of Actuaries. All rights reserved.