This Week: June 19 - 23, 2017
Printer-friendly version
Read the latest news from the Academy.
Recent Academy Activity, June 19–23, 2017
Annual Meeting and Public Policy Forum Sessions Information Released;
Political Commentators Shields, Castellanos to Speak at Interactive General Session
The Academy this week announced topics that will be covered in practice-specific breakout sessions at the Academy's 2017 Annual Meeting and Public Policy Forum, to be held Nov. 14–15 in Washington, D.C. Health care, pension, and casualty session details are posted on the meeting and forum webpage, and more information will be added as it becomes available. Highlights include the ongoing health care law overhaul, including the individual market; flood and auto insurance; and public and multiemployer pension plans.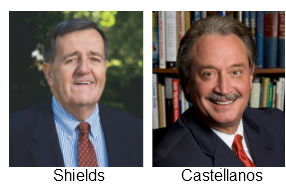 Also announced this week, two of Washington's most seasoned political commentators—nationally syndicated columnist and PBS NewsHour political analyst Mark Shields, and ABC News contributor and veteran Republican campaign consultant Alex Castellanos—will join the roster of experts on what's happening in Washington in a Nov. 15 general session. The two will offer a candid analysis—and discussion with the audience—of how the political landscape has changed in the wake of the 2016 election, what's really going on in the capital, and why you should care. Washington Post Associate Editor Bob Woodward, the Pulitzer Prize-winning reporter of Watergate fame, will deliver a keynote address at a Nov. 14 general session.
Register today to take advantage of early registration rates.
Academy Service Award Nominations Due Next Week
A reminder to members that the deadline for nominations for the Academy's annual service awards is next Friday, June 30. The awards—the Robert J. Myers Public Service Award, the Jarvis Farley Service Award, and the Outstanding Volunteerism Award—will be presented at the Academy's Annual Meeting and Public Policy Forum in Washington, Nov. 14–15.
Academy Seeks Proposals for Life and Health Valuation Law Manual
The Academy is seeking proposals to provide research and editorial services necessary to update and assist in publication of the Life and Health Valuation Law Manual, scheduled to be released in early 2018. Academy members are invited to submit proposals in accordance with our request for proposals. Responses must be submitted by 5 p.m. EDT on Friday, June 30. Questions and requests for additional information may be sent to Heather Jerbi, assistant director of public policy, at 202-223-8196, or jerbi@actuary.org.
Alerts
The U.S. Senate Budget Committee released a discussion draft Thursday of health care legislation that would, in part, repeal and replace the Affordable Care Act. A potential floor vote is possible next week before Congress' July 4th recess.

Subscribe to Member Alerts: Subscribers to the Academy's alerts are notified by email when a new alert is posted in their area(s) of interest. The alerts are available in five areas of focus: casualty, health, life, pension, and cross-practice issues. Academy members may subscribe to any or all of them free of charge as a member service after signing in to the member section of the website.
Upcoming Events
Risk Management Webinar Monday—Exposed Practice Note on Credit for Life Reinsurance: Join the Academy on Monday, June 26, for a webinar providing an in-depth review of the draft Credit for Life Reinsurance in U.S. Statutory Financial Statements practice note recently exposed by the Reinsurance Committee's Credit for Reinsurance Subgroup. Attendees will learn about current and emerging practices used to determine the credit for reinsurance that may be taken on statutory financial statements and will gain background for commenting on the draft. The webinar will take place from noon to 1 p.m. EDT. Register today.

Professionalism Webinar Wednesday—Actuary-to-Actuary Communications: The Academy will host a professionalism webinar, "Actuary-to-Actuary Communications," next Wednesday, June 28, from noon to 1:30 p.m. EDT. The presenters—Academy President Bob Beuerlein; Council on Professionalism member Cecil Bykerk; and Janet Fagan, past chairperson of the Actuarial Board of Counseling and Discipline—will discuss relevant precepts of the Code of Professional Conduct, weigh case studies, and give attendees insights on how the Code and other professionalism tools can help guide successful actuary-to-actuary communication. The Academy believes in good faith that attendees will have the opportunity to earn up to 1.8 CE credits as well as 1.8 CPE credits for core ethics under JBEA rules. Register today.

LHQ Seminar Provides Necessary Qualifications: Are you an actuary who wishes to be qualified to issue actuarial opinions for either the NAIC Life and A&H Annual Statement or the NAIC Health Annual Statement? If so, make plans to attend the 2017 Life and Health Qualifications Seminar. This highly regarded seminar provides three days of training and instruction, along with the opportunity for attendees to take the Specific Qualification Standard exam on the final day. For more experienced actuaries, it serves as an excellent basic education refresher or as a source of required continuing education. Attendees can earn up to 27 hours of continuing education, including up to 2.7 professionalism hours. Limited space is available; register today for the lowest rates and to secure your space.
Public Policy Activities
The Non-Guaranteed Elements Work Group submitted comments to the New York Department of Financial Services on re-proposed 11NYCRR 48 (insurance regulation 210) on life insurance and annuity non-guaranteed elements.
Professionalism and Public Policy Outreach
Academy General Counsel and Director of Professionalism Paul Kollmer-Dorsey and Senior Pension Fellow Ted Goldman presented sessions on behalf of the Academy at the Southeastern Actuaries Conference meeting this week in Jekyll Island, Ga. Kollmer-Dorsey spoke about the professionalism infrastructure of U.S. actuaries housed at the Academy and recent professionalism developments, and Goldman provided an overview of Social Security reform options and prospects.
Recently Released
The latest Enrolled Actuaries Report has coverage of the 2017 Enrolled Actuaries Meeting, including plenary sessions on the post-election climate in Washington; actuarial standards of practice and actuarial communications, ASOPs for pension actuaries; lifetime income options; and ethics and professionalism.
In the News
Note: Some links in this email go to external websites and may require registration. The Academy is not responsible for the content of these websites. Links may expire.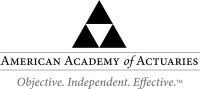 Follow the Academy on Facebook, LinkedIn, and Twitter.

---
1850 M Street NW • Suite 300 • Washington, DC 20036 • 202.223.8196 • www.actuary.org
Copyright 2017 American Academy of Actuaries. All rights reserved.