This Week: July 31-Aug. 4, 2017
Printer-friendly version
Read the latest news from the Academy.
Recent Academy Activity, July 31–Aug. 4, 2017
Academy Presents at NAIC Summer Meeting
The Academy's presentations at the NAIC Summer 2017 National Meeting in Philadelphia began at Friday's Life Actuarial Task Force (LATF) meeting:
Health and casualty meetings will follow in the next few days, and the Academy will host a regulator-only professionalism breakfast on Sunday morning. Look for more coverage next week, including the Academy's usual post-NAIC alert recapping the meeting and related Academy activity.
New Essential Elements Paper on Technology and Auto Insurance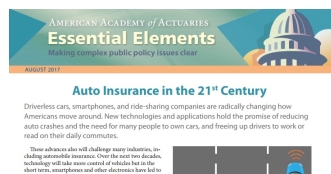 The Academy released a new Essential Elements, "Auto Insurance in the 21st Century," which explores insurance issues surrounding autonomous vehicles, ride-sharing services, and distracted driving. The Essential Elements series is designed to make actuarial analyses of public policy issues clearer to general audiences.
Election of Regular Directors Begins Today
The Academy's annual online election of regular directors for the Academy Board begins today, Aug. 4, and runs through Friday, Aug. 25. Academy members will receive an email from Intelliscan, our election vendor, announcing that the online election is underway. Preliminary notifications with voting information were sent from academy2017@intelliscaninc.net; please add this address to your safe senders list and/or check your junk-mail folder to make sure you have received it. We encourage members to take part in electing the next leaders of the Academy who will help us fulfill our mission to serve the public and the U.S. actuarial profession. For more information, visit the Academy Board Election Center.
July Actuarial Update Released
The July Actuarial Update covers the Academy's recent issue briefs, comment letters, and other work informing the nation's ongoing health care debate. Also covered: Academy attendance at the International Association of Black Actuaries conference in late July; the "Professionalism Counts" column on the "ABCDs of Precept 10"; and Capitol Hill visits by members of the Pension Committee to discuss multiemployer plan issues.
Today—Extra-Early Registration Deadline for PBR Boot Camp
Extra-early registration ends today, Aug. 4, for the Academy's Fall PBR Boot Camp, to be held Sept. 11–13 in Las Vegas. Register today and join us for this unique event that will offer actuaries who work with regulators—and others who will be submitting their documents to the regulators—an opportunity to understand and discuss PBR implementation challenges and opportunities. An agenda is available.
CLRS Early Registration Ends Aug. 18
Discounted early registration rates are available through Aug. 18 for the 2017 Casualty Loss Reserve Seminar (CLRS) and Workshops. This seminar, sponsored jointly by the Academy and the Casualty Actuarial Society, will be held Sept. 10–12 in Philadelphia. Register today.
Upcoming Events
Public Policy Activities
Alerts
In the News
Note: Some links in this email go to external websites and may require registration. The Academy is not responsible for the content of these websites. Links may expire.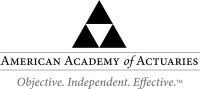 Follow the Academy on Facebook, LinkedIn, and Twitter.

---
1850 M Street NW • Suite 300 • Washington, DC 20036 • 202.223.8196 • www.actuary.org
Copyright 2017 American Academy of Actuaries. All rights reserved.