This Week: July 24-28, 2017
Printer-friendly version
Read the latest news from the Academy.
Recent Academy Activity, July 24–28, 2017
Academy Underscores Importance of Health Insurance Market Stability
As the U.S. Senate debated major health care legislation and considered repealing and/or replacing the Affordable Care Act (ACA), the Academy this week emphasized the need for public policies that support stable and sustainable health insurance markets.
The Health Practice Council sent a letter Tuesday to U.S. Senate leadership on the potential adverse consequences of legislation to eliminate the ACA's individual mandate, which would lead to lower enrollment, a deterioration of the risk pool, and higher premiums. The HPC also released a policy paper highlighting cost-sharing reductions—what they are, and why they need to be funded.
Academy Attends IABA Conference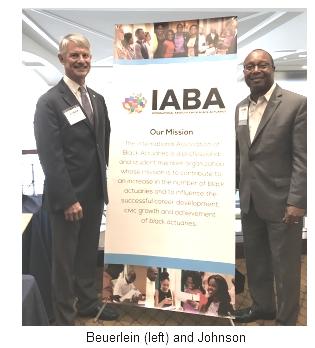 The Academy offered its congratulations to the International Association of Black Actuaries at the IABA's 25th anniversary celebration, which continues through Saturday at the Capital Hilton in Washington, D.C. The Academy was a "Premium" sponsor of this event and staffed an exhibit showing the work of the Academy and its relevance to those attending. Academy President Bob Beuerlein attended, as did Jeff Johnson, vice president, life, and a founding IABA member; Executive Director Mary Downs; and Assistant Director of Membership Kasha Shelton. David Driscoll, a member of the Actuarial Board for Counseling and Discipline, presented a professionalism session for attendees at which they could obtain professionalism continuing education credit.
Board Election Kicks Off Next Week
Next Friday, Aug. 4, Academy members should look for an email from Intelliscan, our election vendor, announcing that the online election of regular directors for the Academy Board is underway. A preliminary notification about the election was sent to members last Friday. These emails with voting information will come from academy2017@intelliscaninc.net; please add this address to your safe senders list and/or check your junk-mail folder to make sure you have received it. The election period will run through Aug. 25. We encourage members to take part in electing the next leaders of the Academy who will help us fulfill our mission to serve the public and the U.S. actuarial profession. For more information, visit the Academy Board Election Center.
New: Capitol Forum Webinar on IAIS Insurance Capital Standard
Join the Academy on Wednesday, Aug. 23, for a Capitol Forum webinar that will provide members with an update on the development of the Insurance Capital Standard, a lead project at the International Association of Insurance Supervisors. Presenting will be Ned Tyrrell, international technical policy advisor with the NAIC, who will share a look at the progress that has been made and the timeline for moving forward. The webinar will be held from noon to 1 p.m. EDT. Register today.
Extra-Early Registration Extended for PBR Boot Camp
Extra-early registration will be extended through next Friday, Aug. 4, for the Academy's upcoming Fall PBR Boot Camp, to be held Sept. 11–13 in Las Vegas. Register today and join us for this unique event that will offer actuaries who work with regulators—and others who will be submitting their documents to the regulators—an opportunity to understand and discuss PBR implementation challenges and opportunities. An agenda at a glance is available.
Upcoming Events
Alerts
Public Policy Activities
In the News
Note: Some links in this email go to external websites and may require registration. The Academy is not responsible for the content of these websites. Links may expire.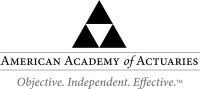 Follow the Academy on Facebook, LinkedIn, and Twitter.

---
1850 M Street NW • Suite 300 • Washington, DC 20036 • 202.223.8196 • www.actuary.org
Copyright 2017 American Academy of Actuaries. All rights reserved.