This Week: July 17-21, 2017
Printer-friendly version
Read the latest news from the Academy.
Recent Academy Activity, July 17–21, 2017
Issue Brief Released on Medicare Trustees Report
Following last week's release of the annual Medicare and Social Security trustees' reports, the Medicare Subcommittee published an issue brief, Medicare's Financial Condition: Beyond Actuarial Balance, detailing significant concerns about Medicare's long-term financial health. A similar Social Security issue brief will be released soon. The Academy also updated Essential Elements reports on Social Security and Medicare with the latest information on the two federal programs' long-term financial health.
NAIC Memorandum to Academy Cites Findings on P/C Credentials, Qualifications
The Academy and two other actuarial organizations received a memorandum from the NAIC recounting the findings of its study of actuarial credentials and qualifications for property/casualty actuaries. The Academy welcomes the opportunity to continue to support and work with the NAIC to try to address its needs and concerns, as we have throughout our long history of establishing Qualification Standards for Public Statements of Actuarial Opinion. The NAIC will give a presentation on the study at its Casualty Actuarial and Statistical (C) Task Force during the summer meeting next month in Philadelphia.
Academy Commends CSR Payments, Cites Need for Individual Market Stability
The Academy commended the administration for taking the positive step of paying July cost-sharing reduction (CSR) reimbursements, while noting that the stability and sustainability of the individual health insurance market requires policymakers to fund CSRs on a permanent basis.
Volunteer Survey Draws Large Response
Almost 700 members participated in the Academy's annual volunteer survey this month, which members use to indicate interest in volunteering for the Academy. During the fall, volunteer leadership will review survey responses, and at that time survey participants whose skills and interests meet a committee's needs will be contacted about joining volunteer groups. Volunteers are essential to the Academy's work—many thanks to all who completed the survey.
Election Email Notifications Sent to Members
Academy members should have received an email today, July 21, from Intelliscan, our election vendor, announcing that information regarding election of regular directors for the Academy Board will be sent in early August. These emails will come from academy2017@intelliscaninc.net; please add this address to your safe senders list and/or check your junk-mail folder to make sure you have received it. We encourage members to take part in electing the newest leaders of the Academy who will help us fulfill our mission to serve the public and the U.S. actuarial profession.
Call for Volunteers—Financial Reporting Committee Projects on IFRS 17
The Financial Reporting Committee is currently looking for volunteers to work on a variety of upcoming projects related to the International Accounting Standards Board's recent release of IFRS 17—Insurance Contracts. The committee will be creating a cross-practice work group that will be charged with planning and executing a variety of initiatives, including webinars and possible work products related to the IFRS 17 release. We encourage actuaries from any practice area to volunteer; however, we are particularly looking for actuaries with relevant experience in the health practice area. If interested, please contact Nikhail Nigam, policy analyst for risk management and financial reporting matters, at nigam@actuary.org.
Alerts
Upcoming Events
Public Policy Activities
In the News
Note: Some links in this email go to external websites and may require registration. The Academy is not responsible for the content of these websites. Links may expire.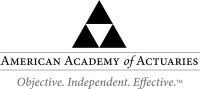 PLEASE DO NOT REPLY TO THIS EMAIL. THIS EMAIL ADDRESS IS NOT MONITORED.
If you would like more information or to contact the Academy, please visit us at www.actuary.org/content/about-us
Follow the Academy on Facebook, LinkedIn, and Twitter.
Rather not receive Academy emails? Unsubscribe by emailing membership@actuary.org.
---
1850 M Street NW • Suite 300 • Washington, DC 20036 • 202.223.8196 • www.actuary.org
Copyright 2017 American Academy of Actuaries. All rights reserved.