This Week, July 16-20, 2018
Printer-friendly version
Read the latest news from the Academy.
Recent Academy Activity, July 16–20, 2018
Academy Comments to NAIC's CASTF on Continued Competence Exposure Draft
Academy Past President Mary D. Miller submitted a letter with extensive comments from the Academy to the NAIC responding to an exposure draft that NAIC's Casualty Actuarial and Statistical Task Force (CASTF) issued on a CAS/SOA proposal regarding CASTF's "Continued Competence" charge. This is a significant proposal that would affect many actuaries. Comments are due this Monday, July 23. Those interested may wish to consider filing their own comments.
Today—Early-Registration Deadline for LHQ Seminar
Today, July 20, is the early-registration deadline for the Academy's 2018 Life and Health Qualifications Seminar, which will be held Nov. 4–8 in Arlington, Va. This annual event delivers training and instruction to allow you to obtain qualifications or relevant continuing education (CE) credit necessary to issue actuarial opinions for either the NAIC Life and A&H Annual Statement or the NAIC Health Annual Statement. Attendees can earn up to 27 hours of CE credit, including up to 2.7 professionalism hours. Limited space is available—register today to obtain the lowest rates and secure your space.
Public Employment Opportunity
The U.S. Department of Labor's Employee Benefits Security Administration (EBSA) has a public employment opportunity for a senior actuary with a health and welfare benefit specialty. Among other duties, the position would provide actuarial support related to EBSA's regulation and supervision of association health plans. The Washington, D.C.-based position is within EBSA's Office of Policy and Research, which provides policy analysis, economic research, and tracking of all benefits-policy-related developments and activities. Position information is available via USAJobs by clicking here (general public) or here (qualified federal employees, veterans, or individuals with disabilities). The application deadline is Aug. 1.
Academy Continues to Receive Numerous Orders for 'Magic School Bus' Book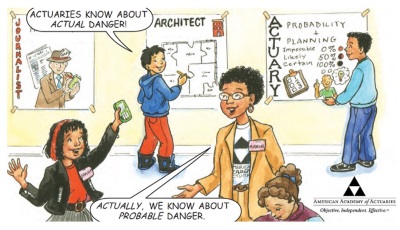 Orders continue to roll in for the Academy-sponsored Magic School Bus Takes a Risk: A Book about Probability, the custom-designed book that shows grade-school children how actuaries use math skills to bring them on amazing journeys. It tells the story of an adventurous field trip led by the teacher Ms. Frizzle, where students join Aunt Maxine, an actuary. The Academy donated copies of the book to all Grades 3–5 students in Washington, D.C.'s public schools. More than 1,000 copies of the book have been ordered by our adult readers—order individual copies today for the budding mathematicians in your life. The Academy also welcomes corporate sponsorships.
Notice of Public Discipline
The Academy issued a Notice of Public Discipline Friday expelling Scott Allen, currently of Atlanta, Ga., effective immediately, for materially failing to comply with obligations under Precept 1 and Precept 9 of the Code of Professional Conduct. Notices are archived on the Academy's Public Discipline page.
IFRS 17 Seminar to Offer Implementation Tools
Have implementation questions about the International Financial Reporting Standard 17 (IFRS 17)? If so, join the Academy in August for the "Seminar on Implementing IFRS 17 for Long-Duration Contracts." This seminar will offer a unique opportunity for you to focus on the new accounting standard and discuss your top questions and challenges with fellow attendees from across the country. Space still remains for this seminar, which will be held Aug. 29–30 in Washington. D.C. Register today.
Public Policy Activity
The C1 Work Group submitted a comment letter to the Investment Risk-Based Capital (E) Working Group on alternative C1 bond factors for different levels of statutory reserve offset.

The Macroprudential Task Force submitted a comment letter to the NAIC's Liquidity Assessment (EX) Subgroup on the considerations for a liquidity stress test.

The AG43/C3 Phase II Work Group submitted a comment letter to the Variable Annuities Issues Working Group on proposed policyholder behavior assumptions, and a comment letter on the May 31 exposure of the Variable Annuities Issues Working Group Framework.
Upcoming Events
Note: Some links in this email go to external websites and may require registration. The Academy is not responsible for the content of these websites. Links may expire.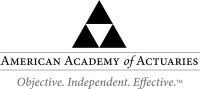 Follow the Academy on Facebook, LinkedIn, and Twitter.

---
1850 M Street NW • Suite 300 • Washington, DC 20036 • 202.223.8196 • www.actuary.org
Copyright 2018 American Academy of Actuaries. All rights reserved.