This Week: Jan. 30 - Feb. 3, 2017
Printer-friendly version
Read the latest news from the Academy.
Recent Academy Activity, Jan. 30–Feb. 3, 2017
Volunteer Action Required: Commit to Objectivity
Committing on an annual basis to professional objectivity is required to perform volunteer work for all those who participate in Academy committees. That's why Joeff Williams, vice president of the Academy's Council on Professionalism, emailed each volunteer this week with a request to submit a conflict of interest (COI) acknowledgement and continuing education (CE) attestation. Interested parties must also acknowledge the COI policy. To comply, follow the instructions in the email or on the membership page under "Volunteer Acknowledgements."
PBR Boot Camp: Registration Now Open for This Popular Seminar
Registration opened this week for the Academy's PBR Boot Camp, to be held May 22 to 24 in Orlando, Fla. This intensive two-and-a-half-day seminar will deliver instructional sessions and interactive case studies to provide attendees with key learning experiences as they prepare to implement and utilize PBR. The Academy believes in good faith that this year's agenda will enable attendees to earn up to 24 hours of organized-activity continuing education credits. Register now and plan to join your fellow life actuaries for this popular seminar that will ensure you stay ahead of the PBR curve. Extra-early rates are available through Feb. 28.
Recently Released
Registration Opening Next Week: 2017 Annual Meeting and Public Policy Forum
Academy Presents at Chamber of Commerce Forum
Order the P/C Loss Reserve Law Manual
Public Policy Activities
In the News
Note: Some links in this email go to external websites and may require registration. The Academy is not responsible for the content of these websites. Links may expire.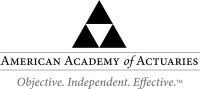 PLEASE DO NOT REPLY TO THIS EMAIL. THIS EMAIL ADDRESS IS NOT MONITORED.
If you would like more information or to contact the Academy, please visit us at www.actuary.org/content/about-us

Follow the Academy on Facebook, LinkedIn, and Twitter.
Rather not receive Academy emails? Unsubscribe by emailing membership@actuary.org.
---
1850 M Street NW • Suite 300 • Washington, DC 20036 • 202.223.8196 • www.actuary.org
Copyright 2017 American Academy of Actuaries. All rights reserved.