This Week: Jan. 23 - 27, 2017
Printer-friendly version
Read the latest news from the Academy.
Recent Academy Activity, Jan. 23–27, 2017
Post-NAIC Webinar Covers Property/Casualty Issues
The Casualty Practice Council's (CPC) post-NAIC casualty webinar Thursday reviewed top P/C issues—including an account of the Casualty Actuarial and Statistical (C) Task Force and other key meetings—from the NAIC Fall 2016 National Meeting, which took place in Miami in December. The webinar was moderated by CPC Vice President Rade Musulin and featured panelists Lauren Cavanaugh, chairperson of the Academy's P/C Risk-Based Capital (RBC) Committee; Kevin Dyke, chief actuary of the Michigan Department of Insurance; and Academy Senior Casualty Fellow Jim MacGinnitie.
Dyke cited several ratemaking issues that have gained attention in the past year in NAIC work groups, and Cavanaugh—who presented on RBC, underwriting risk, and operational risk—said the Academy committee she chairs submitted a report recommending P/C underwriting risk factors be updated.
MacGinnitie covered cyber risk, group capital, and international regulations. He cited continuing dialogue with the International Association of Insurance Supervisors on capital standards, and noted that some European Union countries are imposing additional requirements on U.S. companies on solvency implementation. NAIC is questioning "qualified jurisdiction" status, and a Jan. 13 covered agreement announced by the U.S. Treasury Department may resolve some of these issues. Another NAIC task force is developing a cybersecurity model law and discussions on that subject are ongoing, MacGinnitie added.
Musulin noted the National Flood Insurance Program (NFIP) is scheduled to expire Sept. 30 and is up for congressional reauthorization this year. He cited the NFIP's multiple, sometimes conflicting, objectives, including reducing the cost to the public of storm recovery and making flood insurance affordable and available; charging accurate rates while providing subsidies to some; and supporting land use planning and other mitigation. The Academy is developing a paper on catastrophe modeling and has a monograph on flood insurance in peer review, he said.
Slides and audio will be available soon for members without charge on the Academy's webinar page.
Upcoming Events
P/C Loss Reserve, Life & Health Valuation Law Manuals
Public Policy Activities
Alerts
In the News
Note: Some links in this email go to external websites and may require registration. The Academy is not responsible for the content of these websites. Links may expire.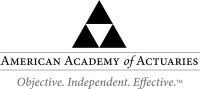 PLEASE DO NOT REPLY TO THIS EMAIL. THIS EMAIL ADDRESS IS NOT MONITORED.
If you would like more information or to contact the Academy, please visit us at www.actuary.org/content/about-us

Follow the Academy on Facebook, LinkedIn, and Twitter.
Rather not receive Academy emails? Unsubscribe by emailing membership@actuary.org.
---
1850 M Street NW • Suite 300 • Washington, DC 20036 • 202.223.8196 • www.actuary.org
Copyright 2017 American Academy of Actuaries. All rights reserved.