This Week: Feb. 6 - 10, 2017
Printer-friendly version
Read the latest news from the Academy.
Recent Academy Activity, Feb. 6–10, 2017
Issue Brief Explores High-Risk Pools for Health Insurance
A new issue brief from the Individual and Small Group Markets Committee, Using High-Risk Pools to Cover High-Risk Enrollees, provides an overview of three possible structures for high-risk pools in the health insurance market. Because the impact of a high-risk pool program on insurance coverage, premiums, and government spending depends on the details underlying its structure, the issue brief examines the implications of various design features, including eligibility criteria, benefit coverage, funding sources, and regulatory responsibility.
Extra-Early Registration Now Open for 2017 Annual Meeting and Public Policy Forum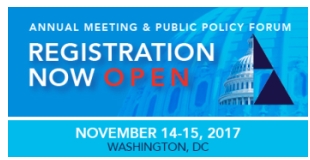 Registration opened this week for the Academy's 2017 Annual Meeting and Public Policy Forum, to be held on Nov. 14 and 15 at the Fairmont Hotel in Washington, D.C. If you have attended before or spoken with peers who have, you know this is an exceptional event that will give you a unique and in-depth look at the top public policy issues facing the actuarial profession. Register at the discounted extra-early rate to assure you are there to get the information you need to stay on top of the issues that matter the most to you, your profession, and our nation.
Just Announced—March Professionalism Webinar
Save the date for a professionalism webinar on the Code of Professional Conduct, to be held from noon to 1:30 p.m. EDT on March 28. The webinar—suitable for actuaries in all practice areas—will feature Tom Wildsmith, immediate past president; Joeff Williams, vice president, professionalism; and Chad Wischmeyer, member of the Council on Professionalism. This quarterly webinar series is a popular way for members to stay abreast of current professionalism topics and earn valuable continuing education credit. Make sure to mark your calendars and plan to attend.
Save the Date: Annual Life and Health Qualifications Seminar
Recently Released
Upcoming Events
Law Manuals Available to Order
Public Policy Activities
In the News
Note: Some links in this email go to external websites and may require registration. The Academy is not responsible for the content of these websites. Links may expire.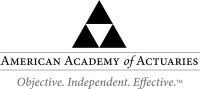 PLEASE DO NOT REPLY TO THIS EMAIL. THIS EMAIL ADDRESS IS NOT MONITORED.
If you would like more information or to contact the Academy, please visit us at www.actuary.org/content/about-us

Follow the Academy on Facebook, LinkedIn, and Twitter.
Rather not receive Academy emails? Unsubscribe by emailing membership@actuary.org.
---
1850 M Street NW • Suite 300 • Washington, DC 20036 • 202.223.8196 • www.actuary.org
Copyright 2017 American Academy of Actuaries. All rights reserved.