This Week: Feb. 27 - March 3, 2017
Printer-friendly version
Read the latest news from the Academy.
Recent Academy Activity, Feb. 27–March 3, 2017
Contingencies, Actuarial Update Released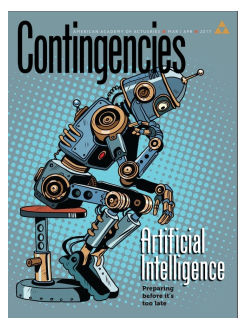 In the latest issue of Contingencies, the cover story, "Preparing for Artificial Intelligence Before It's Too Late," asks what happens when intelligence and awareness are no longer uniquely human traits. Other stories include the future of the Affordable Care Act (ACA)—if and why any reforms to the health care law need to take key provisions into account; musings on whether prevailing assumptions about mortality are correct; and the who, how, and why of principle-based reserving. Also, in his first Presidential Papers column as part of the "Professionalism in Action" series, Academy President Bob Beuerlein asks, "Are You Modeling Professionalism?" He notes actuaries have the opportunity to be teachers and role models to fellow actuaries, and cites the importance of the Code of Professional Conduct.
The February Actuarial Update covers Health Practice Council volunteers' annual visits to Capitol Hill to discuss ACA and related health issues with federal lawmakers and policymakers, and the Individual and Small Group Markets Committee's three recent issue briefs. Also covered: Registration is open for the Academy's Annual Meeting and Public Policy Forum, set for Nov. 14–15 in Washington; and the "Professionalism Counts" column covers three revised actuarial standards of practice (ASOPs) reissued by the Actuarial Standards Board (ASB) in 2016—ASOP Nos. 21 (responding to or assisting auditors), 23 (data quality), and 24 (life illustrations), and describes how the ASB keeps ASOPs current.
COQ Updates Long-Term Care Information
The Committee on Qualifications has updated the long-term care (LTC) insurance item in the U.S. Qualification Standards FAQs. The answer to FAQ No. 50 now clarifies that at least some of an actuary's continuing education should be directly related to LTC insurance.
Extra-Early Discounts for PBR Boot Camp End Today
Extra-early registration rates are available through today, March 3, for the Academy's PBR Boot Camp, to be held May 22–24 in Orlando, Fla. Offered for the first time in 2016 to sold-out audiences, this intensive two-and-a-half-day seminar will deliver instructional sessions and interactive case studies to provide attendees with key learning experiences to implement and utilize principle-based reserving (PBR). Earn up to 24 hours of organized-activity continuing education credit. Register now and plan to join your fellow actuaries for this popular seminar that will ensure you stay ahead of the PBR curve.
Volunteer Action Required
Committing on an annual basis to professional objectivity is required to perform volunteer work for the Academy. That's why Joeff Williams, the Academy's vice president for professionalism, emailed each volunteer this week with a reminder to submit a conflict of interest (COI) acknowledgement and continuing education (CE) attestation. Interested parties must also acknowledge the COI policy. To comply, follow the instructions in the email or on the membership page under "Volunteer Acknowledgements." Volunteers and interested parties who do not complete this process will be dropped from their respective committees this month.
Capital Forum Webinar Postponed
The Academy's Capitol Forum webinar originally planned for late March has been postponed until later this year. The webinar was to focus on insurer capital standards (ICS) at the International Association of Insurance Supervisors (IAIS), and was postponed until after the IAIS completes its ICS Version 1.0 work. The tentative date for the webinar is in July; the Academy will keep members informed about when it is rescheduled.
Upcoming Events
Registration Open—Professionalism Webinar on Practical Applications of the Code: Join the Academy on Tuesday, March 28, for "Practical Applications of the Code of Professional Conduct." The webinar, which will take place from noon to 1:30 p.m. EDT, will feature Immediate Past President Tom Wildsmith, Vice President of Professionalism Joeff Williams, and Council on Professionalism member Chad Wischmeyer. This quarterly webinar series delivers content of interest to actuaries in all practice areas, and is a popular and cost-effective way for members to stay abreast of current professionalism topics and earn valuable continuing education credit. Register today.

Global Health Webinar to Examine Long-Term Care Issues in U.S., Germany: The Academy and the International Actuarial Association Health Section (IAAHS) will host a webinar, Global Perspectives on Long-Term Care: United States and Germany, on Friday, March 24, from 10 to 11:30 a.m. EDT. Worldwide LTC demand is expected to increase significantly in the coming decades because of longevity increases and advances in health technologies and treatment, and this webinar will highlight a new report issued by the IAA's Population Issues Working Group while spotlighting the perspectives of the two countries. The webinar is free for Academy and IAAHS members. Register today.
Public Policy Activities
The Financial Reporting Committee submitted comments to the International Actuarial Association on the exposure draft of its "Risk Adjustments for Financial Reporting of Insurance Contracts under International Financial Reporting Standards No. X" monograph.
In the News
Note: Some links in this email go to external websites and may require registration. The Academy is not responsible for the content of these websites. Links may expire.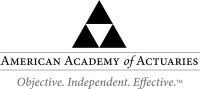 PLEASE DO NOT REPLY TO THIS EMAIL. THIS EMAIL ADDRESS IS NOT MONITORED.
If you would like more information or to contact the Academy, please visit us at www.actuary.org/content/about-us

Follow the Academy on Facebook, LinkedIn, and Twitter.
Rather not receive Academy emails? Unsubscribe by emailing membership@actuary.org.
---
1850 M Street NW • Suite 300 • Washington, DC 20036 • 202.223.8196 • www.actuary.org
Copyright 2017 American Academy of Actuaries. All rights reserved.