This Week, Feb. 19-23, 2018
Printer-friendly version
Read the latest news from the Academy.
Recent Academy Activity, Feb. 19–23, 2018
Registration Open for Life and Health Qualifications Seminar
Registration has opened for the Academy's 2018 Life and Health Qualifications Seminar, to be held Nov. 4–8 in Arlington, Va. This annual and highly regarded event delivers an agenda full of training and instruction, equipping you with the knowledge you need to gain necessary qualifications or relevant CE you may need to issue actuarial opinions for either the NAIC Life and A&H Annual Statement or the NAIC Health Annual Statement.
Attendees can earn up to 27 hours of continuing education credit, including up to 2.7 professionalism hours. Only 100 seats are available for this seminar—register today for the lowest rates and to secure your space.
Academy Presents at NAIC Hearing
Arnold Dicke, chairperson of the Academy's Reinsurance Committee, participated in the NAIC's public hearing in New York City on Tuesday on the Bilateral Agreement between the United States of America and the European Union on Prudential Measures Regarding Insurance and Reinsurance, also known as the "covered agreement," which was signed Sept. 22, 2017. The hearing included discussions on how the NAIC and states can address the challenge of refining the current solvency system. Dicke cited the Academy's practice note, Credit for Life Reinsurance in U.S. Statutory Financial Statements, released earlier this month.
Professionalism Outreach
Actuarial Standards Board (ASB) member Darrell Knapp gave a presentation to the Actuaries Club of Iowa on Tuesday on the proposed actuarial standard of practice (ASOP) on setting assumptions. The presentation reviewed the ASB standard-setting process and discussed the approaches taken and concepts used in the draft ASOP, and Knapp encouraged attendees to engage in the process by submitting comments on exposure drafts.
Order Today—Academy Law Manuals Available
The latest editions of the Life and Health Valuation Law Manual and the Property/Casualty Loss Reserve Law Manual are available.
Both manuals are available in a variety of formats, allowing you to select the version that best suits your needs.
Public Policy Activities
Upcoming Events
In the News
Note: Some links in this email go to external websites and may require registration. The Academy is not responsible for the content of these websites. Links may expire.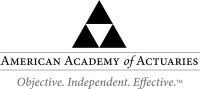 Follow the Academy on Facebook, LinkedIn, and Twitter.

---
1850 M Street NW • Suite 300 • Washington, DC 20036 • 202.223.8196 • www.actuary.org
Copyright 2018 American Academy of Actuaries. All rights reserved.