This Week, Feb. 12-16, 2018
Printer-friendly version
Read the latest news from the Academy.
Recent Academy Activity, Feb. 12–16, 2018
Academy Office Closed Monday for Presidents Day Holiday
The Academy's office will be closed on Monday, Feb. 19, in observance of the Presidents Day federal holiday.
Updated Board and Committee Meetings Policy
Last month the Academy Board of Directors revised the Academy's meeting policy. This week, the Academy provided additional information for members. Academy meetings have not been "closed." Rather, it gives officers and committee chairs the tools they need to protect the integrity of the Academy process.
Over the past 18 months, certain observers have used the Board and Committee Meetings Policy to engage in conduct to chill discussions and debates at the ASB and other Academy committees. In one case, an observer has insisted on attending committee and Board meetings despite threatening legal action against the Academy. Read more about the policy and the reasons for it here.
Recently Released
As reported in the February issue of HealthCheck, the Individual and Small Group Markets Committee sent comments to the U.S. Department of Labor on association health plans, the Retiree Benefits Subcommittee held a teleconference with the U.S. Government Accountability Office on a review of postal retiree health benefits, and a new short-term government funding measure includes several health-related provisions.
Order Today—Academy Law Manuals Available
The latest editions of the Life and Health Valuation Law Manual and the Property/Casualty Loss Reserve Law Manual are available.
Both manuals are available in a variety of formats, allowing you to select the version that best suits your needs.
Public Policy Activities
Upcoming Events
In the News
Note: Some links in this email go to external websites and may require registration. The Academy is not responsible for the content of these websites. Links may expire.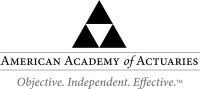 Follow the Academy on Facebook, LinkedIn, and Twitter.

---
1850 M Street NW • Suite 300 • Washington, DC 20036 • 202.223.8196 • www.actuary.org
Copyright 2018 American Academy of Actuaries. All rights reserved.