This Week, Dec. 4-8, 2017
Printer-friendly version
Read the latest news from the Academy.
Recent Academy Activity, Dec. 4–8, 2017
Academy Presents on Policy, Professionalism at NAIC Fall Meeting
The Academy presented on both public policy and professionalism matters at the NAIC 2017 Fall National Meeting Dec. 2–4 in Honolulu. A wide range of public policy topics across the Academy's practice areas were covered, including principle-based reserving for life insurance and other products, developments in health care reform, long-term care insurance, and the "qualified actuary" initiative.
Academy representatives also made several professionalism presentations. Past President Mary D. Miller gave updates to NAIC's life, health, and casualty task forces. Actuarial Board for Counseling and Discipline (ABCD) member Janet Carstens participated in some of those as well as in the Academy's Dec. 3 regulator-only professionalism breakfast and discussion forum, with Actuarial Standards Board (ASB) Chairperson Maryellen Coggins participating via conference call.
See the Academy's post-NAIC alert for a full wrap-up of the meeting.
Academy Dues Renewal
The Academy has no record of having received your 2018 membership dues. Dues of $635 (for regular members) will assure that the Academy's financial position remains strong as we continue to provide objective, nonpartisan actuarial analysis to U.S. policymakers. Highlights of the Academy's mission-critical work this year are noted in the annual "The Meaning of Your Membership" report.
Please log in to pay and make changes to your account before paying your dues. (Some members may qualify for a partial or full dues waiver.) If you have questions, please contact the Academy's Membership Department at 202-223-8196, or membership@actuary.org.
Academy Hosts Pension Webinar on Lump-Sum Benefits
Attendees from more than 200 registered sites on Friday attended an Academy webinar, "Valuation of Lump-Sum Benefits." Moderated by Pension Committee Chairperson Ellen Kleinstuber, the presenters were Aaron Weindling, a member of the Pension Committee and a recent recipient of the Academy's Outstanding Volunteerism Award; Tim Geddes, a member of the Pension Committee; and Pension Committee Vice Chairperson Bruce Cadenhead. Geddes and Cadenhead are also Academy Board members.
Kleinstuber said the Pension Committee is in the process of developing a practice note on lump-sum payments, which it is aiming to release in the spring. Weindling outlined the basic paradigms used for defining and evaluating alternative valuation methods, and the interest-rate fundamentals used to understand and apply those methods. Geddes described approaches for valuing interest-sensitive lump sums and the implications of each method, and Cadenhead covered the determination of interest cost and implications for determining year-end pension benefit obligations.
Slides and audio will be available free to members soon.
ASB Approves Second Exposure Draft of Capital Adequacy ASOP
The ASB approved a second exposure draft of a proposed new actuarial standard of practice (ASOP), Capital Adequacy Assessment for Insurers. The proposed ASOP will apply to actuaries involved in capital adequacy assessment work for life or health insurers, including fraternal benefit societies and health benefit plans; property and casualty insurers; mortgage and title insurers; financial guaranty insurance companies; risk retention groups; public entity pools; captive insurers; and similar entities or a combination of such entities, when affiliated. Instructions on how to comment are in the exposure draft; the deadline for comments is March 1, 2018.
Committee Publishes Issue Brief on Global End-of-Life Care
The Health Practice International Committee published an issue brief on global aging demographics, quality of life during the end-of-life period, palliative versus curative care, and strategies for addressing health care challenges at the end of life using case studies from a variety of countries.
The issue brief notes that issues surrounding end-of-life care for the elderly will become more severe worldwide due to aging populations and shifting demographics, placing significant economic burdens on future generations; solutions for the increasing burden of health care costs will need to include changes in public policy and cultural perspectives, as well as changes within the health care system; and that policymakers, communities, providers, individuals, and families all have a role in addressing these issues.
Sold-Out P/C Opinion Seminar Held in Chicago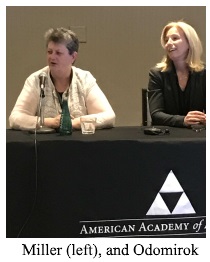 About 80 actuaries attended this week's 2017 Seminar on Effective P/C Loss Reserve Opinions in Chicago. The two-day seminar provided participants' expertise on the latest regulations and standards and included reviews of actuarial qualification standards and interactive case studies. Presenters included Committee on Property and Liability Financial Reporting (COPLFR) Chairperson Kathy Odomirok; past Chairperson Lisa Slotznick; COPLFR members Dawn Fowle and John Gleba; Mary Frances Miller, a former Academy president and chairperson of the Opinion Seminar Subcommittee; and subcommittee members Chuck Emma and Hyeji Kang.
Available for Order—2017 P/C Loss Reserve Law Manual
The 2017 Property/Casualty Loss Reserve Law Manual is available for pre-order. The manual is updated annually in multiple formats and is designed to help appointed actuaries comply with NAIC Annual Statement requirements for statements of actuarial opinion (SAOs). The manual will be available soon; order today.
Dec. 20 Professionalism Webinar to Share ABCD Ethical Case Studies
Members of the ABCD will use case studies and examples of ethical problems during "Tales From the Dark Side: Ethical Cases at the ABCD," a professionalism webinar to be held on Wednesday, Dec. 20, from noon to 1:30 p.m. EST. Presenters will draw on their expertise and experience as a member of the ABCD and discuss what steps the actuary might take in each situation discussed. They will highlight the availability of the information and guidance the ABCD has provided to practicing actuaries via the ABCD's request-for-guidance process. In addition to professionalism continuing education credits, the Academy believes in good faith that core ethics continuing professional education credits under JBEA rules will be available to attendees. Register here.
Alerts
Upcoming Events
In the News
Note: Some links in this email go to external websites and may require registration. The Academy is not responsible for the content of these websites. Links may expire.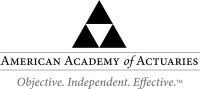 Follow the Academy on Facebook, LinkedIn, and Twitter.

---
1850 M Street NW • Suite 300 • Washington, DC 20036 • 202.223.8196 • www.actuary.org
Copyright 2017 American Academy of Actuaries. All rights reserved.