This Week, Dec. 26, 2017-Jan. 5, 2018
Printer-friendly version
Read the latest news from the Academy.
Recent Academy Activity, Dec. 26, 2017–Jan. 5, 2018
Pension Issue Brief Looks at Retirement and Tax Policy
The Academy released an issue brief on Dec. 28, The Role of Tax Policy in Promoting Retirement Security, which looks at the implications for retirement of the Tax Cuts and Jobs Act that became law at the end of 2017. The issue brief notes that while the new law does not change the taxation of retirement savings, the discussion leading up to enactment raised the profile of retirement security in the United States.
FAQs on the U.S. Qualification Standards Updated
The frequently asked questions (FAQs) on the U.S. Qualification Standards (USQS) were updated in late December. The Committee on Qualifications revised FAQ No. 41 to clarify that a study group comprised of actuarial students does not qualify as "organized" activity for the purposes of continuing education because it does not have the expert leadership and/or participation implied by the examples of interaction given in the USQS (conferences, seminars, webcasts, in-person or online courses, or committee work).
Recently Released
Notice of Public Discipline
Webinars Next Week—Post-NAIC Life Recap; P/C Loss Reserve Opinion Writing
P/C Loss Reserve, Life and Health Valuation Law Manuals Available
Upcoming Events
Alerts
Public Policy Activities
In the News
Note: Some links in this email go to external websites and may require registration. The Academy is not responsible for the content of these websites. Links may expire.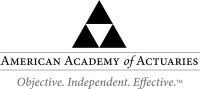 Follow the Academy on Facebook, LinkedIn, and Twitter.

---
1850 M Street NW • Suite 300 • Washington, DC 20036 • 202.223.8196 • www.actuary.org
Copyright 2018 American Academy of Actuaries. All rights reserved.