This Week, August 27-31, 2018
Printer-friendly version
Read the latest news from the Academy.
Recent Academy Activity, Aug. 27–31, 2018
Academy Closed Monday for Labor Day
The Academy's office will be closed Monday, Sept. 3, for the Labor Day holiday.
August Actuarial Update Out Today
The August issue of Actuarial Update contains a great back-to-school "bus" picture and information members should read on how the Academy's core values of transparency and public participation are strikingly apparent. Also featured are a rundown of the myriad Academy activities at the August NAIC summer meeting in Boston, a list of new members from the first half of 2018, and a "Professionalism Counts" article on the Applicability Guidelines to help you identify which ASOPs may apply to your work.
Online Election for Regular Directors Closes Tonight
Online voting ends tonight for regular director positions on the Academy's Board for a term starting on Nov. 1 at the close of the Academy's Annual Meeting in Washington, D.C., as part of the 2018 Annual Meeting and Public Policy Forum. The voting period will close tonight, Aug. 31, at 11:59 p.m. EDT. If you haven't seen your ballot, check your junk mail folder or email Keith Weir (kweir@intelliscaninc.com). We encourage members to take part in electing the newest leaders of the Academy who will help us fulfill our mission to serve the public and the U.S. actuarial profession. Visit the Academy Board Election Center for more information.
Annual Meeting Update: Plenary, Breakout Sessions Announced; Rates Increase Next Week
The final opportunity for discounted registration rates is available through next Friday, Sept. 7, for the Academy's 2018 Annual Meeting and Public Policy Forum, to be held Nov. 1–2 in Washington, D.C.
Patrick McPharlin, chair of the NAIC's Technology and Innovation Task Force and director of Michigan's Department of Insurance and Financial Services, will be a featured plenary speaker, offering his unique perspective on the NAIC's involvement in addressing regulatory and public policy concerns associated with the evolution of Big Data. New details about breakout sessions in each practice area have also been posted to the Academy website.
Register now—we'll see you in November.
Mark Your Calendar for October 17 Professionalism Webinar on the ASOPs
The Academy will host a professionalism webinar in October that will examine and dissect the actuarial standards of practice (ASOPs) promulgated by the Actuarial Standards Board (ASB) to explain the key concepts that keep actuarial practice healthy, appropriate, and compliant with the Code of Professional Conduct. "The Anatomy of the ASOPs" will be held on Oct. 17, from noon to 1:30 p.m. EDT. Presenters will be ASB Chairperson Beth Fitzgerald, ASB Vice Chairperson Kathy Riley, and ASB member Cande Olsen. Registration will open soon.
Early Registration for P/C Loss Seminar Closes Today
Friday, Aug. 31, is the last day to take advantage of a discounted registration rate for the 2018 Seminar on Effective P/C Loss Reserve Opinions, to be held Dec. 6–7 in Chicago. Visit the Academy's website to learn more about the event, including a look at the agenda and how to register. Attendees will have the opportunity to earn more than 13 hours of continuing education credit. Don't miss out—register today and save.
IFRS 17 Seminar on Long-Duration Contracts
The Risk Management and Financial Reporting Council sponsored a two-day Seminar on Implementing International Financial Reporting Standard 17 (IFRS 17) for Long-Duration Contracts, which drew an engaged audience to Washington, D.C., Wednesday and Thursday. The groundbreaking seminar on IFRS 17—designed for financial reporting actuaries who will be working on implementing the new standard for long-duration insurance contracts—included presentations and an interactive workshop for attendees.
Reminder: Send In Photos of 'Magic School Bus' Recipients
After filling orders of more than 2,000 books from individuals and organizations since its release in June, our stocks of The Magic School Bus Takes a Risk: A Book about Probability are low and the Academy will no longer actively promote availability of this book. Still, we'd like to keep the interest in this fun-filled book going by showing the impact of this book among children who've received and enjoyed the book. If you've given a copy to someone in your life, send a photo of your youngster in action to MSB@actuary.org. We'll post a photo album on the Magic School Bus page on the Academy website (along with as much, or as little, information about your young reader as you're comfortable with). The Academy thanks our members for supporting our efforts at promoting interest in the importance of being an actuary in school-age children.
CLRS Next Week in Southern California
This year's Casualty Loss Reserve Seminar and Workshops (CLRS), sponsored jointly by the Academy and the Casualty Actuarial Society (CAS), will be held Sept. 5–7 at Anaheim Marriott Hotel in Anaheim, Calif. Visit the event website for the program guide, lodging details, and more. Pre-registration is now closed—please register with the CAS staff in Anaheim, or call 703-276-3100 with questions. Any casualty actuaries who attend the CLRS are encouraged to stop by the Academy booth in the exhibit hall.
Public Employment Opportunity
The Academy has long supported government employers that are seeking to hire qualified actuaries. See our Public Employment Opportunity Posting Policy for more information.
Recently Released
In the summer issue of The Retirement Report, read about the Pension Practice Council's July forum in Washington, D.C., that brought together experts to discuss possible public policy solutions to retirement issues and practical ideas to promote retirement security.
Upcoming Events
In the News
Note: Some links in this email go to external websites and may require registration. The Academy is not responsible for the content of these websites. Links may expire.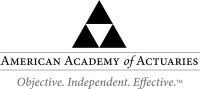 Follow the Academy on Facebook, LinkedIn, and Twitter.

---
1850 M Street NW • Suite 300 • Washington, DC 20036 • 202.223.8196 • www.actuary.org
Copyright 2018 American Academy of Actuaries. All rights reserved.