This Week: Aug. 21-25, 2017
Printer-friendly version
Read the latest news from the Academy.
Recent Academy Activity, Aug. 21–25, 2017
Casualty Practice Council Comments on Proposed Changes to NFIP
The Casualty Practice Council sent a letter Wednesday to the U.S. Senate Committee on Banking, Housing, and Urban Affairs urging reauthorization and reform of the National Flood Insurance Program (NFIP), which is scheduled to expire at the end of September.
"From a public interest standpoint, there are two essential tasks facing lawmakers: first, renewing the program before a lapse causes disruptions; and second, improving the flood insurance framework and not just extending it in its current form," said Rade Musulin, the Academy's vice president, casualty, in a press release about the letter.
Webinar Looks at International Insurance Capital Standards
In Wednesday's webinar, "International Insurance Regulatory Developments—An Update on the IAIS Insurance Capital Standard," the NAIC's Ned Tyrrell looked at recent developments in the International Association of Insurance Supervisors' (IAIS) ongoing efforts to develop an international insurance capital standard (ICS).
Tyrrell, NAIC's international technical policy advisor and a member of the IAIS Capital Solvency and Field Testing Working Group, noted that there has been incremental development, leading to this summer's release of ICS version 1.0. The webinar, moderated by Solvency Committee Chairperson Elizabeth Brill, was part of the Academy Capitol Forum Webinar Series and the third to focus on the ICS. Slides and audio are available on the Academy's webinar page.
Post-NAIC Life Webinar
The Academy hosted a post-NAIC life webinar Friday, in which panelists discussed key life issues raised during the NAIC Summer 2017 National Meeting in Philadelphia in early August. Presenters covered principle-based reserving, risk-based capital, reinsurance, and other life-related issues, and highlighted Academy presentations to NAIC's Life Actuarial Task Force. Slides and audio will be available soon on the Academy's webinar page.
P/C webinar: The post-NAIC property/casualty webinar will be held on Wednesday, Sept. 6, from noon to 1 p.m. EDT.
Next Week—Registration and Room Block Deadlines for PBR Boot Camp
Make sure to book your room by next Tuesday, Aug. 29, to secure the Academy's special rate for attendees of next month's Fall PBR Boot Camp. To be held Sept. 11–13 at the Westin Las Vegas, the Academy's fourth PBR Boot Camp will provide a unique opportunity for actuaries who work with regulators—and others who submit their documents to regulators—to hear from experts and discuss PBR implementation challenges and opportunities. Space is still available and the early registration deadline is next Thursday, Aug. 31— register today.
Wednesday—CLRS Pre-Registration Deadline
The pre-registration deadline for the 2017 Casualty Loss Reserve Seminar & Workshops is next Wednesday, Aug. 30. The annual seminar, jointly sponsored by the Academy and the Casualty Actuarial Society, will be held Sept. 10–12 in Philadelphia. Register today.
Thursday—Early Registration Ends for P/C Loss Seminar
Early registration ends next Thursday, Aug. 31, for the 2017 Seminar on Effective P/C Loss Reserve Opinions. This two-day seminar, to be held Dec. 7–8 in Chicago, will prepare you for opinion season by enhancing your expertise on the latest regulations with reviews of actuarial qualification standards and interactive case studies. Register today for the lowest rates.
Board Election Concludes Today
Voting is wrapping up Friday in the election of four regular directors to serve on the Academy Board of Directors. The candidates are Bruce Cadenhead, Tim Geddes, Stu Mathewson, and Tricia Matson. Their terms will begin at the conclusion of the Academy's Annual Meeting on Nov. 14. For more information about the Nominating Committee guidelines and other details, please visit the Board Election Center.
Upcoming Events
Annual Meeting and Public Policy Forum—Nov. 14–15, Washington, D.C.

Post-NAIC Summer 2017 National Meeting (P/C)—Sept. 6, webinar

Casualty Loss Reserve Seminar & Workshops—Sept. 10–12, Philadelphia

PBR Boot Camp, Las Vegas—Sept. 11–13, Las Vegas

International Financial Reporting—A Long-Duration Contracts Perspective to IFRS 17—Sept. 19, webinar
International Financial Reporting—A Short-Duration Contracts Perspective to IFRS 17—Sept. 25, webinar
The Great Assumptions Debate—Oct. 26, professionalism webinar
Life and Health Qualifications Seminar—Nov. 12–16, Arlington, Va.
Effective P/C Loss Reserve Opinions Seminar—Dec. 7–8, Chicago
In the News
An Insurance Business story and a subscriber-only ClimateWire story cited the Casualty Practice Council's letter sent this week to the U.S. Senate Committee on Banking, Housing, and Urban Affairs urging reauthorization and reform of the National Flood Insurance Program.
Note: Some links in this email go to external websites and may require registration. The Academy is not responsible for the content of these websites. Links may expire.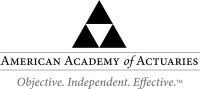 Follow the Academy on Facebook, LinkedIn, and Twitter.

---
1850 M Street NW • Suite 300 • Washington, DC 20036 • 202.223.8196 • www.actuary.org
Copyright 2017 American Academy of Actuaries. All rights reserved.