This Week: Aug. 14-18, 2017
Printer-friendly version
Read the latest news from the Academy.
Recent Academy Activity, Aug. 14–18, 2017
New Webinars Explore IFRS 17—Insurance Contracts
Two new webinars will dive into International Financial Reporting Standard (IFRS) 17—Insurance Contracts, recently issued by the International Accounting Standards Board and effective Jan. 1, 2021. The Sept. 19 webinar will focus on long-duration contracts, while the Sept. 25 webinar will look at short-duration contracts. Both webinars will deliver an in-depth look at this standard, who will be affected, and what it does.
Recently Released
Guest columnist Rachel Hemphill, chief systems actuary at the California Department of Insurance, wrote the lead column of the summer issue of Casualty Quarterly, offering her thoughts on predictive analytics from a regulatory perspective. Also in this issue, the Academy's Sept. 6 post-NAIC webinar focusing on casualty issues (register here), and a recap of recent legislative and regulatory activities at the state and federal levels.
Stay Connected
Did you know? The Academy regularly posts about public policy and professionalism activities on LinkedIn, Facebook, and Twitter. Connect with the Academy on these platforms to stay up to date on the latest news from the Academy that affects your daily practice and the U.S. actuarial profession.
Election of Regular Directors Continues
The Academy's annual online election of regular directors for the Academy Board, which began last week, continues through next Friday, Aug. 25. We encourage members to take part in electing the next leaders of the Academy who will help us fulfill our mission to serve the public and the U.S. actuarial profession. For more information, visit the Academy Board Election Center.
Don't Delay—CLRS Rates Increase Next Week
Next Friday, Aug. 25, marks the last day to secure early registration rates for the 2017 Casualty Loss Reserve Seminar and Workshops. This seminar, jointly sponsored by the Academy and the Casualty Actuarial Society, will be held Sept. 10–12 in Philadelphia. Register today.
Room Block Closing for PBR Boot Camp
Make sure to book your room by Tuesday, Aug. 29, to secure the Academy's special rate for Boot Camp attendees. The Fall PBR Boot Camp, to be held Sept. 11–13 at the Westin Las Vegas, will provide a unique opportunity for actuaries who work with regulators—and others who will be submitting their documents to the regulators—to understand and discuss PBR implementation challenges and opportunities. Space is still available so register today.
Upcoming Events
Annual Meeting and Public Policy Forum—Nov. 14–15, Washington, D.C.

Capitol Forum: IAIS Insurance Capital Standard—Aug. 23, webinar

Post-NAIC Summer 2017 National Meeting (Life)—Aug. 25, webinar

Post-NAIC Summer 2017 National Meeting (P/C)—Sept. 6, webinar

International Financial Reporting—A Long-Duration Contracts Perspective To IFRS 17—Sept. 19, webinar
International Financial Reporting—A Short-Duration Contracts Perspective To IFRS 17—Sept. 25, webinar
The Great Assumptions Debate—Oct. 26, professionalism webinar
Life and Health Qualifications Seminar—Nov. 12–16, Arlington, Va.
Effective P/C Loss Reserve Opinions Seminar—Dec. 7–8, Chicago
Public Policy Activities
The Principle-Based Reserving Review Procedures Work Group submitted a comment letter to the NAIC's Financial Examiners Handbook Technical Group regarding the exposure of proposed changes to the Financial Condition Examiners Handbook.

The Pension Committee submitted a comment letter to the ERISA Advisory Council regarding the Annual Funding Notice for Defined Benefit Plans.
In the News
Note: Some links in this email go to external websites and may require registration. The Academy is not responsible for the content of these websites. Links may expire.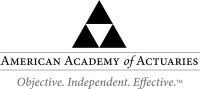 Follow the Academy on Facebook, LinkedIn, and Twitter.

---
1850 M Street NW • Suite 300 • Washington, DC 20036 • 202.223.8196 • www.actuary.org
Copyright 2017 American Academy of Actuaries. All rights reserved.