This Week, April 9-13, 2018
Printer-friendly version
Read the latest news from the Academy.
Recent Academy Activity, April 9–13, 2018
Enrolled Actuaries Meeting Draws More Than 700 Pension Professionals to D.C.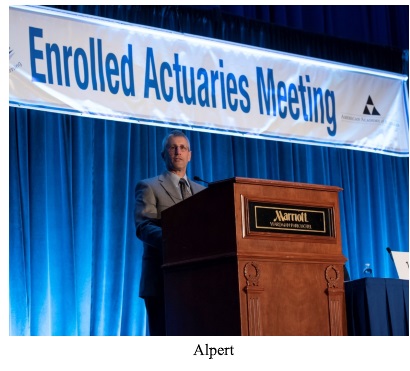 More than 725 actuaries and other pension professionals attended this week's Enrolled Actuaries Meeting in Washington, where they heard presentations on a wide variety of retirement and pension issues. Academy President Steve Alpert, a pension actuary himself, gave the opening address, noting major changes in the past year including the new tax-reform law and congressional proposals to improve retirement security. He noted the Academy's work in the retirement area in the past year including a position statement aligned with much of the Academy's ongoing work on lifetime income (see more on those activities this week on Capitol Hill, below), and last year's paper on retirement readiness in the U.S., U.K. and Australia, produced jointly with the Institute and Faculty of Actuaries (U.K.) and the Actuaries Institute of Australia. Alpert also participated in the first plenary session on Tuesday on a lively ethics panel.
At the meeting—sponsored by the Academy and the Conference of Consulting Actuaries—there were a number of well-attended interactive sessions hosted by and featuring presentations from Academy volunteers, including Pension Vice President Josh Shapiro, who moderated a multiemployer plans session; Pension Committee Chairperson Ellen Kleinstuber, who presented on the Academy's new paper on the seven principles of pension funding; and a closing plenary session on "Life (Expectancy) Isn't Always Fair" that was moderated by Academy Senior Pension Fellow Ted Goldman. Look for additional coverage in the forthcoming April Actuarial Update.
Make Your Nomination for Annual Academy Service Awards
It's time to nominate a deserving colleague or respected mentor for one of the Academy's prestigious annual service awards, either for public service or for a lifetime of service to the actuarial profession and the Academy, as described below.
The Robert J. Myers Public Service Award honors an actuary who has made an exceptional contribution to the common good, specifically through a single noteworthy public service achievement or a career devoted to public service.

The Jarvis Farley Service Award is a lifetime achievement award presented to an actuary whose volunteer efforts on behalf of the Academy have made significant contributions to the advancement of the profession through a lifetime of service.

The Outstanding Volunteerism Award honors Academy volunteers who have made a single, noteworthy volunteerism contribution in the past year.
The deadline for nominations is June 29—the awards will be presented at the Academy's Annual Meeting and Public Policy Forum, Nov. 1–2 in Washington.
Pension Capitol Hill Briefing Looks at Lifetime Income Issues
Congressional staff and others attended the Academy's Pension Practice Council Capitol Hill briefing Friday, "Making Retirement Income Last a Lifetime: Public Policy Options and Practical Tools," highlighting lifetime income issues and initiatives. The panelists released a new quiz to help the public better understand their lifetime income needs, highlighted the Actuaries Longevity Illustrator, and provided an update on education and public policy efforts. Speakers were Noel Abkemeier, co-chairperson of the Lifetime Income Risk Joint Task Force, and Senior Pension Fellow Ted Goldman. Pension Vice President Josh Shapiro moderated. A media question-and-answer session with the panel followed.
Post-NAIC Webinar Recaps Life Issues
About 250 attended the Academy's post-NAIC life webinar Tuesday summarizing key issues from the NAIC Spring 2018 National Meeting in Milwaukee last month. Presenters covered principle-based reserving, risk-based capital, reinsurance, and other life practice issues, and the Academy presentations to the NAIC's Life Actuarial Task Force. The webinar was moderated by Dave Neve, Academy vice president, life; panelists were Michael Boerner, member of the Life Practice Council; Wayne Stuenkel, chairperson of the Life Capital Adequacy Committee; and Tom Campbell, chairperson of the AG 43/C-3 Phase II Work Group. Slides and audio are available free to members.
Professionalism Outreach
Committee on Qualifications member Chad Wischmeyer provided members of the Atlanta Actuarial Club with "A Look at Ethics and Professionalism" at the club's meeting on Wednesday. The presentation, including an interactive breakout discussion of case studies, focused on responding to ethical dilemmas by drawing on the principles and standards of actuarial professionalism provided by the Code of Professional Conduct, actuarial standards of practice, and qualification standards. These and other professionalism resources are available on the Academy's professionalism webpage.
Registration Open for IFRS 17 Seminar
Registration is open for the Academy's August Seminar on Implementing International Financial Reporting Standard (IFRS) 17 for Long-Duration Contracts. The seminar will explore the accounting standard's requirements and prepare life and health financial reporting actuaries to achieve IFRS compliance with the accounting for insurance contracts. Attendees will have the opportunity to earn up to 12.4 hours of continuing education credit. The seminar will be held Aug. 29–30 in Washington, D.C. Extra-early rates are available—register today.
Public Employment Opportunity—IRS
Carolyn Zimmerman with the IRS was on a panel in a Tuesday breakout session, "Dialogue with the IRS/Treasury," at this week's Enrolled Actuaries Meeting, and noted the IRS is hiring an actuary. The position is in the agency's Tax-Exempt and Government Entities Division, and responsibilities include analyzing problems regarding tax liability involving the valuation of complex life estates and remainder interests to determine estate, gift, and income tax liability, or involving qualification for tax exemption of pension, annuity, profit sharing, and stock bonus plans and trust, and the deduction from income tax of employer contributions under such plans; performing pension work and analyzing matters related to the Employee Retirement Income Security Act of 1974 (ERISA); and developing new techniques, formulas, and procedures for the solution of complex actuarial problems. More information, including how to apply, is available here. The deadline to apply is next Thursday, April 19.
The Academy has long supported government employers who are seeking to hire qualified actuaries. See our Public Employment Opportunity Posting Policy for more information.
Recently Released
The Academy published a new Essential Elements paper, "Income to Last a Lifetime," highlighting the challenges workers face in planning for the risk that they may live longer in retirement than expected, and outlining public policy approaches to help future retirees secure and manage their lifetime income. The Essential Elements series is designed to make actuarial analyses of public policy issues clearer to general audiences.

The April HealthCheck recaps Academy health presentations from the NAIC Spring 2018 National Meeting. Also covered, the Individual and Small Group Markets Committee comment letter to the Centers for Medicare & Medicaid Services on a proposed federal rule that would lengthen the maximum period of short-term, limited-duration health insurance plans; and legislative, judicial, and regulatory updates.
Alerts
The Centers for Medicare & Medicaid Services issued the final rule for the Department of Health and Human Services' Notice of Benefit and Payment Parameters for 2019.

Are You Receiving Your Academy Alerts? Academy members can subscribe to the alerts to receive a notification when a new alert is posted in their area(s) of interest. Alerts are available in five areas of focus: casualty, health, life, pension, and cross-practice issues. Academy members may subscribe to any or all of them free of charge as a member service after signing in to the member section of the website.
Public Policy Activities
Academy Senior Pension Fellow Ted Goldman is scheduled to testify next week at a congressional hearing of the Joint Select Committee on Solvency of Multiemployer Pension Plans. The hearing will be held on Wednesday, April 18, at 2 p.m. EDT, in room 215 of the Senate Dirksen Office Building.
Upcoming Events
P/C Public Policy Update: Spring 2018—April 27, webinar

Seminar on Implementing IFRS 17 for Long-Duration Contracts—Aug. 29–30, Washington, D.C.

Casualty Loss Reserve Seminar (CLRS) & Workshops—Sept. 5–7, Anaheim, Calif.

Annual Meeting and Public Policy Forum—Nov. 1–2, Washington, D.C.

Life and Health Qualifications Seminar—Nov. 4–8, Arlington, Va.

Seminar on Effective P/C Loss Reserve Opinions—Dec. 6–7, Chicago
In the News
Note: Some links in this email go to external websites and may require registration. The Academy is not responsible for the content of these websites. Links may expire.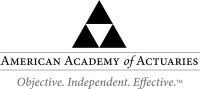 Follow the Academy on Facebook, LinkedIn, and Twitter.

---
1850 M Street NW • Suite 300 • Washington, DC 20036 • 202.223.8196 • www.actuary.org
Copyright 2018 American Academy of Actuaries. All rights reserved.