This Week, April 30-May 4, 2018
Printer-friendly version
Read the latest news from the Academy.
Recent Academy Activity, April 30–May 4, 2018
Pension Issue Briefs on Multiemployer Plans, Social Security
Academy pension committees released two issue briefs, one on multiemployer pension plans and one on Social Security. Loan Programs for Underfunded Multiemployer Plans, published by the Multiemployer Plans Committee, notes that certain loan programs for troubled multiemployer plans have the potential to help preserve participant benefits and improve the financial condition of the plans. The brief points out that loans would incur a cost to the government if they charge plans an artificially low interest rate, and there will be additional costs if plans are ultimately unable to repay the loans.
Social Security—Automatic Adjustments, released by the Social Security Committee, notes that since the 1980s the Annual Report of the Board of Trustees of the Federal Old-Age and Survivors Insurance and Federal Disability Insurance Trust Fund has consistently indicated a need for corrective legislation to avoid a shortfall in the amount needed to pay all promised benefits in the future. While Congress has been reluctant to pass any corrective legislation because it would require potentially unpopular payroll tax increases or benefit decreases, even if action is taken, actual experience will diverge from the demographic and financial assumptions and a shortfall could again develop.
Contingencies, Actuarial Update Released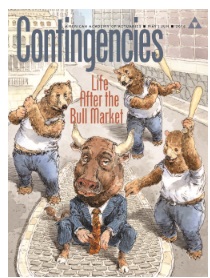 In the May/June issue of Contingencies, the cover story, "Life After the Bull Market," explores what might happen when the roaring market for U.S. equities comes to an end. Other features include "The Long Run," which looks at how the pension world has begun to respond to the Multiemployer Pension Reform Act of 2014, and "Too Big to Curtail?" which looks at two of today's most popular investment vehicles and what might happen when these trendy asset classes fall out of favor. Also in this issue: an "International Corner" piece on health care systems and their outcomes in Asian and Pacific nations; a commentary column on ethical and professional dilemmas and how to reconcile them; and how to stay current with new and revised actuarial standards of practice.
The April Actuarial Update covers the nomination of D. Joeff Williams, vice president of professionalism, to be the Academy's next president-elect. Also covered: political analyst Charlie Cook will be a keynote speaker at the Academy's Annual Meeting and Public Policy Forum in November; nominations are open for the Academy's annual service awards; the Enrolled Actuaries Meeting; and the "Professionalism Counts" column, which looks at the differences between continuing education and continuing professional development requirements.
June Professionalism Webinar to Look at the Code of Professional Conduct
Registration opened this week for the June professionalism webinar, "The Code of Professional Conduct: Learning From the Mistakes of Others." Plan to join our expert panelists as they guide attendees through scenarios inspired by mistakes that have landed actuaries on the wrong side of the Code of Professional Conduct. Presenters will discuss the ethical issues these scenarios raise and subjects including professional integrity, competence and control of work product, standards of practice and communication, and counseling and discipline.
The webinar will be held on Monday, June 18, from noon to 1:30 p.m. EDT. Presenters will be Academy President-Elect Shawna Ackerman; Past President Cecil Bykerk; and Joeff Williams, current vice president for professionalism and nominated last month to be the Academy's next president-elect. Continuing education credit under the U.S. Qualification Standards and continuing professionalism education core ethics credits under the JBEA regulations will be available. Register today.
Professionalism Outreach
Actuarial Board for Counseling and Discipline member David Driscoll presented and facilitated an interactive discussion on ethics and actuarial professionalism at TIAA's actuarial meeting Monday in New York City. After discussing the professionalism infrastructure housed within the Academy and the most recent statistics on counseling and discipline cases and inquiries, Driscoll divided the group of about 80 TIAA actuaries and about 20 actuarial students into smaller groups to discuss case studies that highlighted the complexity of ethical decision-making that actuaries can face in their professional work.
Extra-Early Registration Deadline Approaching for IFRS 17 Seminar
Register today for the lowest rates to attend the Academy's "Seminar on Implementing IFRS 17 for Long-Duration Contracts," to be held Aug. 29–30 in Washington, D.C. This new seminar will explore the accounting standard's requirements and is designed to help prepare life and health financial reporting actuaries to achieve compliance with the accounting for insurance contracts. Prices will increase in two weeks—register by May 18 and save.
Public Policy Activities
The Life Illustrations Work Group submitted a comment letter to the NAIC Life Insurance Illustration Issues Working Group on draft changes to Model #582.

A frequently asked questions (FAQ) document on the Academy's Interest Rate Generator has been updated by the Joint Economic Scenario Generator Project Oversight Group.

Senior Casualty Fellow Kevin Ryan sent a comment letter to the International Association of Insurance Supervisors on its draft paper on climate risks to the insurance sector.
Upcoming Events
The Code of Professional Conduct: Learning From the Mistakes of Others—June 18, professionalism webinar

Seminar on Implementing IFRS 17 for Long-Duration Contracts—Aug. 29–30, Washington, D.C.

Casualty Loss Reserve Seminar (CLRS) & Workshops—Sept. 5–7, Anaheim, Calif.

Annual Meeting and Public Policy Forum—Nov. 1–2, Washington, D.C.

Life and Health Qualifications Seminar—Nov. 4–8, Arlington, Va.

Seminar on Effective P/C Loss Reserve Opinions—Dec. 6–7, Chicago
In the News
Note: Some links in this email go to external websites and may require registration. The Academy is not responsible for the content of these websites. Links may expire.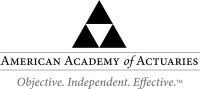 Follow the Academy on Facebook, LinkedIn, and Twitter.

---
1850 M Street NW • Suite 300 • Washington, DC 20036 • 202.223.8196 • www.actuary.org
Copyright 2018 American Academy of Actuaries. All rights reserved.