This Week: April 3 - 7, 2017
Printer-friendly version
Read the latest news from the Academy.
Recent Academy Activity, April 3–7, 2017
Academy Seeks Member Feedback on Proposed Advocacy Statement
The Academy is seeking member input by April 26 on the risks and benefits of issuing an advocacy statement, Retirement Income Options in Employer-Sponsored Defined Contribution Plans. A memorandum from the Academy's Public Interest Committee explaining the background of the proposed statement, outlining relevant questions to consider, linking to the exposure draft, and providing a form for members to submit comments, is accessible via the Academy website.
Annual Enrolled Actuaries Meeting Draws 700 Pension Professionals to D.C.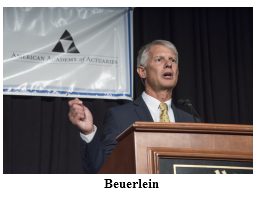 About 700 actuaries and other pension professionals attended this week's Enrolled Actuaries Meeting in Washington, D.C., where they heard presentations on a wide spectrum of retirement and pension issues. Academy President Bob Beuerlein gave an opening address, noting that the pension community's "work analyzing retirement income plans and programs has consequences for virtually every American," and telling the assembled audience of EAs that the Academy is looking out for them in discussions of their credential at international meetings.
At the meeting—jointly sponsored by the Academy and the Conference of Consulting Actuaries—there were several lively sessions featuring Academy work and volunteers. Look for additional coverage in the upcoming Actuarial Update and the Enrolled Actuaries Report.
Academy Volunteers Present at NAIC Spring Meeting
Academy volunteers gave several presentations at the NAIC Spring 2017 Meeting, which continues into next week in Denver.
Mary Bahna-Nolan, chairperson of the joint committee of the Academy's Life Experience Committee and Society of Actuaries' Preferred Mortality Oversight Group, presented updates on the joint committee's work to NAIC's Life Actuarial Task Force (LATF) on guaranteed issue and preneed mortality tables, and simplified issue and accelerated underwriting mortality under VM-20.

The Life Experience Committee gave a report to LATF on 2017 guaranteed issue mortality tables, including spreadsheets with a blended mortality table, a male mortality table, and a female mortality table.

At Friday's LATF and Health Actuarial Task Force meetings, past president Mary D. Miller and other professionalism representatives presented updates on Academy professionalism work of interest to regulators.
The Academy will host two webinars to cover key life and property/casualty issues from the NAIC meeting. The post-NAIC life webinar will be held on Thursday, April 20, from noon to 1:30 p.m. EDT; and the post-NAIC casualty webinar will be held on Tuesday, April 25, from noon to 1 p.m. EDT.
The Academy's regulators-only professionalism breakfast, a regular feature at NAIC meetings, is scheduled for tomorrow morning, Saturday, April 8. Additional coverage will follow in next week's issue and in the April Actuarial Update.
Upcoming Events
Registration Open for LHQ Seminar: Registration opened Friday for the Academy's Life and Health Qualifications Seminar, to be held Nov. 12–16 in Arlington, Va., outside of Washington, D.C. Offered annually by the Academy, this seminar is the most efficient way to acquire the basic and continuing education required to sign the NAIC life and health annual statement actuarial opinions. It also serves as a basic education refresher or as a source of required continuing education for more experienced actuaries. Register now for the lowest rate.

Through April 28—Early Registration Rates for PBR Boot Camp: Early registration rates are available through April 28 for the Academy's PBR Boot Camp, which will be held May 22–24 in Orlando, Fla. This intensive and interactive two-and-a-half-day seminar will feature insights from experts, many of whom were instrumental in shaping PBR. Earn up to 24 hours of organized-activity continuing education credit. Register today to lock in the low registration rate, and plan to join your fellow actuaries for this popular seminar that will keep you ahead of the PBR curve.
Academy Researching Value of Developing Professionalism Structure for 'Para-Actuaries'
The Academy is working with a consulting firm, Censeo, to conduct research about "para-actuaries" in the United States to help us assess if there is a need and an opportunity to professionalize these actuarial support personnel in a way that would benefit the U.S. actuarial profession. Read President Bob Beuerlein's letter to members for more details.
Academy Files Motion to Dismiss Legal Complaint Regarding Discipline Process
On Feb. 8, 2017, Timothy W. Sharpe filed a complaint against the Academy in the U.S. District Court for the District of Columbia. Sharpe filed an amended complaint on March 16. The Academy considers the suit without merit and intends to defend it vigorously. You can read the Academy's motion to dismiss the amended complaint, filed this week on April 4.
In the News
Note: Some links in this email go to external websites and may require registration. The Academy is not responsible for the content of these websites. Links may expire.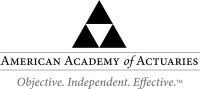 PLEASE DO NOT REPLY TO THIS EMAIL. THIS EMAIL ADDRESS IS NOT MONITORED.
If you would like more information or to contact the Academy, please visit us at www.actuary.org/content/about-us

Follow the Academy on Facebook, LinkedIn, and Twitter.
Rather not receive Academy emails? Unsubscribe by emailing membership@actuary.org.
---
1850 M Street NW • Suite 300 • Washington, DC 20036 • 202.223.8196 • www.actuary.org
Copyright 2017 American Academy of Actuaries. All rights reserved.