This Week, April 2-6, 2018
Printer-friendly version
Read the latest news from the Academy.
Recent Academy Activity, April 2–6, 2018
Issue Brief Looks at Pension Protection Act, Funding Principles
The Academy's Pension Committee released an issue brief on Friday, The Pension Protection Act: Successes, Shortcomings, and Opportunities for Improvement, which looks at the Pension Protection Act of 2006 (PPA) and its subsequent amendments against the principles discussed in an Academy paper from 2005 on pension funding reform. The new issue brief suggests several modifications to funding rules to bring them into closer alignment with the principles, thereby improving the PPA's effectiveness in promoting pension plan solvency over the long term.
EA Meeting Begins Sunday: The Academy issue brief described above will be discussed at the "Seven Principles of Pension Funding" session at the Enrolled Actuaries Meeting, which begins Sunday in Washington, D.C. The April 8–11 meeting will offer panels, workshops, and speakers covering a variety of topics and issues relevant to enrolled actuaries and other pension professionals. The Academy exhibit space will include a photo booth in the exhibit hall on Monday—please visit us at Booth No. 27 near the hall's main entrance to "take your shot" at winning a prize. And if you have recently replaced some of your electronics, like a cellphone, please consider bringing it to donate to the Academy's upcycling program, to benefit The Actuarial Foundation.
Next Tuesday—Post-NAIC Webinar to Cover Key Life Issues
Don't miss out on the Academy's post-NAIC life webinar, to be held Tuesday, April 10, from 11 a.m. to 12:30 p.m. EDT. Speakers will provide an update of the key life issues discussed at last month's NAIC Spring 2018 National Meeting in Milwaukee, including an overview of the Life Actuarial (A) Task Force and Life Risk-Based Capital (E) Working Group meetings. Attendees will receive a timely update on top issues and have the opportunity to earn up to 1.8 continuing education credits. Register today.
P/C Spring Webinar: Also, don't forget to register for the Casualty Practice Council's "P/C Public Policy Update—Spring 2018," which will be held Friday, April 27, from noon to 1 p.m. EDT.
Applicability Guidelines Updated
The Applicability Guidelines for Actuarial Standards of Practice have been updated for ASOP No. 53, Estimating Future Costs for Prospective Property/Casualty Risk Transfer and Risk Retention. In addition, ASOP No. 25, Credibility Procedures, has been added to assignment line 5.4.2 on the life tab, and two assignment lines have been added to the casualty tab: 6.10, Pricing for self-insured plans and captive insurers; and 7.3, Statements of actuarial opinion relating to premium reserves such as unearned premium and premium deficiency.
Professionalism Outreach
This week, hundreds of actuarial science students learned about the importance of actuarial professionalism and the entities established and maintained by the U.S. actuarial profession to support it from Academy President Steve Alpert and Immediate Past President Bob Beuerlein. Alpert spoke to Columbia University students about "Professionalism and the Aspiring Actuary" Monday as part of their spring professional development series. Beuerlein delivered a presentation to Florida State University students on Thursday about "Actuarial Professionalism and the 21st Century Actuary." Both presentations reviewed concepts of qualification, standards of practice, professional conduct, and self-regulation, and discussed their importance in the context of the broad societal impact of actuarial work.
Recently Released
Alerts
Public Policy Activities
Upcoming Events
In the News
Note: Some links in this email go to external websites and may require registration. The Academy is not responsible for the content of these websites. Links may expire.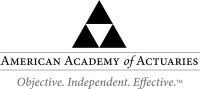 Follow the Academy on Facebook, LinkedIn, and Twitter.

---
1850 M Street NW • Suite 300 • Washington, DC 20036 • 202.223.8196 • www.actuary.org
Copyright 2018 American Academy of Actuaries. All rights reserved.