ThisWeek: August 22-26, 2016
Printer-friendly version
Read about the latest Academy news and events.
Recent Academy Activity, August 22–26, 2016
Voting Begins Today for Academy's Regular Director Positions
Academy members should have received an email today from Intelliscan (electionadmin@intelliscaninc.net), the Academy's election vendor, with an online ballot to elect regular directors to the Academy's Board of Directors. The election begins today, Aug. 26, and will continue through Friday, Sept. 16. Visit the Academy's Board Election Center to learn more about this year's candidates and for more information about the Nominating Committee Guidelines. Please check your spam folder if you have not seen this email in your inbox. For those without email addresses, you will receive your ballot by regular mail.
For help with or to ask questions about your ballot, please contact Keith Wier, account manager for Intelliscan, at kwier@intelliscaninc.com. For other questions, please contact Claire Mickelson, Academy senior policy analyst, at mickelson@actuary.org.
Essential Elements Report Highlights New Risk Regulators and Regulations
The Academy released "New Risk Regulators and Regulations" this week, an Essential Elements report that highlights many of the new state, federal, and international regulators and oversight efforts that have emerged in the wake of the 2008-09 global recession. The report reviews the background of the 2008-09 global financial crisis, which led to the NAIC's launch of its Solvency Modernization Initiative, and the federal Dodd-Frank Wall Street Reform and Consumer Protection Act, which created the Financial Stability Oversight Council, responsible for identifying threats to the U.S. financial system.
Academy Presents at NAIC
Academy volunteers gave multiple presentations at the NAIC 2016 Summer Meeting in San Diego, which continues through this weekend.
Register Now for Post-NAIC Webinars: The Academy will host two post-NAIC webinars next month. The Casualty Practice Council webinar on property/casualty issues will be held Sept. 13 from noon to 1 p.m. EDT, and the Life Practice Council webinar on life issues will be held Sept. 15 from noon to 1:30 p.m. EDT.
Professionalism Presentations at NAIC
Academy representatives also made several professionalism presentations at the NAIC meeting. Past President Mary D. Miller, Actuarial Board for Counseling and Discipline (ABCD) Chairperson Janet Fagan and Actuarial Standards Board (ASB) Chairperson Maryellen Coggins appeared Thursday before LATF and HATF to provide an update to regulators on ABCD, ASB and Academy professionalism activities.
On Friday, they were joined by Committee on Qualifications (COQ) member Tom Campbell at the Academy-sponsored regulator-only professionalism breakfast. Each made in-depth presentations at the well-attended event, covering topics of interest to regulators, including ABCD process and requests for guidance, ASB's recently-issued exposure drafts and regulator outreach, new frequently asked questions concerning LTC issued by the COQ, and an update on the Attestation Form released by the Academy at the beginning of this year.
Volunteer Survey Draws Large Response
Almost 600 members participated in the Academy's annual volunteer survey this month, which members use to indicate interest in the Academy's committees and working groups. All participants who expressed an interest in volunteering will be contacted in the coming months. Volunteers are essential to the Academy's work—many thanks to all who completed the survey.
Global Health Care Webinar Looks at Taiwan, Hong Kong
The Academy's "Exploring Global Health Care Cost Drivers" webinar series continued this week with a webinar looking at the health care systems of Taiwan and Hong Kong, with a focus on cost drivers. Almost 250 people from 143 registered sites in 12 countries attended Thursday's webinar. The series is presented jointly by the Academy's Health Practice International Committee and the International Actuarial Association Health Section. Slides and audio are available on the Academy's webinar page; for more coverage, see the August Actuarial Update, to be published next week. The sixth webinar in the series, looking at France and the United Kingdom, will be held on Oct. 5.
Upcoming Events
See our website for a listing of all Academy events.
Other Public Policy Activities
In the News
Note: Some links in this email go to external websites and may require registration. The Academy is not responsible for the content of these websites. Links may expire.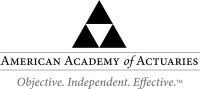 PLEASE DO NOT REPLY TO THIS EMAIL. THIS EMAIL ADDRESS IS NOT MONITORED.
If you would like more information or to contact the Academy, please visit us at www.actuary.org/content/about-us

Follow the Academy on Facebook, LinkedIn, and Twitter.
Rather not receive Academy emails? Unsubscribe by emailing membership@actuary.org.
---
1850 M Street NW • Suite 300 • Washington, DC 20036 • 202.223.8196 • www.actuary.org
Copyright 2016 American Academy of Actuaries. All rights reserved.