Retirement Account, Summer 2017
Printer-friendly version

Summer 2017
HIGHLIGHTS
Capitol Hill Briefing on Multiemployer Pension Plans
The Academy hosted a Capitol Hill briefing on June 27 in connection with the release of its issue brief, Multiemployer Pension Plans: Potential Paths Forward. Pension Practice Council Vice President Bill Hallmark and Vice-Chairperson Josh Shapiro, and Christian Benjaminson, a member of the Multiemployer Plans Subcommittee, gave a presentation on how to address failing multiemployer plans and strengthen the multiemployer pension system. Senior Pension Fellow Ted Goldman moderated.
Issue Brief on Women and Social Security
The Social Security Committee released an issue brief just before Mother's Day that discusses differences in the factors affecting men and women that contribute to disparate benefits received from Social Security. While the program provides benefits on a gender-neutral basis, "gender-related differences in the American work culture mean that, in reality, Social Security provides different levels of retirement security for women and men," according to the issue brief.
The issue brief highlights that many women may receive lower Social Security benefits than men because they earn less, and have more breaks in employment due to child-rearing and caring for elderly parents. Additionally, Social Security benefits comprise a larger part of retirement income for women than men.
RECENT ACTIVITIES
Comments on Projection of Cash Balance Plan Benefits to IRS and Treasury
The Pension Committee submitted a comment letter to the IRS and the Treasury Department in May on the projection of benefits under cash balance plans with variable interest credits. The letter states that additional guidance is needed, and that "clear and workable rules will encourage the sponsors of such plans to retain them and may lead to the creation of new cash balance plans, potentially affecting retirement benefits and providing access to lifetime income options for millions of Americans."
PPC Letter to Congress on Pension-Related Revenue Offsets
The Pension Practice Council (PPC) sent a letter to congressional leaders in April that cites concerns about recent legislation scored by the Congressional Budget Office that uses revenue raised from the private-sector pension system to offset unrelated spending increases. Pension Benefit Guaranty Corporation (PBGC) premiums are deposited into on-budget revolving funds, and the receipt of these premiums is now counted as revenue without any offset for the payment of benefits that will be provided by those premiums, the letter states.
The PPC proposes excluding premiums in the scoring process to more appropriately align with the administration and practical operation of the PBGC.
PC Comment Letter on Mortality Tables
The Pension Committee submitted a comment letter to the IRS in late March on its proposed regulations to update mortality tables for determining present values for defined benefit pension plans.
The committee offered several suggestions on substitute mortality tables to enhance clarity and understanding, as well as comments on additional simplifications, automatic approvals, credibility thresholds, treatment of subpopulations, collar adjustments, and aggregation of male and female experience. The letter also addressed the basic table, construction of §417(e) tables, challenges for large multiple-employer plans and a suggestion for multiemployer plans.
Subcommittee Notes from Meeting With Treasury, Labor, and PBGC
In late March, the Multiemployer Plans Subcommittee released notes from its February meeting with officials of the Treasury and Labor departments and the PBGC that related to applications by multiemployer pension plans in critical and declining status to suspend benefits or partition liabilities.
The discussion focused on actuarial assumptions, plan sponsor considerations, the review process, and informal consultation. For applications to suspend benefits or partition liabilities, federal officials said Treasury has ultimate authority over their reviews but the department will consult with PBGC and Labor during the review process.
PROFESSIONALISM
PC Comments to ASB on Proposed ASOP
The Pension Committee submitted a comment letter to the Actuarial Standards Board (ASB) in April on the proposed actuarial standard of practice (ASOP), Setting Assumptions. The letter notes that retirement plan actuaries are already subject to strict guidelines regarding the setting of assumptions, including ASOP Nos. 4, 6, 27, and 35, which include detailed and rigorous guidance on the selection and assessment of reasonable assumptions and methods.
"We do not believe there is any guidance in the proposed ASOP that directly conflicts with the guidance in these pension-specific ASOPs," the letter states. "Accordingly, while we believe that this proposed ASOP may strengthen actuarial practice for other practice areas, we do not expect it to substantially change the scope of U.S. pension practice."
IN THE NEWS
A CBS News story on Social Security's financial condition referred readers to the Academy's Social Security Game, which analyzes various potential changes to the system and calculates their effects on its condition.
A Pensions & Investments story on longevity risk and systemic challenges to securing retirement income mentioned the Academy's evaluation of a previous congressional retirement policy proposal based on the Academy's Retirement for the AGES initiative.
The AMAC Foundation cited the Social Security Committee's issue brief that discussed gender-related factors as causing differences to the benefits women and men receive from Social Security.
A Pensions & Investments story on how a forthcoming IRS update to mortality tables could affect plans and plan sponsors quoted Pension Committee Chairperson Ellen Kleinstuber.
UPCOMING
Academy 2017 Annual Meeting and Public Policy Forum
Make sure you are on top of the latest public policy issues facing the actuarial profession and join us at this year's Annual Meeting and Public Policy Forum. Hear firsthand from experts and policymakers on the latest developments in areas such as Social Security sustainability and flood insurance. The pension breakout sessions are "Multiemployer Pension Plans: Is There a Runaway Ramp Before the Cliff?," "Public Pension Plans: The Pothole-Filled Road to Retirement Security?," and "National Retirement Policy Objectives: Are We on the Same Page?" You'll have opportunities to network with and learn from your peers and business leaders from across the country, and the Academy believes in good faith that Joint Board for the Enrollment of Actuaries (JBEA) credit will be available for these sessions. For more information, click here.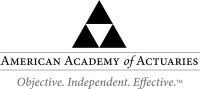 PLEASE DO NOT REPLY TO THIS EMAIL. THIS EMAIL ADDRESS IS NOT MONITORED.
If you would like more information or to contact the Academy, please visit us at www.actuary.org/content/about-us

Follow the Academy on Facebook, LinkedIn, and Twitter.
Rather not receive Academy emails? Unsubscribe by emailing membership@actuary.org.
---
1850 M Street NW • Suite 300 • Washington, DC 20036 • 202.223.8196 • www.actuary.org
Copyright 2017 American Academy of Actuaries. All rights reserved.