Retirement Account Second Quarter 2013
Printer-friendly version
Having trouble viewing this email? View it in your browser.

May 23, 2013
Current Events

Congressional Testimony
On May 23, Academy Senior Pension Fellow Don Fuerst testified before the House Committee on Ways and Means Subcommittee on Social Security. The hearing focused on proposed adjustments to Social Security benefits as included in the President's Fiscal Year 2014 Budget, the report by the National Commission on Fiscal Responsibility and Reform (Simpson-Bowles), and the report of the Bipartisan Policy Center's Debt Reduction Task Force.

Comment Letters
The Pension Committee plans to comment on the latest exposure draft of ASOP No. 4, Measuring Pension Obligations and Determining Pension Plan Costs or Contributions. Comments are due by May 31, 2013.

The Pension Committee also will comment on the Pension Benefit Guaranty Corp.'s (PBGC) proposed regulations on reportable events. ERISA requires pension plans to report a range of events to the PBGC. The proposed regulations, according to the PBGC, would target the minority of companies and plans that face a substantial risk of default.

The Actuarial Standards Board approved its second exposure draft of a revision of ASOP No. 6, Measuring Retiree Group Benefit Obligations. The Joint Committee on Retiree Health plans to comment by the Aug. 31, 2013, deadline.

The Department of Labor issued a notice on May 8 seeking comments on two proposed lifetime income rules relating to the pension benefit statements required of defined contribution plans. The first rule would require that a participant's accrued benefits be presented on the pension benefit statement as an estimated lifetime stream of payments, as well as an account balance. The second rule would require that accrued benefits be projected to the participant's retirement date and then converted to and expressed as an estimated lifetime stream of payments. The Pension Committee plans to comment by the July 8, 2013, deadline.

Issue Briefs and Practice Notes

The Pension Committee plans to release an updated version of its 2011 practice note, Selecting and Documenting Mortality. The revision addresses the new interim mortality improvement scale BB.

An issue brief on the PBGC deficit will be released soon. In November 2012, the PBGC reported a deficit of $29.1 billion in its single-employer program. The issue brief analyzes how the PBGC determined that amount and examines alternative views of the obligation and its significance.

The Social Security Committee is updating its Social Security reform options monograph. The paper includes an overview of the program's financial status, basics on Social Security, a review of potential reforms, and coverage of topics such as alternative trust fund investments and individual accounts.

Recent Activities

Normal Retirement Age Issue Brief
In March, the Pension Committee released an issue brief, Rethinking Normal Retirement Age for Pension Plans, which recommends giving private sector defined benefit plans the option to raise their normal retirement age above 65 to align with Social Security.

Enrolled Actuaries Meeting Highlights
Leaders of the Pension Practice Council along with Academy Senior Pension Fellow Don Fuerst presented at a session of the 2013 Enrolled Actuaries Meeting that featured a lively dialogue about recent projects and ongoing activities by the council and its work groups. Fuerst also presented at several other sessions, including the opening general session "Washington Update—Pension & Benefits in the New Congress" and Session 103.

Academy Leadership—Pension News
On April 22, the Academy sent a letter to President Obama and congressional leaders encouraging them to appoint at least one qualified actuary to the newly established Military Compensation and Retirement Modernization Commission.

In an April 19 news release, the Academy noted the importance of meaningful disclosure for state and local government pension plans and offered its public policy expertise to legislators and other stakeholders at the federal, state, and local levels to help them understand what they should address in the disclosure of the risks related to these plans.

On April 12, Academy President Cecil Bykerk sent a letter to the editors of The Wall Street Journal in response to an April 10 op-ed, "The Pension Rate-of-Return Fantasy," regarding pension funding and expected rates of return.

Meetings with the GAO
Several members of the Pension Practice Council and its work groups participated in multiple interviews with the Government Accountability Office (GAO) on discount rates, Form 5500, and streamlining pension reporting and disclosures.

International Accounting Standards
The International Actuarial Association (IAA) will develop an International Standard of Actuarial Practice (ISAP) on IAS 19 Employee Benefits. The ISAP is expected to address high-level aspects of IAS 19, but not provide specific guidance on issues such as attribution or asset ceiling calculations. More information about expected items to be covered is available here.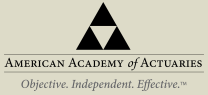 If you have any questions, suggestions, or comments about Retirement Account, please contact David Goldfarb, the Academy's senior pension policy analyst, at Goldfarb@actuary.org.

PLEASE DO NOT REPLY TO THIS EMAIL. THIS EMAIL ADDRESS IS NOT MONITORED.
If you would like more information or to contact the Academy, please visit us at www.actuary.org/content/about-us
Sign up to follow the Academy on Twitter.
Rather not receive Academy emails? Unsubscribe by emailing membership@actuary.org.
---
1850 M Street NW • Suite 300 • Washington, DC 20036 • 202.223.8196 • www.actuary.org
Copyright 2013 American Academy of Actuaries. All rights reserved.