Retirement Account, Fall 2015
Printer-friendly version

Fall 2015
RECENT ACTIVITIES
Social Security Disability Insurance Issue Brief Released
The Social Security Committee published an issue brief in August on the Disability Insurance (DI) Trust Fund, which states that absent any changes, the trust fund will be depleted in late 2016 and unable to pay full benefits thereafter. Potential solutions to this shortfall include increasing taxes, reducing benefits, or receiving transferred funds from other government programs, but certain changes to the disability program may be more challenging because of the program's interaction with other financial security programs.
Committees Publish Pension Cost Recognition Issue Brief
The Pension Accounting Committee and Pension Committee released an issue brief in August on alternative expense methodologies and their theoretical rationales and implications. Alternatives for Pension Cost Recognition—Issues and Implications discusses an area of emerging practice, and examines alternative expense methodologies and their theoretical rationales and implications.
Social Security Trustees Report Analyzed
The Social Security Committee released an issue brief in July on the 2015 Social Security Trustees Report that examines the social insurance program's long-term solvency issues and recommends that Congress act soon to improve the long-term financial outlook of the program. The report notes that while the program's combined Old-Age and Survivors Insurance (OASI) and Disability Insurance (DI) trust funds are projected to be depleted in 2034—a year later than last year's report—the DI Trust Fund is expected to deplete its reserves by the fourth quarter of 2016, when only about 81 percent of scheduled benefits would be payable. The Academy also updated its related Essential Elements report, Securing Social Security, with information from the newly released trustees report.
Academy Presents on Lifetime Income at CIPR Symposium
Lifetime Income Risk Joint Task Force member Mark Shemtob presented on lifetime income insurance products and related issues in June at the NAIC Center for Insurance Policy and Research's (CIPR) symposium on retirement issues.
PROFESSIONALISM MATTERS
ASB Hearing on Pension Plans
More than a dozen people testified on public pension policy before the Actuarial Standards Board (ASB) in July during its first public hearing in nine years. Six specific actuarial standards of practice (ASOPs) relate to pension actuarial work, and all have been evaluated and revised over the past five years to reflect advances in actuarial practice, ASB Chairperson Tricia Matson said at the hearing.
"The funding of public pension plans is a matter of significant interest to the public," Matson explained to more than 75 attendees at the meeting in Washington. The ASB will use information gathered at the hearing to consider any next steps for ASOPs applicable to public pension plans, she said, but added that the ASB will not take any positions until it deliberates further. For more information, see July's Actuarial Update.
ASB Adopts Revision of ASOP No. 34
The ASB recently adopted a revision of ASOP No. 34, Actuarial Practice Concerning Retirement Plan Benefits in Domestic Relations Actions. The revised ASOP applies to actuaries when performing actuarial services in connection with the measurement, allocation, or division of retirement plan benefits in domestic relations actions.
The ASOP is not applicable to actuarial services performed in connection with other post-employment benefits, such as medical benefits, that also may be considered as part of the domestic relations action. The revised final ASOP, which will be effective for relevant assignments for which the actuary is first engaged on or after Dec. 1, 2015, can be viewed here.
REGULATORY MATTERS
Comments on Suspension of Benefits
The Multiemployer Subcommittee sent a comment letter in August to the Internal Revenue Service and Treasury Department on proposed regulations on suspensions of benefits under the Multiemployer Pension Reform Act of 2014. The subcommittee asked Treasury to consider whether some items required in the proposed regulations might not be necessary for determining whether an application should be approved or denied, and offered suggestions on annual plan sponsor determinations, suspensions not materially in excess of the level necessary to avoid insolvency, reasonable actuarial assumptions, and the timing of plan asset values used to support suspension applications. The comment letter served as the basis for testimony delivered by Eli Greenblum, the Academy's vice president for pension issues, at a Treasury-sponsored hearing on Sept. 10.
Use of Work Specialists Comments
The Pension Accounting Committee, along with other Academy working groups, sent comments in July to the Public Company Accounting Oversight Board (PCAOB) on its consultation paper, The Auditor's Use of the Work of Specialists.
Comments on DOL Fiduciary Rule
The Lifetime Income Risk Joint Task Force submitted comments in July to the Department of Labor on proposed regulations defining fiduciaries and conflict of interest. The comments suggested that advisers be required to provide guidance on decumulation issues when providing advice to individuals. The task force also recommended that the Department of Labor offer educational material on managing lifetime income.
IRS Mortality Table Comments
The Pension Committee submitted comments to the IRS in July regarding the timing for release of the mortality tables under §§430(h)(3) and 417(e) of the Internal Revenue Code for 2016. The committee requested that a decision on the 2016 tables be conveyed as soon as possible because plan sponsors require significant lead time to implement any potential changes to generational tables for 2016.
IN THE NEWS
Social Security
Bankrate Retirement Blog's coverage of the 2015 Social Security Trustees' Report quoted Tim Leier, chairperson of the Social Security Committee, on the need to address the projected depletion of the Disability Insurance (DI) Trust Fund late next year. Leier also was quoted in the Ledger Gazette on the need for Congress to address the projected depletion of the trust fund.
Public Pensions
A New York Times story reported on issues raised by speakers who testified at the ASB's July 9 public hearing on public pension issues, and focused on the selection of discount rates, the transparency and disclosures of risk to different stakeholders, and the responsibility of plans regarding contributions. Stories by Politico and The San Diego Union-Tribune also included reporting on the ASB hearing.
The Los Angeles Times cited the Academy issue brief, The 80% Pension Funding Standard Myth, in a story that reported that the California Public Employees' Retirement System—the nation's biggest public pension fund—is only 77 percent funded and currently falling far short of its annual investment goals. The story pointed to the Academy's analysis that pensions should set long-term goals of 100 percent funding or greater. The Columbus Business News also cited the issue brief in a subscriber-only story examining potential flaws in how studies evaluate state pension systems.
COMING EVENTS
Annual Meeting and Public Policy Forum
To celebrate its 50 years of service to the public and the U.S. actuarial profession, the Academy will hold its Annual Meeting and Public Policy Forum Nov. 12-13 at the Washington Marriott Wardman Park. Session topics include implications of the Multiemployer Pension Reform Act, meeting the lifetime income challenge with employer-sponsored plans, and an examination of public plan funding and risk disclosure issues. To register or get more information, please visit the Academy's website.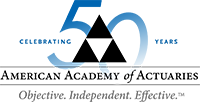 If you have any questions, suggestions, or comments about Retirement Account, please contact Matthew Mulling, the Academy's pension policy analyst, at Mulling@actuary.org .

PLEASE DO NOT REPLY TO THIS EMAIL. THIS EMAIL ADDRESS IS NOT MONITORED.
If you would like more information or to contact the Academy, please visit us at www.actuary.org/content/about-us

Sign up to follow the Academy on Twitter.
Rather not receive Academy emails? Unsubscribe by emailing membership@actuary.org.
---
1850 M Street NW • Suite 300 • Washington, DC 20036 • 202.223.8196 • www.actuary.org
Copyright 2015 American Academy of Actuaries. All rights reserved.